This Is Where All That 'Great British Bake Off' Leftover Cake Really Goes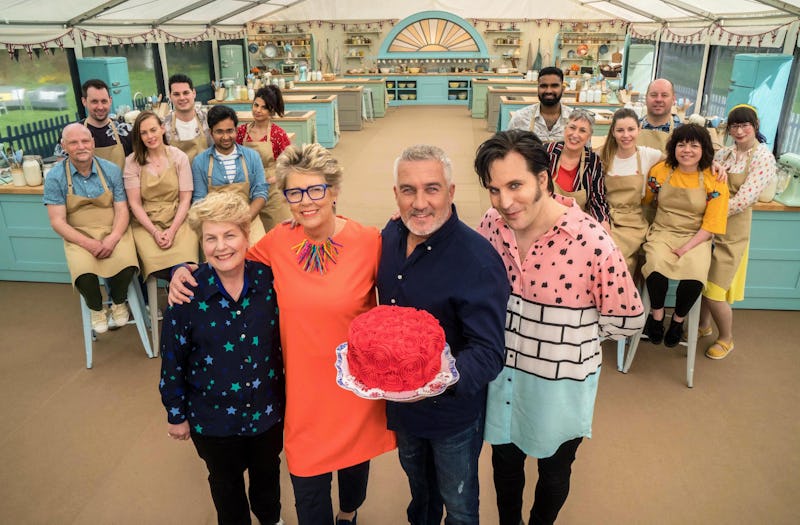 Mark Bourdillon/Love Productions
Most, while watching Great British Bake Off, can focus on one thing: how desperately they want cake, and how cruelly devoid of cake their kitchens are. But for the proactive viewers out there, who preemptively raid the bakery aisle of their local supermarket to quash those inevitable mid-show cravings, another question might flit across their mind: what exactly goes on behind the scenes? Well, wonder no more, baking fans: these Great British Bake Off backstage secrets will make you feel just like a contestant, even if you've reduced every cake you've ever tried to bake to ash.
Hundreds Of Potential Contestants Audition For The Show
Former series producer Sam Beddoes told BBC Good Food that after sending in a lengthy application form, 300-400 hopefuls are then invited to an initial audition, to which they must bring two bakes. "After a screen test, we invite 50-60 people to a second audition, where we give them a technical challenge and shove cameras in their faces, to see if they can talk and bake at the same time," Beddoes said. "When we're filming, we're the equivalent of an annoying child who wants your attention constantly."
All The Ingredients Are Provided For Filming
Chief home economist Faenia Moore and her team buy all the ingredients in advance, after the bakers submit their recipes. And Moore knows which ingredients to stock up on, telling BBC Good Food, "With ganache, for instance, people always mess it up first time, so I'll have more chocolate on hand." If there's an emergency in the tent? "During the run-through our food runner is stationed in the nearest supermarket," Moore says, "so I can call and say: 'We need more raspberries in 10 minutes — go, go, go!'"
...But The Contestants Have To Fund Their Own Practice Runs
Chetna Makan, 2014 semi-finalist, told Digital Spy, "We were warned in the beginning that this was going to be an expensive experience, that we were going to have to spend some money." She continued, "Because you don't really get any money to practise at home. If you want to make the cake five times at home to practise, that's your own problem, because they aren't going to pay for it."
The Bakers Wear The Same Outfit Two Days In A Row
It might seem like all three Bake Off challenges take place on the same day, but 2013 winner Frances Quinn told Cosmopolitan that the show's typically filmed over a weekend — but for the sake of continuity, the bakers must wear the same outfit twice. "Luckily they change the aprons so we don't look like a Jackson Pollock painting by the end of it," Quinn said.
The Show Takes Over The Bakers' Lives
"You haven't really got a life other than Bake Off. No social life. That was the most stressful time," Quinn told Cosmopolitan. "We had to get a train down on the Friday and we'd have a wake up call at 5 a.m.; we'd be in the tent at 7 a.m. We'd wrap filming at about 8 p.m. and then it would be the same again the next day. I'd get back at about midnight on the Sunday." Sounds exhausting!
The Weather Can Make Or Break A Bake
Faenia Moore told BBC Good Food that the temperature in the tent is the biggest challenge the bakers and production team face. "If we're doing bread when we need warmth for proving, chances are it'll be freezing," she said. "Then when it's chocolate, it'll be scorching. It happens almost every year." She's not wrong either — remember Manon Lagrève's unset chocolate scandal?
The Bakers Don't Get Much Time Off
2016 finalist Jane Beedle told the Mirror that Karen Wright's iconic crisp break isn't exactly a common occurrence. "There aren't many occasions I remember this happening on the show, maybe once or twice, and when they did we would just sit and have a cup of tea and chat with the people around us," Beedle said. "They don't like it if you have nothing to do, so they try and make the challenges as difficult as possible to keep you busy."
There's An Awful Lot Of Victoria Sponges
Ali Imdad, a Bake Off contestant in 2013, told the Birmingham Mail that the crew bake a Victoria sponge in every oven before each day of filming — that's at least 24 Victoria sponges in week one, then! "They do that to make sure that all the ovens are working properly and no-one can blame a bad bake on a technical malfunction," Imdad explained.
And Most Importantly: Those Incredible Bakes Don't Go To Waste
Chetna Makan told Digital Spy that the bakers get to taste their creations first. "Before anyone else jumps on it, they always leave a piece of each bake and all the other bakers get to taste them," Makan explained, adding, "We all run to the food made by whoever got the most compliments. Literally, everybody runs, nearly knocking each other over to have a taste." What happens next? The crew descend, according to Ali Imdad. "The cameramen literally stand there with forks in their back pockets, waiting to swoop as soon as filming stops," he told the Birmingham Mail. And honestly, wouldn't you do the same?