The Great British Bake Off Has Nuclear Scientists & Architects Go Head-To-Head
Here's everything to know about the scrumptious new series.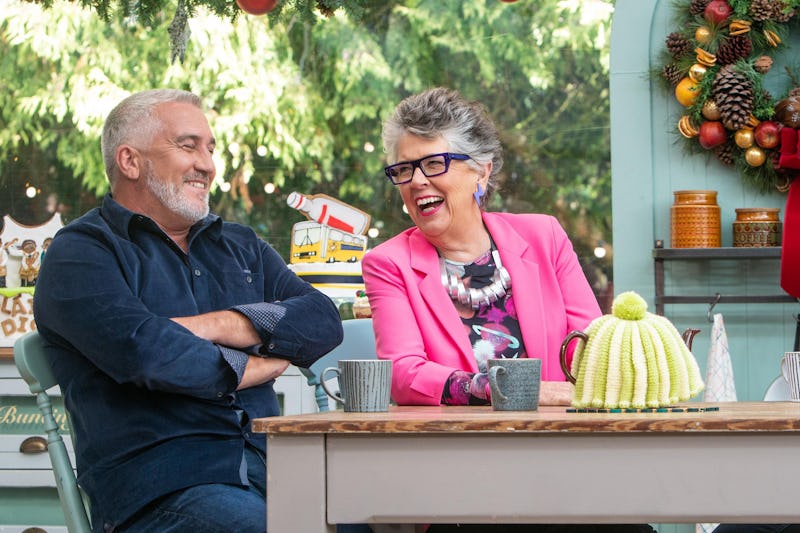 Channel 4
On your marks, get set, bake! Yes, Channel 4's The Great British Bake Off is back for a new series that will once again see a line-up of aspiring bakers battle it out in the famous bunting-laden gazebo. As ever, each contestant will have hopes of taking home the coveted Bake Off cake stand. To the delight of longtime fans, judges Prue Leith and Paul Hollywood are both back to offer their baking expertise. The formidable duo will once again be joined in the tent by presenters Matt Lucas and Noel Fielding.
In recent years, the series has kicked off with a total of 12 contestants who, after 10 weeks of fierce competition, are whisked down to the final three. As fans will recall, the Italian-born Bristolian Giuseppe Dell'Anno was crowned last year's Ultimate Star Baker, beating fellow finalists Chigs Parmar and Crystelle Pereira.
"I truly can't believe it or take it in, this has made me so incredibly happy to be a Britalian. Dell'Anno is my surname, which translates in English to 'of the year' — and I feel this has certainly has been my year," Dell'Anno said at the time of his Bake Off victory.
Get to know this year's full line-up of plucky bakers, below.
The Great British Bake Off 2022 Contestants
Dawn
60-year-old IT manager Dawn is a big fan of something called an "illusion cake" – aka those trending baked goods, which closely resemble anything except a cake. "She prides herself on her steady hand and attention to detail, especially when it comes to the intricacy required for lace patterns on biscuits," says GBBO. One to watch during Shortbread Week, that's for sure.
James
Another keen scientist turned baker, 25-year-old James is a nuclear scientist from Cumbria, and moved to England after growing up in Glasgow's East-End. According to the baker, his speciality is a unique "child-friendly" horror-inspired style. We're intrigued.
Janusz
Raised in Poland, 34-year-old Janusz moved to the UK a decade ago, and has a flair for bringing together the two cultures in his baking. "Apart from the kitchen, Janusz's passions include internet culture, watching drag (he even bought his boyfriend a statue of RuPaul), and collecting movie props," says GBBO. When he's not baking, he works as a personal assistant to a head teacher.
Kevin
Music teacher Kevin lives in East Sussex, and just loves to perform his beloved saxophone. When he's not getting saxy, however, the 33-year-old baker enjoys using seasonal flavours and is a big believer in nailing every single fiddly technical method.
Maisam
This year's youngest contestant Maisam is 18-years-old, and lives in Greater Manchester. Originally from Libya, she speaks a whopping five languages already (English, Arabic, Amazigh, Spanish, and Turkish) but has apparently set her sights on mastering two more by the time she turns 20. Impressive, much?
Abdul
A 29-year-old electronic engineer from London, amateur baker Abdul first got into baking "when he and his graduate colleagues baked for each other to brighten up their daily coffee breaks." The precision of his day-job apparently informs his finely-tuned bakes – which often contain his favourite ingredient, Matcha.
Maxy
Architectural assistant Maxy lives in London, and grew up in Sweden. A dab hand at DIY, the 29-year-old started baking five years ago when she had her first daughter. Here's hoping she can put her building talents to good use in those tricky biscuit-construction challenges.
Rebs
Masters student Rebs grew up in Northern Ireland, and as well as being able to Irish dance, she's a dab hand at the tin whistle. Now living in County Atrim, the baker has been enjoying incorporating Middle Eastern flavours into her creations as of late, inspired by her partner Jack's Turkish heritage.
Sandro
30-year-old nanny Sandro was born in Angola, but fled to the UK aged two amid the country's civil war. First taking up baking after his father passed away, Sandro originally "turned to baking as a form of therapy" and now enjoys showcasing his culture through his cooking.
Carole
When she's not working behind the tills as a supermarket cashier, Carole presents her own slot on local radio, sharing all of her gardening know-how with nearby listeners. According to GBBO, the 59-year-old "brings the artistry that she uses in her garden to her baking, creating colourful and eclectic bakes that are inspired by her passion for horticulture."
Syabria
32-year-old cardiovascular research associate Syabria puts a lot of heart into her baking. Born in Malaysia, the baker moved to the UK nine years ago to study a PhD, and has now found her home in the capital. "She loves gaming and often spends evenings playing an online World War II simulation game, which she credits with teaching her about leadership in the real world," say GBBO.
Will
DIY enthusiast and former charity boss Will is another baker with a background in architecture, and yeast is apparently his secret weapon. The 45-year-old might well prove unstoppable during bread week. Pun intended.
The Great British Bake Off 2022 Start Date
The Great British Bake Off Season 13 debuts on Tuesday, Sept. 13 at 8 p.m. on Channel 4.
This article was originally published on