Greg Gianforte Receives Citation For Misdemeanor Assault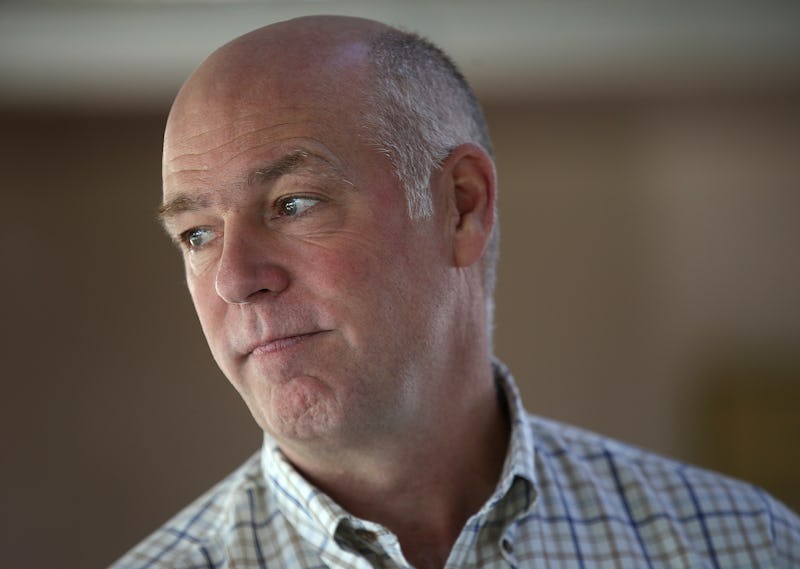 Justin Sullivan/Getty Images News/Getty Images
On Wednesday evening following allegations that he "body-slammed" Guardian reporter Ben Jacobs, Montana congressional Republican candidate Greg Gianforte was cited for misdemeanor assault. Ultimately, Gallatin County Sheriff Brian Gootkin acknowledged Jacobs' injuries, for which he was taken to the hospital in an ambulance. The department came to its conclusion after reportedly interviewing four witnesses aside from Jacobs himself. Gootkin said:
Following multiple interviews and an investigation by the Gallatin County Sheriff's Office it was determined there was probable cause to issue a citation to Greg Gianforte for misdemeanor assault (MCA 45-5-201). The nature of the injuries did not meet the statutory elements of felony assault. Greg Gianforte received a citation on Wednesday night and is scheduled to appear in Gallatin County Justice Court between now and June 7, 2017.
Gianforte's spokesperson claimed Jacobs was the aggressor in the scenario, alleging the reporter "entered the office without permission, aggressively shoving a recorder in Greg's face, and began asking badgering questions." However, Jacobs told The Guardian, the publication for which he works, a different story.
"[Gianforte] took me to the ground," Jacobs alleged. "This is the strangest thing that has ever happened to me in reporting on politics."
As Gootkin had mentioned, there were also witnesses present at the time. Fox News' Alicia Acuna, who is based in the network's Denver bureau, wrote a piece for her network alleging that Gianforte went as far as to "grab Jacobs by the neck with both hands and slammed him into the ground behind him."
"To be clear, at no point did any of us who witnessed this assault see Jacobs show any form of physical aggression toward Gianforte, who left the area after giving statements to local sheriff's deputies," she added.
Again, Gianforte's campaign spokesman denied the candidate was the aggressor. You can read his full statement here:
According to The Washington Post, a misdemeanor charge could entail both a fine and time in jail. At an absolute maximum, Gianforte could have to pay $500 and spend up to six months in jail. Based on the extent of Jacob's injuries, the Montana House candidate does not risk being charged with felony assault.
Whether or not Gianforte remains in the House special election race remains to be seen. At the moment, he is running against Democratic candidate Rob Quist for Ryan Zinke's seat. President Donald Trump appointed Zinke as secretary of the interior, leaving an opening that could determine whether the Montana district will swing red or blue in the upcoming 2018 congressional elections.