It Took Years For Greta Gerwig To Become A Director & Here's Why That's A Problem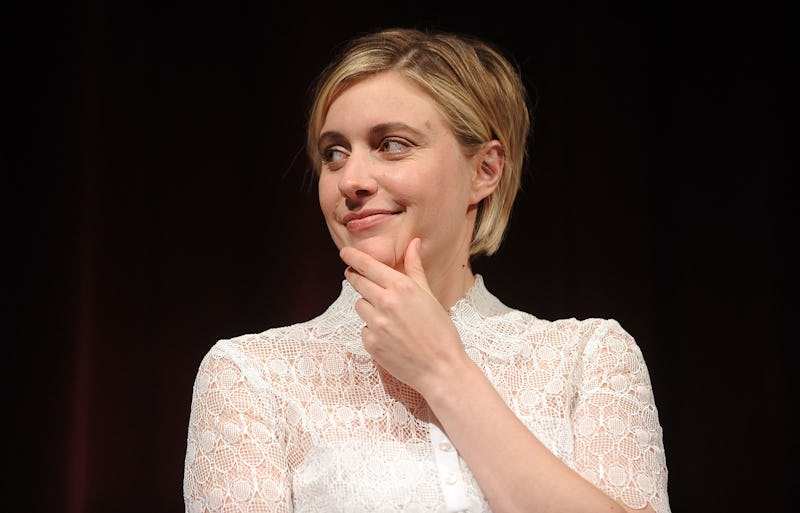 Brad Barket/Getty Images Entertainment/Getty Images
Greta Gerwig's magnificent movie Lady Bird has earned critical acclaim and financial success, having maintained a 100 percent fresh rating on Rotten Tomatoes and boasting the best per theater average at the specialty box office. The well-deserved accolades earned by its stars, Saorise Ronan and Laurie Metcalf, are partly the result of the writer/director's immense talent, and with such a positive outcome for Gerwig's first solo project (she co-directed 2008's Nights and Weekends with Joe Swanberg), there's no doubt that she should return to the director's chair again and again. But what took her so long to get there in the first place? Unfortunately, it's possible that it has something to do with how female filmmakers are held up to higher standards than their male counterparts.
As many know, Gerwig has been on the film scene for many years now. Since her debut in 2006, she's acted, written scripts, and done all sorts of behind the scenes work (producing, soundtrack, etc) on various movies. During a Lady Bird post-screening press conference at the New York Film Festival this fall, Gerwig said that she "Apprenticed myself in many areas before finally moving to directing," according to Film School Rejects. She emphasized how lucky she's been to work as an actor, but added, "I've also co-written and co-directed, and held the boom, and costumed, and had done makeup, was a production assistant, basically everything you can do on a film set."
This experience undoubtedly gave Gerwig a leg up and a lot of knowledge, but there also seems to be a hint of hesitation in her explanation of how she finally made the move to directing — which male actors who transition to filmmakers generally don't seem to share. Flavorwire editor Jason Bailey hit the nail on the head when tweeting about the Q&A shortly afterward.
Of course, none of us know the secrets of Gerwig's mind or her personal desires for wanting to direct; it's quite possible she simply didn't realize she wanted to move into that field until recently. But what Bailey brings up does strike a chord. If Gerwig felt that she needed to have done every job on set or have been an expert in every aspect of filmmaking before taking on a directing project, how much of that is a result of Hollywood's rampant sexism? Did she truly feel that she had to learn more, work harder, or somehow "earn the right" to finally direct? If so, it's a terrible shame. Her talent shouldn't have been delayed because of a possible insecurity ingrained in her mind by Hollywood's misogyny.
Plenty of men who've acted in films and written scripts have jumped right into directing gigs without working their way up the system first, like Ben Affleck, George Clooney, Sean Penn, and more. It's hard to imagine that these men felt they had to earn their credentials first, seeing that the industry already caters to them. There's no doubt that female directors are held up to different standards than male directors, and research has proven as much, to the point where a federal investigation into the lack of female directors is underway. And there have been a number of men in recent years who have been seemingly handed directing gigs with little to no directing or on-set experience, like Roberto Orci, Robert Stromberg, Wally Pfister, and Andy Serkis, while women rarely have been given the same opportunities. Meanwhile, second-time male directors such as Colin Trevorrow, Gareth Edwards, Marc Webb, and Josh Trank were allowed super-sized budgets for blockbuster films after having only one, small-budget indie under their belts.
There's a message going around Hollywood — and every other industry — that women need to be twice as good and exponentially more prepared than men in order to get these jobs. If Gerwig felt that pressure before decided to make Lady Bird, that's a damn shame. The silver lining here is that all of her hard work paid off, as Lady Bird is a marvelous solo debut. But it's unfortunate that she, and other women, might've felt that they needed to prove their worth in Hollywood in a way men typically don't before taking on that major role.
And regardless of whatever her motivation for directing may have been, there's no question that Gerwig was still put in a difficult, unfair position with Lady Bird. If she didn't have the experience she had, she might've not been given the shot at directing, despite plenty of debut movies by men coming out every year. Just recall how, in 2016, Lucasfilm president Kathleen Kennedy expressed her desire for a female director with "experience" to join the Star Wars universe, despite the fact that relative newbie Gareth Edwards was given the reins to Rogue One. Female directors are told they need experience in order to be given projects — but they can't get that experience unless someone takes a chance on them.
And even if Gerwig had managed to direct Lady Bird despite a lack of experience, but the film was a flop, her failure might have been seem as emblematic of the failure of female directors overall, making studios think that unestablished female filmmakers shouldn't be given chances. Thankfully, though, that wasn't the case, and Lady Bird is a success. But still, it's frustrating to think of the road Gerwig might've felt forced to take just to get here. Hopefully, when it comes to planning her second outing as director, she'll be treated just like all of those wunderkind male filmmakers who are given blockbuster gigs and plenty of respect for or after their debuts. Hey, I hear some new Star Wars films are on the horizon, and they're no doubt in need of directors — perhaps Kennedy should give Gerwig a ring.