'Grey's Anatomy' Star Jesse Williams & Sarah Drew Are Still Close, Making Japril Fans So Happy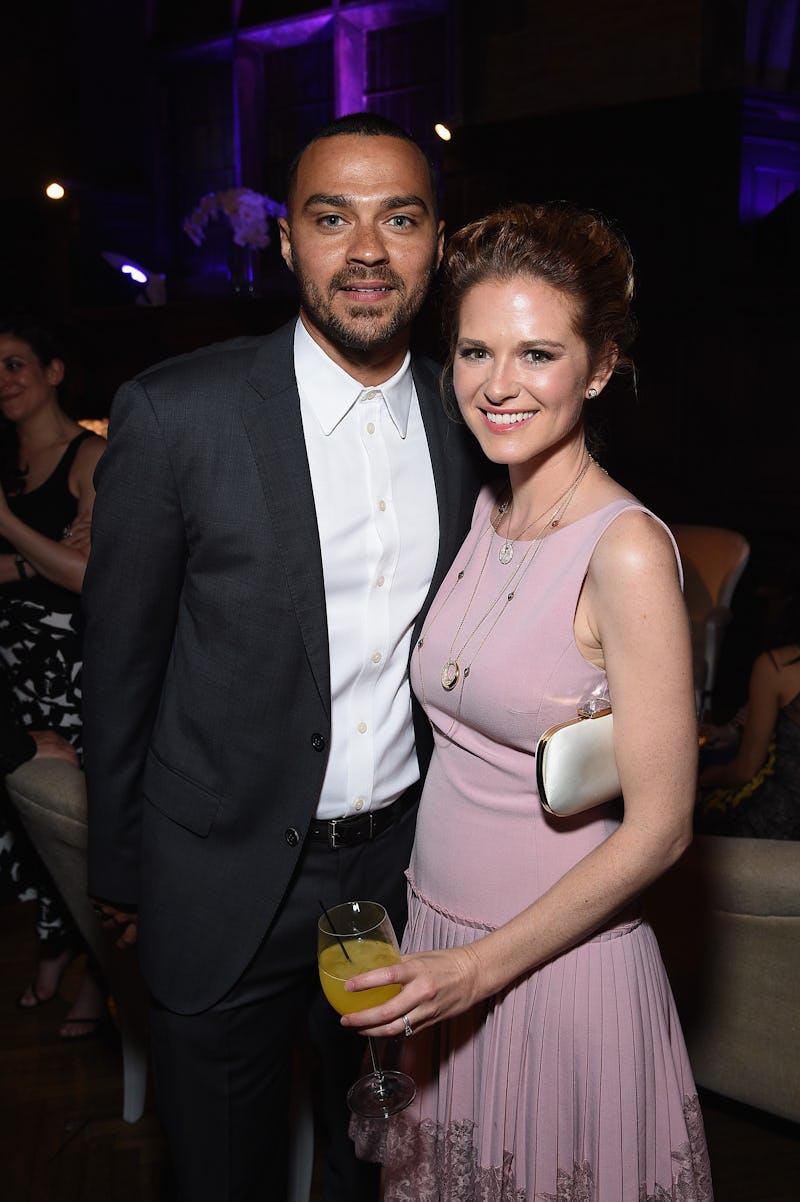 Dimitrios Kambouris/Getty Images Entertainment/Getty Images
Although they may no longer see one another during filming, Grey's Anatomy stars Jesse Williams and Sarah Drew remain the best of friends despite Drew's departure from the series last season, according to Us Weekly. During a recent chat with the outlet, Williams, who plays Dr. Jackson Avery on the show, revealed that he and Drew still have a great relationship and hang out on a regular basis. The 37-year-old actor explained,
"That's my buddy. We absolutely talk and see each other regularly, happily, easily. She's a tremendous, tremendous actress who has a film out now. She produced it and she's starring in it. She's a tremendous, tremendous person."
While that doesn't bring Drew's character Dr, April Kepner back to the show, it should certainly being some comfort to the legions of fans who were devastated by April's exit from the series at the end of Season 14. During last season's finale, Drew's Dr. April survived a car accident, and ultimately left her position at Grey Sloan Memorial to work with the homeless. With her character alive and well, there has been a great deal of hope about her appearing back in the Seattle-based hospital sometime in the future.
As Grey's enthusiasts continue to keep their fingers crossed for a guest appearance from April in the future, Williams told Us Weekly that he has "no idea" if Drew will ever return to the show, but did share that he would "love" it if she did. Gushing about his time working with Drew, he went on to explain:
"That is the light of my career on the show, being her acting partner."
The ending of Drew's storyline seeming allows room for April to at least make a cameo one day. However, Drew explained that a return may not be so easy for her emotionally. Speaking to Entertainment Tonight on Oct. 23, she shared just how hard it was for her to separate from the character who was a part of her life for the past nine years. Drew shared,
"I've loved her and I've said thank you to her and I've enjoyed my journey being with her. She feels like an appendage. She's a person, she's a real person in my life. It's a long time to embody someone nine months out of the year and I really had to say goodbye to her."
Although actor's recent comments to Entertainment Tonight suggest that bringing the character back would prove to be a hugely difficult decision, Drew did say:
"I'll never say never because they are my family. I still love everyone over there. I love that community and I still have such an incredible space in my heart for everyone over there."
After sharing words of endearment about her co-workers from the set of Grey's, Drew was careful to emphasize her challenges with returning to the character, telling ET:
"But I really do feel like, because of how it went down, I really had to part ways with April, I just had to. There was no way for me to live in a space of possibility of her returning and also be healthy in my letting go of all of it, so I really have said goodbye to her."
Following Drew, and fellow actor Jessica Capshaw's (Dr. Arizona) departure, there were some worries that William's character would be next, especially due to his brief disappearance from Season 15. Williams took a moment to clear things up while speaking with Us Weekly, sharing:
"People kind of freaked out about that. … They thought I'd left. 'Did you leave? Is this over? Did Jackson Avery leave the show? Did Jesse leave the show?' And I didn't. But we have a really great season ahead of us."
While it goes without saying that Sarah Drew is a greatly missed presence from ABC's TGIT lineup, hearing that she and Jesse Williams are still close friends is definitely makes things a little bit brighter.