These 'Grey's Anatomy' Favorites Are Leaving The Series, So Get Ready To Cry All The Tears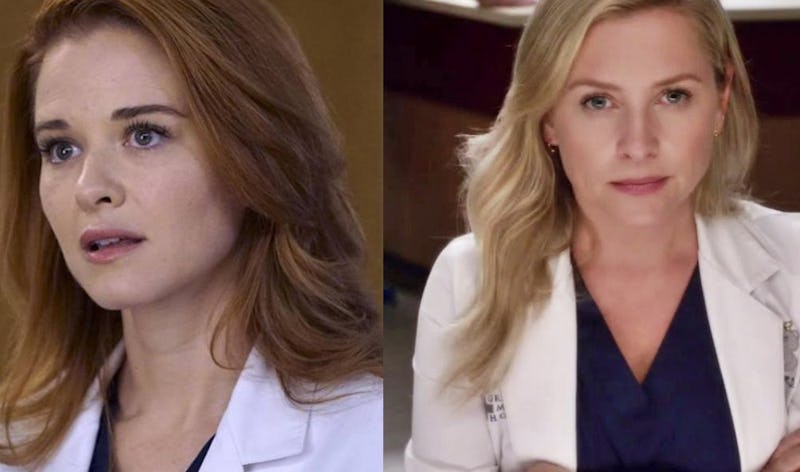 ABC
As one of the longest-running dramas on television, Grey's Anatomy has become notorious for creating a large web of storylines that has fans tuning in to watch religiously. However, the recent news, shared by TV Line, that Jessica Capshaw and Sarah Drew are leaving Grey's Anatomy after Season 14 most certainly comes as a huge shocker to those have followed the pair throughout the years. Saying goodbye to April and Arizona on Grey's Anatomy certainly won't be easy for fans, and it's not easy for the actors that play them either.
The women have become fan favorites during their time on Grey's. Starting out playing recurring characters on the show, Capshaw has been with the series for a decade, playing the role of Head of Fetal Surgery, Dr. Arizona Robbin, while Drew has portrayed attending trauma surgeon, Dr. April Kepner, for nine years.
Showrunner Krista Vernoff announced their surprising departures in a statement released by Deadline on Thursday afternoon. It reads,
"The characters of Arizona and April are permanently woven into the fabric of Grey's Anatomy thanks to the extraordinary work of Jessica Capshaw and Sarah Drew. As writers, our job is to follow the stories where they want to go, and sometimes that means saying goodbye to characters we love. It has been a joy and a privilege to work with these phenomenally talented actresses."
While the statement offered no explicit reason for their abrupt exits, Deadline reports that the decision to remove Capshaw and Drew from the narrative was based on the show's "creative direction."
Series creator Shonda Rhimes shared her gratitude for Capshaw and Drew's work on the medical drama and pointed out how their characters have helped to bring better a representation of two largely marginalized groups of people to primetime television. In a statement, also shared by Deadline, Rhimes said, in part:
"It's always hard for me to say goodbye to any of my characters. Both Arizona Robbins and April Kepner are not only beloved but iconic — both the LBGTQ and devout Christian communities are underrepresented on TV."
Drew took to social media to reveal her sorrow with fans on Thursday afternoon. Revealing that she received the news just a couple of days ago, and shouting out co-star Kevin McKidd in the process, the 37-year-old Everwood star tweeted:
"Thank you for all of the love. I know you're sad. I'm sad too. I haven't really had the time to process this information. I've been with it for less than 48 hours, so I'm not ready to say my thank yous and give an all encompassing statement about my nine years here. That will come later. For now, I'd like to say: I love you, and I love April, and her story isn't over yet."
Capshaw shared similar sentiments via her Twitter account. Thanking Rhimes for the opportunity, the former Practice actor wrote:
"For the past 10 years I have had the rare privilege of not only playing Arizona Robbins but also being madly in love with playing her. Arizona Robbins is kind, intelligent, funny, insightful, bold, playful, fierce and really good at her job. She was one of the first members of the LGBTQ community to be represented as a series regular role on network television. Her impact on the world is permanent and forever. Forever. I am grateful that I have gotten to bring her to life and for the life that she has brought to me."
During its remarkable 14 seasons in production, Grey's Anatomy has had some of the most devastating departures on primetime TV. Throughout the years, longtime fans have said goodbye to T.R. Knight, Kate Walsh, Katherine Heigl, Sandra Oh, Eric Dane, Sara Ramirez, and Patrick Dempsey — just to name a few. With Jessica Capshaw and Sarah Drew now added to the show's exit list, viewers will have to wait to see what new storylines Grey's Anatomy will have in store in its upcoming seasons.