'Grey's Anatomy's Jesse Williams To Make His Directorial Debut In A Film About Emmett Till's Murder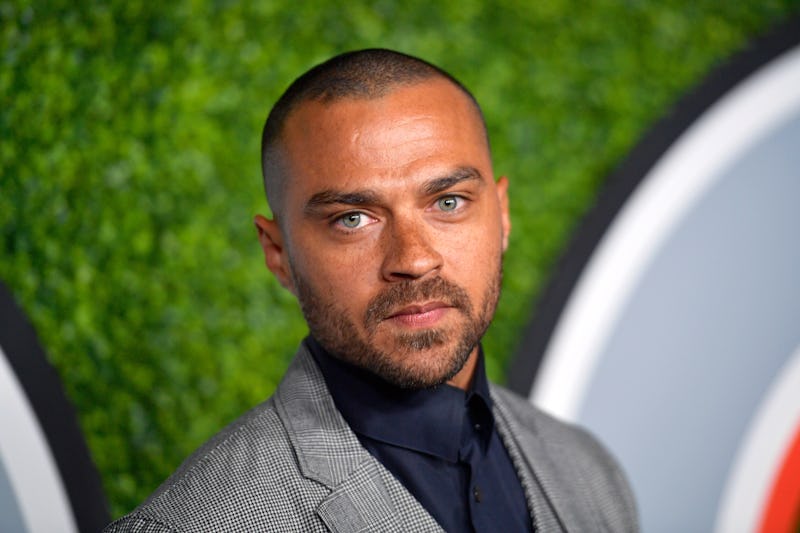 Matt Winkelmeyer/Getty Images Entertainment/Getty Images
Dr. Jackson Avery may be busy constantly saving lives on Grey's Anatomy, but his real life counterpart is about to take his talents behind the screen for a change. Deadline reports that Jesse Williams will direct a film about Emmett Till's murder. Although he's very passionate about the project, he's sparked a bit of backlash on social media due to reported tweets that insenitively featured Till's mother, Mamie Mobley Till, that he's since deleted. Bustle has reached out to Williams' representatives for comments, but did not hear back at the time of publication.
UPDATE Sept. 25, 7:04 p.m.: On Tuesday, Williams apologized for his tweets in a lengthy Twitter statement that reads:
"I would absolutely never make light of the tremendous tragedy that foisted Mamie Till Mobley into her life of activism and could never pretend her child being brutally tortured and executed was her 'sacrifice'. That doesn't even kinda make sense, never mind being absurd and ahistorical.
The images were designed it to highlight the tremendous sacrifices that Mamie made by sharing her unrelenting journey for justice — including boldly sharing those iconic images from her son's funeral, which changed the world. I adopted an iconic contemporary visual framework to connect past to present And contextualize our language around loss, leadership and sacrifice. My intent aside, I take responsibility for how they were received.
My heart is always with my people and this includes my artistic commitment to telling our stories. Always have, always will. And while I stand for creative expression, every swing ain't gonna be a homerun. (And y'all know I swing a lot.) Those who are sincere in this work and concern, I thank you."
Earlier: The story, titled Till, will center mainly around Emmett's mother, Mamie Mobley Till, and her battle to get justice for her 14-year-old son, who was tortured, beaten, and shot to death in 1955 after being accused of flirting with a white woman during the Jim Crow era. The film will be based on civil rights filmmaker Keith A. Beauchamp's 2005 documentary, The Untold Story of Emmett Louis Till, which eventually resulted in the Till case getting reopened by the United States Department of Justice back in 2004.
Considering that Williams has always been extremely vocal about his beliefs, particularly in regards to human rights and the Civil Rights movement, it feels like a natural next step for the actor-turned-director to take on something with such historical importance.
"I'm honored to be directing the story of Mamie & Emmett: a tale of revolutionary defiance in the face of tremendous personal and public devastation," Williams said in a statement, as reported by Deadline. "An exploration of power and pulling back the curtain on cultural violence; of boyhood and maternity challenging America's reflex to hide from itself; underdogs refusing to pretend that terror is freedom."
Though Williams seems proud to be working on a project like Till, shortly following the announcement of his directorial debut, Williams faced backlash for alleged tweets he shared with his followers regarding the news. According to Vulture, Williams allegedly shared, and subsequently deleted, photos of Mamie Till-Mobley with the caption of the Colin Kaepernick Nike slogan: "Believe in something. Even if it means sacrificing everything."
The criticism from users online certainly shows the sensitive subject the film will tackle and that people want the film to be both accurate and aware of important racial sensitives. After Emmett's tragic death, his mother insisted on having an open casket funeral, according to The New York Times. This was to help draw focus to the racially-fueled cruelty and violence that her son had endured. The two white men, Roy Bryant and his half-brother J.W. Milam, who, at the time, had been charged with kidnapping and killing Emmett were acquitted of all charges by an all-white jury after only 67 minutes of deliberations, according to PBS.org. The article also reported one jury member later saying: "We wouldn't have taken so long if we hadn't stopped to drink pop."
However, this isn't the only project currently in the works that will center around Emmett Till's heartbreaking story. Empire star Taraji P. Henson is gearing up to not only star in but also produce a film about Emmett Till's death. John Singleton is signed on to direct and Henson is set to play Emmett's mother, according to Vanity Fair. Additionally, there's also an HBO Emmett Till miniseries that was put into development back in 2016, and will reportedly be produced by the likes of JAY-Z, Will Smith, Casey Affleck, and Aaron Kaplan. Let's hope that these projects shed a much-needed light on this injustice.