'Grey's Anatomy's 300th Episode Will Be A Literal Roller Coaster Ride, So Buckle Up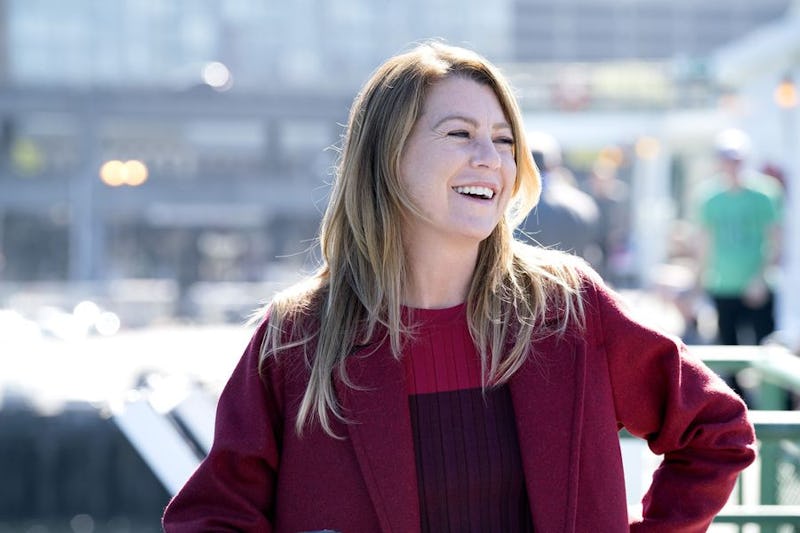 Derek Johnson/ABC
Fourteen seasons, 28 series regulars, and countless surgeries after its March 2005 debut, ABC's long-running medical procedural is about to hit a milestone few scripted shows ever do. Grey's Anatomy is celebrating 300 episodes, a feat that puts it in league with the likes of such classics as Law & Order, Dallas, and (of course) ER. Assuming an average of 45 minutes per episode without commercials, that means it would now take you over nine solid days to marathon the entire existing Grey's Anatomy catalogue, if you watched 24 hours a day and never took a break for eating, sleeping, or going to the bathroom. (In other words, a typical week for an intern at Grey Sloan Memorial Hospital.)
Given how gradually changes can occur over the course of nearly a decade-and-a-half, it's jarring to look back at the series premiere and remember just how different the show really was back then. The cast members were babies, the production values were less glitzy, the disaster episodes were more realistic disaster-y. So, what can fans expect from the upcoming anniversary celebration? Will it be a flashback-laden hour that coasts on nostalgia, or a forward-thinking episode that embraces the future?
Here's everything we know about Grey's Anatomy's 300th episode so far:
1. It Will Air On Nov. 9
Given that Season 13 ended on overall episode No. 293, the landmark 300th installment will occur seven episodes into the current 14th season, which will air on Thursday, Nov. 9. ABC is planning on making a whole deal out of the occasion, with the network referring to this particular throwback Thursday as "A Day of Grey's," which will consist of appearances by the cast throughout the day on talk shows like Good Morning America, Live With Kelly and Ryan, The View, The Chew, and Nightline. The episode itself will air during the show's typical time slot, beginning at 8:00 p.m. ET. Don't forget to set your DVR!
2. It Has A Ham-my Title
All Grey's Anatomy episodes take their titles from song lyrics, and the 300th episode is no different. The hour is titled, "Who Lives, Who Dies, Who Tells Your Story" — which will elicit either a shrug or a cheer, depending on how familiar fans are with the smash Broadway sensation Hamilton. The wordy phrase is one that comes up repeatedly throughout that musical by Lin-Manuel Miranda, first in the Act 1 song "History Has Its Eyes on You," sung by George Washington, and again in the Act 2 finale that shares its title with the Grey's episode.
3. It Was Penned By An O.G. Grey's Writer
If Season 14 has felt like a return-to-form so far in terms of its light-heartedness and romance, there's a very specific reason: Original Grey's head writer and executive producer Krista Vernoff returned to the fold after departing to work on Private Pratice and Shameless. Her resumé of Grey's episodes contains several iconic hours — including the Season 2 tear-jerker "Into You Like a Train." The fact that she personally wrote the 300th episodes should be an encouraging sign for longtime fans.
Additionally, Debbie Allen — who plays Dr. Catherine Avery on the show — returns to the director's chair for the 16th time; her previous credits working behind the camera on the show include the Season 13 finale "Ring of Fire" and the other Hamilton-inspired hour, "The Room Where It Happens."
4. It Will Be A "Love Letter To The Fans"
"I have written it as a love letter to the fans who have been watching all 14 years," Vernoff told TVLine about her work on the 300th episode. While she acknowledged making a conscious effort to infuse Grey's with "more joy and more light and more humor" this season, she said the tone will be slightly different for the milestone event.
"If there is a feel to the episode, it is nostalgia," she said. "And if there is a theme of the episode, it is the ghosts of our past. So I have found a way to pay some small tribute to everyone who has been here before."
5. It Will Be A Literal Roller Coaster Ride
OK, but what will the 300th episode actually be about? Like all good extra-special episodes of Grey's, it will of course involve a large-scale disaster. According to the official description released by ABC, "Who Lives, Who Dies…" will be a roller coaster ride. And I don't mean a roller coaster ride of emotions (although it certainly will be that, too) — I mean a literal one. "A roller coaster car falls off the track at the county fair, and the doctors at Grey Sloan tend to patients who spark memories about ghosts from their past," the brief synopsis teases.
6. Martin Henderson Won't Be In It
When ABC released this photo of the Grey's cast celebrating the filming of the 300th episode in late September, Martin Henderson — aka Dr. Nathan Riggs — was the only series regular not in attendance. Was he just sick that day… or did his absence portend ominous things for his character? Well, as viewers now know after the events of the Oct. 26 episode, "Danger Zone," Nathan Riggs has checked out of Grey Sloan for good. Sadly, that means Henderson will be missing the landmark hour by just two short weeks. Good luck in California, Dr. Riggs.
7. Sandra Oh Won't Be In It, Either
Ever since beloved original cast member Sandra Oh departed Grey's Anatomy at the end of Season 10, fans have spent every hiatus wondering if the next season will be the season in which Dr. Cristina Yang finally makes a return appearance. The impending 300th episode felt like as good a time as any for Cristina to drop by the halls of Grey Sloan… but, sadly, Vernoff has already confirmed that won't be the case.
"That would be a fine occasion for a visit," the head writer told TVLine, "but it's not happening. So I don't want people imagining or hoping it will and then being disappointed. Sandra may one day come back for the end [of the series] or something, but she's not coming back this season."
Even without a favorite former doctor returning, though, fans will be there for "Who Lives, Who Dies…" just like they have been for the 299 episodes that came before it. So, take a tequila shot in honor of the sorely-missed Dr. Yang and dance it out with the 300th episode.