Every 'Grey's Anatomy' Season 13 Moment You Need To Remember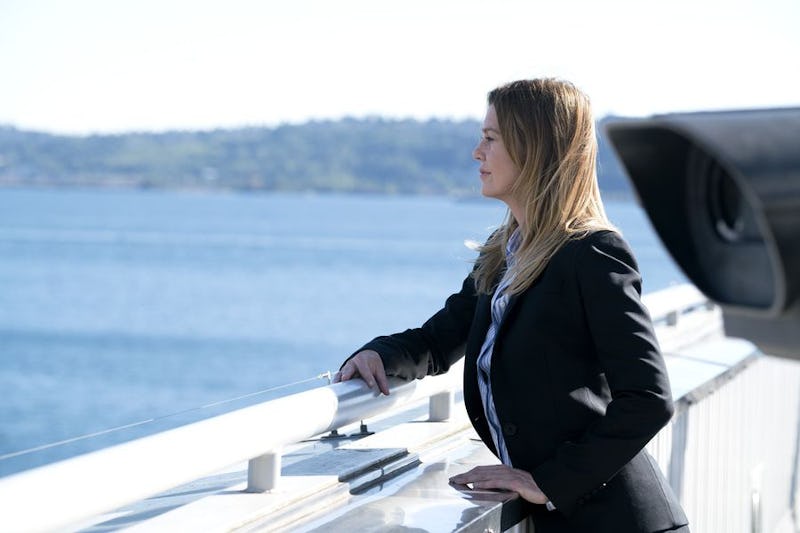 Derek Johnson/ABC
Paging all Grey's Anatomy fans! With the Season 14 premiere just around the corner (yes, fourteen, can you believe it??), it's time to scrub in and study up on what happened at Grey Sloan Memorial Hospital last year with this Grey's Anatomy Season 13 recap. I don't mean to imply that you weren't paying attention or anything; but the show will be celebrating its 300th episode a short ways into the new season, and that's a lot of hours of television for any one person to be asked to remember. So just in case some of the details of the show's lucky 13th season have slipped your mind over the past four months, here's your brief refresher course.
With a full season's worth of episodes between the traumatic Season 11 death of Derek "McDreamy" Shepherd and the Season 13 premiere, Grey's was finally ready to dive back into the thorny question of Meredith's love life. Her tentative romance with Nathan Riggs was a huge storyline over the last 24 episodes — as were the turbulent love lives of quarreling couples like Alex and Jo, Owen and Amelia, and April and Jackson.
Of course, there's more to Grey's than just romance; there were also plenty of gnarly surgeries and (literally) explosive cliffhangers. Where did all 15 main cast members leave off during the Season 13 finale? Let's review…
1. Meredith Grey, Nathan Riggs & Maggie Pierce
Half-sisters Meredith and Maggie both harbored a crush on Nathan Riggs, which made everyone act like high schoolers… so it was a relief when Mer and Riggs finally consummated their attraction after bonding on a haywire airplane flight, and Meredith finally came clean to Maggie about her feelings. Of course, Mer's new romance hit a snag when Nathan's fiancée Megan Hunt was found alive after being presumed dead for several years. Meredith encouraged him to return to his former flame, but it seems like one love triangle has simply been exchanged for another.
Meanwhile, Maggie shifted her affections from Nathan to Jackson, and April essentially gave her colleague permission to pursue her ex-husband. Oh, and Maggie's mother died of breast cancer. Rough year for Maggie.
2. Alex Karev, Jo Wilson & Andrew DeLuca
At the beginning of the season, Alex turned himself into the police for beating up Andrew in the Season 12 finale. He could have had his medical license revoked if he was convicted for felony assault — but when Andrew realized that the trial would allow Jo's abusive husband to find her, he threatened to tank his testimony and the prosecutor dropped the case.
While Alex hired a private investigator to track down Jo's husband (and fantasized about confronting him), Andrew found himself falling for Jo… but the conflicted doc stopped him short when he went to confess his love for her.
3. Miranda Bailey, Ben Warren & Richard Webber
Desperate to improve the hospital's flagging reputation, Chief Bailey hired Eliza Minnick to completely overhaul their intern training program, thus jeopardizing Richard's job in the process. This drove a wedge between Richard and Catherine (who had encouraged Bailey to hire Minnick), and it took all season long to repair the former Chief's relationships with both his wife and his colleague.
After performing three improvisational surgeries in Season 12 — to varying degrees of success — Bailey's husband Ben was accused of playing it "safe" in Season 13; but he seemed to find his mojo again when he helped a team of firefighters during the finale's explosive crisis, thus leading up to the character's jump to the Grey's spinoff.
4. Owen Hunt & Amelia Shepherd
Although Owen and Amelia tied the knot in the Season 12 finale, their honeymoon phase didn't last very long into Season 13 before it was interrupted by the couple's clashes over the issue of children. While Owen thought he'd finally found a partner he could raise a kid with (after Cristina's flat-out refusal to consider the idea), Amelia balked due to the fact that her last baby died after being born without a brain. Unable to resolve their conflicting desires, Amelia moved out — but the sudden return of Owen's presumed-dead sister could finally set the two on a path towards reconciliation.
5. April Kepner & Jackson Avery
When Season 13 started, April had just given birth to her and Jackson's daughter, Harriet. Although they still remained frostily divorced, Jackson asked April to move back in with him so they could help each other raise the baby. But when April started dating again while living with her ex-husband, it put something of a damper on the unconventional arrangement. Both exes are still trying to move on: April with people on Tinder and Jackson (maybe?) with Maggie. Despite this, the former couple still remains closely bonded — not just because of their daughter, but also because of a trip they took to Montana, where Jackson met his estranged father and he and April wound up sleeping together.
6. Arizona Robbins
Although Arizona was one of Richard's staunchest advocates in the former Chief's cold war against Bailey, she found herself conflicted when she found herself attracted to Richard's competition, Eliza Minnick. With Callie having moved to NYC with Penny at the end of Season 12, Dr. Robbins finally got the new love interest fans had been clamoring for; too bad it didn't last, with Bailey wising up and firing the incompetent Minnick in the Season 13 finale. Better luck next time, Arizona!
7. Stephanie Edwards
Stephanie had perhaps the toughest year out of anyone… and that's saying something at Grey Sloan. Not only did she have a nine-year-old patient die on the table under Minnick's shoddy tutelage, and have a religious father threaten to sue after she operated on his son without permission, but she found herself at the middle of the finale's explosive events, when an unstable patient took both Stephanie and a young girl hostage. Dr. Edwards ended up having to kill the man by lighting him on fire — blowing up half the hospital in the process — and, understandably traumatized by the event, she quit her job.
Smart move, getting out while you can, Stephanie; not every doctor at Grey Sloan is lucky enough to leave with their life and limbs relatively intact.
Hopefully I did a better job educating you than Dr. Minnick did; I'd hate to think any cute and precocious young kids died as a result of my recapping. Find out how Megan's "surprise" (not really) return sends shockwaves through the hospital when Season 14 premieres on Sept. 28!