In One Episode, 'grown-ish' Nailed How Universities Continuously Fail Student Athletes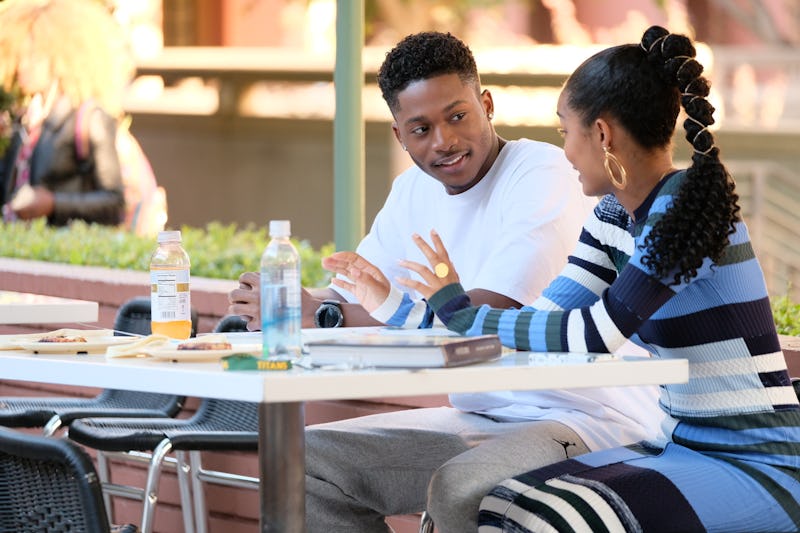 Freeform/Tyler Golden
Spoilers ahead for grown-ish Season 1 Episode 4.
Being a student athlete at the college level is no easy feat, as Zoey comes to realize on Freeform's grown-ish (executive producer: Julie Bean). Zoey dreams of scoring a fellowship at Teen Vogue magazine and the Dean has agreed to write her a recommendation letter, but on one condition — Zoey has to tutor Cal U's star freshman, basketball recruit Cash Mooney. At first Zoey is reluctant because of her self-imposed break from guys and because Cash doesn't seem to take his education seriously at first. But Zoey eventually learns that this isn't the case, and her time with Cash allowed grown-ish to shed a much-needed light on how universities can sometimes take advantage of student athletes.
Cash, a new addition to Zoey's college crowd, is presented as the No. 1 high school athlete in the country. But Cash won't be playing on the team if he can't pass his history midterm — thus enlisting the help of Zoey. Later, she and her friends hang out in a local sports bar to watch Cash and the Cal U team play on TV. Cash's poor game performance garners criticism from the table, and Zoey rushes to his defense. Ana makes an off-hand comment that being a college athlete is easy, setting off Sky and Jazz — two track students.
The twin sisters, along with the on-screen sports commentator that breaks the fourth wall, explain the perils of being a college student today and how universities and the governing body, the National Collegiate Athletic Association (NCAA), take advantage of them — making their time on campus anything but easy. And unfortunately, the same can be said for student athletes in the real world.
According to the NCAA website, nearly half a million students participate in athletics at the college level. And they may spend more than 40 hours a week practicing, leaving little time to keep up with academic commitments, according to a 2015 lawsuit against the University of North Carolina and the NCAA. In return, they sometimes are left with life-altering injuries including concussions, and scholarships that may or may not cover the entire cost of attendance at a four-year university. But that's about it.
Some have argued that collegiate athletes deserve to be paid like employees for the work they do, but the NCAA has stated that this is impossible. However, according to economists who spoke with the Huffington Post, this is blatantly incorrect. In fact, the NCAA has previously brought in nearly a billion dollars in revenue, and some schools have coaches that make nearly $10 million per year, much more than average NBA coach. The episode also points out the true facts that the NCAA and universities make money off ticket sales, donations, and partnerships with big name brands like Nike and Adidas. College athletes, on the other hand, are unable to profit off their celebrity status. This became blatantly clear when two University of Iowa swimmers were prohibited by the NCAA from using their names, photos, or athletic links to promote their T-shirt business.
Academics are a whole other beast for college athletes. In grown-ish, after Cash's poor game performance, he gave up trying in class, believing he would have no life outside of sports. Fortunately, a pep talk from Zoey helped him reconsider. I can't help but think that more athletes need that kind of support, too. Not to burst anyone's dream of playing in the pros, but according to the NCAA, only 1.5 percent of student athletes are drafted to the NFL, 1 percent in the NBA, and .9 percent for the WNBA — so the more support student athletes have to live balanced lives is probably better in the long run.
It's for this reason the NCAA claims to promote academics. But schools aren't always pushing for their athletes to succeed in the classroom. In 2015, 20 schools came under investigation by the NCAA for academic fraud, with some programs having athletes enrolled in "no show" classes — where they got credit but didn't need to attend, according to CBS.
While the NCAA boasts stellar graduation records, many athletes graduate confused about what to do next. Due to strict practice requirements, many athletes cannot take internships and sometimes aren't able to form meaningful professional relationships that would aid them in their job search should turning pro not happen, according to a Huffington Post article.
But overall, despite the so-so treatment and jarring statistics, in the end it's ultimately up to the student to look out for themselves and to do what's best for them regarding their financial and academic future. And hopefully, unlike Cash, student athletes in the real world will actually take their own midterms and not watch YouTube videos in class. Nonetheless, kudos to grown-ish for shedding a spotlight on how colleges and the NCAA could do better by student athletes.