Why 'grown-ish' Is The Coming-of-Age Comedy That People Of Color Have Been Missing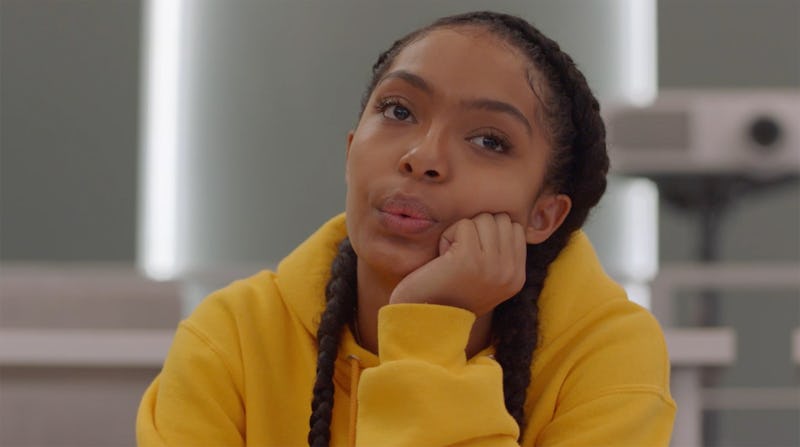 Freeform/Kelsey McNeal
Few other shows on TV have ever captured the experience of people of color jetting off to college quite like Freeform's black-ish spin-off grown-ish has. With the exception of some, like '90s classic A Different World, Netflix's Dear White People, and newcomer drama series BET's The Quad, the journey of minorities pursuing higher education has continuously been passed over. Diverse characters have often existed in other college-centric shows as no more than stereotypical plot devices or caricatures with no real backstories given. That will all change when Freeform's grown-ish premieres on Jan. 3, giving people of color a much-needed, coming-of-age comedy at last.
The woke sitcom centers around Zoey Johnson's (Yara Shahidi) super-relatable first-year experiences (think: house parties, being confronted with drugs, sleep-deprived late-night essay writing). In the first episode Zoey trades her cushy suburban lifestyle for a little slice of the real world. Much like grown-ish's appropriately-fitting theme song, Zoey arrives on campus with the attitude of "watch out world, I'm grown now," and is quickly slapped with a lofty reality check.
In between the moments of witty satire and pop-culture references fans of ABC's black-ish may have grown familiar to, the eldest Johnson child finds her tribe: A cast of characters that includes a Cuban Republican roommate Ana (Francia Raisa), pill-dealing Vivek (Jordan Buhat), and free-spirited rebel Nomi (Emily Arlook). Rounding out the crew is Zoey's maybe-love interest, the always-woke Aaron (Trevor Jackson); weed-smoking fashionista Luca (Luka Sabbat); and hood-raised track stars Sky and Jazz (Chloe and Halle Bailey). Together they form what Zoey dubs her own version of "the breakfast club."
This reference is probably the most heartwarming in the entire premiere episode, because The Breakfast Club is a certified teen classic. Almost everyone can identify with a character from the "club" comprised of a princess, a jock, a basket case, a nerd, and a criminal. The '80s film beautifully touched on the struggle of what it's like to be a teen – i.e. misunderstood. But despite its memorable soundtrack and neat lipstick-boob trick, it did fail in one huge department: race.
In the late '90s and early 2000s, I watched movies like The Breakfast Club and other teen TV shows religiously. Dawson's Creek, Saved By The Bell, and The O.C. left me mesmerized. I watched as teens experienced well, teen life. Friendships were formed and friends fell out. Sex was had and drugs were tried. Plenty of arguments with parents ensued. But the heartthrobs and misfits who filled my television screens growing up didn't reflect my experiences as a young black woman.
I was left only with shows like Living Single, that while touched on my racial experiences, featured characters who weren't anywhere near the same age as me. They were mid-20s adults already in their careers. Besides what was shown on A Different World, the experiences had by people of color in college was a mystery to me. It's as if people who looked like me went from being sassy children to full-blown adults with nothing in between. grown-ish tells an important middle portion of the story.
grown-ish alone can't fix TV's diversity problem, though. A 2016 study done by the University of Southern California further highlighted the lack of diversity in entertainment. For example, only two percent of speaking characters in the TV shows studied identified as LGBTQ+ and Hispanics were found to be just 5.8 percent of characters within both mediums, despite being an estimated 17 percent of the U.S. population. Minority characters can barely get a word in on TV shows, so it's no wonder their experiences as students is basically nonexistent.
Fortunately, teens of color today hopefully won't have the same problem millennials like me had growing up. Because of shows like grown-ish (and hopefully more to come, the buck shouldn't stop here), teens and young adults — particularly black women — are finally being given some of the representation they deserve and expect in 2018. grown-ish gives viewers everything: College told exclusively through the lens of a leading lady of color, it's a show that's culturally sound, and it's one that won't shy away from real-life issues no matter how uncomfortable. But, most importantly, grown-ish creates a space for people of color to have fun, make memories, and live their best lives.
Sure, A Different World touched on most of the same issues that grown-ish will most likely touch on, but that show took place so long ago. College life is a whole different ball game nowadays, and young adults of color deserve representation that reflects their modern-day life — "u up?" text messages and all. And I for one am happy they've finally gotten it in grown-ish.
Editor's note: After publication, we discovered this article did not meet our editorial standards: There were portions that did not correctly attribute another source. It has been updated to meet our standards.