Grubhub Released This Year's Most Popular Foods & They Are All Ridiculously Delicious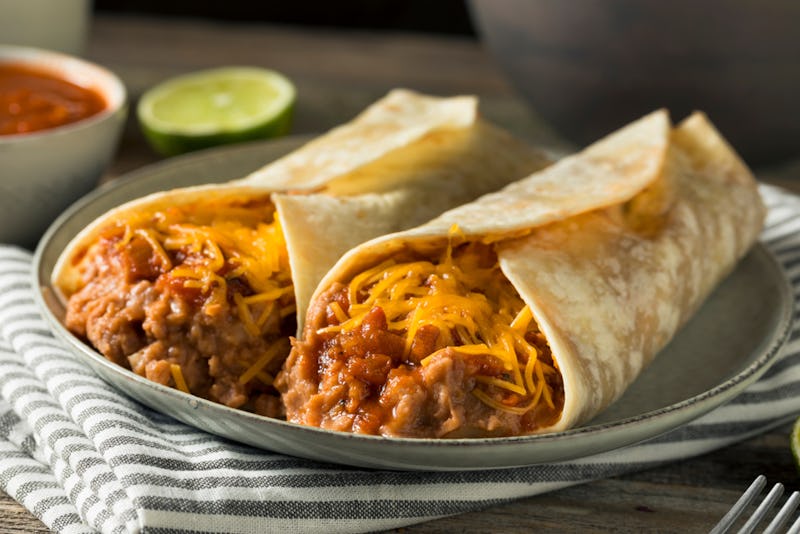 Brent Hofacker/Shutterstock
If you've been tuned into your Instagram feed at all this year, you've probably picked up a few food trends that peaked in 2018. Grubhub, the online and mobile food ordering and delivery service, definitely did. They put on their analytic hats and conducted research to scientifically pin point what foods we couldn't get enough of. Grubhub's most popular food trends 2018 are here and they'll have you drooling into the new year.
Don't expect to see avocado toast. It seems the beloved combination of the smashed fruit and bread has dulled under a new reign of delights. Though, don't get your napkin in a bunch, the brunch item will always be favored amongst millennials. Maybe we're just making it at home instead of dishing out half our paycheck on it? Regardless, Grubhub has introduced us to the new crop of popular dishes from the past 365 days.
The newly crowned number one dish according to Grubhub's analyzation is the bean burrito. It isn't hard to believe that beans snuggled up with rice, lettuce, tomatoes, sour cream and wrapped in a blanket of a flour tortilla is the most ordered. Every bite of a bean burrito is a blast of satisfaction. It was so loved in 2018 that the burrito shot up in popularity by a whopping 276 percent. You know what they say about beans — they're good for your heart.
The report highlights the nation's turn from red meat. Of the 10 most popular foods ordered on Grubhub, only one dish includes pork. The rest are plant and chicken-based. Rounding out the list is poke, chicken slider, baby back pork rib, chicken burrito, chicken sandwich, cauliflower rice bowl, chicken and waffle slider, parmesan chicken and buffalo cauliflower. So, if we weren't ordering poultry we were substituting it with the almighty, versatile vegetable we call cauliflower.
Grubhub was able to reach these conclusions by analyzing the millions of orders placed by 16 million users on their online and mobile marketplace. It turns out, when we don't feel like venturing in the kitchen during a Netflix binge, we're all ordering the same things on Grubhub. Doesn't that kind of give you all the good end-of-the-year ~feels~? Somewhere out there a total stranger, perhaps very different than you, is also waiting for their bean burrito arrive at their doorstep.
Though this year saw a spike in healthy choices, it doesn't just end with the top 10 most ordered dishes. The peanut butter acai bowl was up 350% in popularity taking the number one spot in top breakfast orders. The acai bowl is followed by detox juice. And the list of the top 5 breakfast items ends with French Toast.
The top dessert in 2018, seeing an increase in popularity by 413 percent, is the brownie. A chewy, sometimes gooey square of cake-y yet dense chocolate. The report notes that vegan brownies were also on the radar in 2018. When munchies strike after a late night out, it's stuffed jalapenos, spicy miso ramen, and sliders that everyone is capping the night off with.
Despite avocado toast falling from our good graces, at least when it comes to delivery, we seem to have had better, elevated taste in 2018. There's a large list of delicious fare proves that 2018's food trends were on point. And it makes the empty cart that is the year ahead a 365 day opportunity to fill with new, refreshing trends. Let's make it a good one.