Denim Day Encourages You To Take A Stand Against Sexual Violence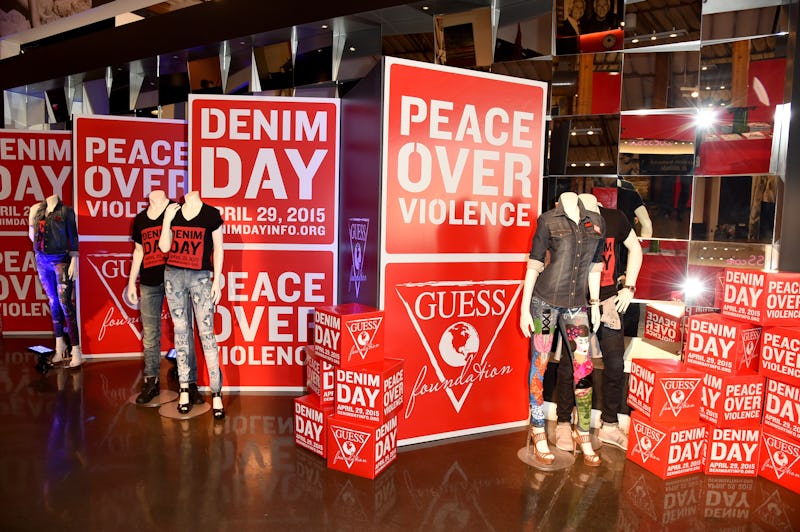 Jason Merritt/Getty Images Entertainment/Getty Images
Denim is a staple item in nearly everyone's closet. Whether you're dressing it up for a night out or down for a casual day with friends, denim shows up in practically all wardrobes. Now, Guess and Peace Over Violence's Denim Day is encouraging you to rock your best pair of jeans or perfect denim jacket in order to combat sexual violence. The Guess Foundation's partnership with non-profit Peace Over Violence is asking men and women to rock jeans in order to raise awareness about domestic, sexual, and interpersonal violence.
The Denim Day event will be held on Apr. 26, and while there will be a concert featuring Aloe Blacc and Maya Jupiter in Santa Monica, you can still participate in the day by rocking jeans. The story of Denim Day's inspiration comes from a case in Italy in which a rape conviction was overturned due to the court believing the victim's tight jeans were a sign that she must have assisted her rapist in removing the denim which ultimately led them to the belief that consent had been given. Peace Over Violence has been hosting Denim Day for the past 18 years, and for the past four, the Guess Foundation has joined them.
The Apr. 26 Denim Day date falls within Sexual Assault Awareness Month making the event even more special considering the case that inspired the day. The partnership with Guess is a no brainer considering that not only are they iconic for the denim, but the Guess Foundation's mission is to promote equality and tolerance.
Even if they're not Guess, the jeans worn on Denim Day act as a symbol for combatting the misconceptions about sexual violence. From untrue notions about consent to victim blaming, Denim Day is all about speaking up, taking a stand, and letting those around you see your support for victims.
If you want to support Peace Over Violence and victims of sexual violence, wear your best denim tomorrow, Apr. 26 as a way to speak up and bring awareness to misconceptions about domestic, interpersonal, and sexual violence.