Gwyneth Paltrow Confirmed All Those Marriage Reports With The Most Self-Explanatory Photo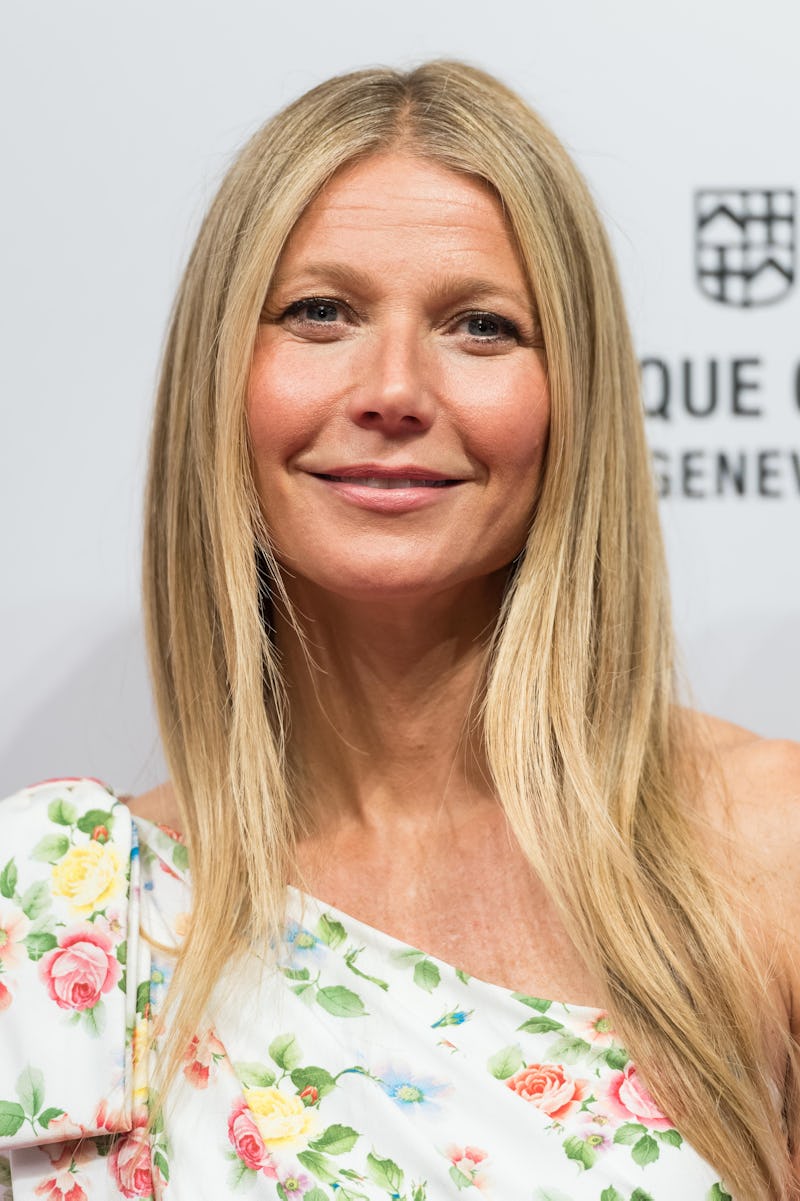 Ian Gavan/Getty Images Entertainment/Getty Images
The marriage rumors are officially true. On Sunday, Gwyneth Paltrow confirmed her wedding to Brad Falchuk with a self-explanatory Instagram photo, showing the couple holding hands with matching gold wedding bands on display. Paltrow didn't caption the photo, but the image clearly speaks for itself.
The Instagram posts follows reports from publications, like People and Us Weekly, that the two wed in the Hamptons on Long Island, NY on Saturday. According to People, the ceremony was attended by a many celebrity friends, including Steven Spielberg, Benji Madden, Robert Downey Jr., and Cameron Diaz. The rehearsal dinner was also reportedly held at Jerry Seinfeld's home. Paltrow has yet to share additional pictures from the big day, but her most recent Instagram makes the wedding news official. (Bustle previously reached out to Paltrow and Falchuk's reps, but has not yet heard back.)
According to Us Weekly, Paltrow and Falchuk first began dating back in 2014, and announced their engagement in the Sex & Love issue of Goop Magazine in 2018. In addition to announcing they would wed, the article allowed Paltrow to open up about entering a new, serious relationship following a divorce. She wrote,
"Personally, at midlife, I have tried to accept how complex romantic love can be. I have decided to give it a go again, not only because I believe I have found the man I was meant to be with, but because I have accepted the soul-stretching, pattern-breaking opportunities that (terrifyingly) are made possible by intimacy."
Falchuk is a TV producer best known for co-creating series such as Glee, American Horror Story, and Pose alongside Ryan Murphy. According to People, Murphy threw the couple an engagement party at the Los Angeles Theatre in April. The black-tie event was also a star-studded affair, with Kate Hudson, Julia Roberts, Reese Witherspoon, Liv Tyler, and Demi Moore in attendance. Paltrow shared a photo from the event to Instagram, thanking Murphy for hosting and her friends for the support. She wrote:
"Thank you to all of our amazing true and dear friends who came to support us. We feel like the luckiest people on the planet because we have all of you in our lives. And most of all thank you Brad Falchuk for the true happiness."
Paltrow also hosted vacation getaway as her bachelorette party, bringing her friends to Cabo, Mexico, according to People. The star shared a slideshow of photos from the weekend to Instagram, and it looks like she spent the trip enjoying the beachside views with friends.
It makes sense that the Goop founder would want to make the most of the wedding festivities. Even though the union with Falchuk will be Paltrow's second marriage, it was her first wedding ceremony. She was previously married to Coldplay's Chris Martin, but the couple eloped. Ahead of the ceremony with Falchuk, Paltrow opened up to about the wedding planning. "I'm excited about everything! I've never had a wedding before. So even though I'm 45, I sort of feel like a 21-year-old," she told PeopleStyle. "It's kind of fun to talk about with my girlfriends, They send me pictures of dresses, they're as excited about it as I am. It's pretty cute."
Fans will have to wait to see if Paltrow will share more updates from the special day. But knowing how the star curates her lifestyle brand Goop, it seems likely the event was beautiful and planned down to the last detail. Even though the couple has yet to share more pictures, Paltrow's recent post suggests that the wedding was a success.