Hailee Steinfeld Is Starring In Apple's New Feminist Series About Emily Dickinson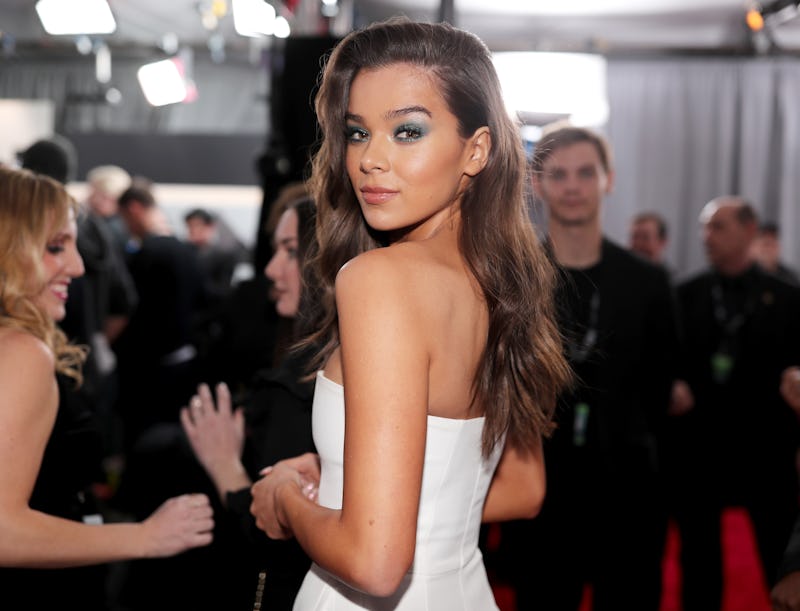 Christopher Polk/Getty Images Entertainment/Getty Images
Entertainment enthusiasts can agree that it's always exciting to hear that new, innovative content is entering TV's prime time lineup, and lucky for those alike, Apple has one on the horizon. According to The Hollywood Reporter on May 30, Pitch Perfect's Hailee Steinfeld will star in Apple's new feminist series about Emily Dickinson, and so far it sounds like it's going to be a hit.
Written by Alena Smith, and executively produced and directed by David Gordon Green, it's being reported by THR that Apple picked up Dickinson for an entire series order. The production examines the life of a young Emily Dickinson as she navigates her 1800s world, feeling out of place with her more-than-progressive views. As you may have already guessed, Steinfeld will be playing the role of Emily in the new half-hour comedic-drama, but though set in another time period, Hailee's career and social media presence over the past few shows that portraying the critically-acclaimed feminist won't be too far of a stretch.
Known for he roles in True Grit, The Edge of Seventeen — which gained her both Oscar and Golden Globes nominations, respectively — and, of course, the Pitch Perfect franchise, the actor has definitely portrayed angsty teens before. And when it comes to showing just how much of a feminist she is, Hailee has released music that totally shouts those empowering values from the rooftops.
With more than nine million followers on Instagram, the multi-talent is always projecting a girl power image that appears to come naturally for her. But seriously, with a songer entitled "Love Yourself," who would suspect anything other than authentic musings from the newly turned 21-year-old.
That's right — at just 21-years-old, Hailee is well on her way to becoming a widely known household name. Dickinson may mark her first time being a series regular on the TV screen, but as aforementioned, the actor and singer has totally received her accolades for the impact she's made on the silver.
Deemed as one of the greatest American poets of the 19th century, Emily Dickinson's words continue to ring loudly in the ears of all of those literature arts enthusiasts. And after researching more about the upcoming Apple project framed around her life, it actually makes a lot of sense that the writer felt out of place in her hometown. Groundbreaking artists are typically scruntinized for their progressiveness, but seeing as fans of the poet, or those who have studied her famed works in the classroom, seemingly know how her story will end, it's going to be nice to learn about all of the tiny details that helped to shape her into the force she was.
An official release date for Dickinson has yet to be announced, but if you're in the mood for more feminist work to consume until it arrives, there's a few awesome programs for you to binge in the meantime. Starring Gillian Jacobs, Phoebe Robinson, and Vanessa Bayer, Netflix's newest film Ibiza show the power of friendship between three besties as they travel to Spain for a business trip. And if you're looking for something a wee bit serious, Netflix's Sara's Notebook — starring Belen Rueda — follows the life of a lawyer named Laura, who travels to the Democratic Republic of Congo in search of her younger sister Sara, who is believed to be in danger. Oh, and on the talk show front, the streaming platform also has a new program helmed by famed comedian, Michelle Wolf, entitled The Break with Michelle Wolf, where she'll wow her audience with hilarious sketches and interview some of the world's most famous celebs.
All in all, Dickinson totally sounds like it's going to be a fan favorite already. And here's to hoping it more than exceeds all expectations, while leaving its audience with some valuable feministic lessons.