Hailey Baldwin Just Addressed The Wedding Rumors In A Very Straightforward Way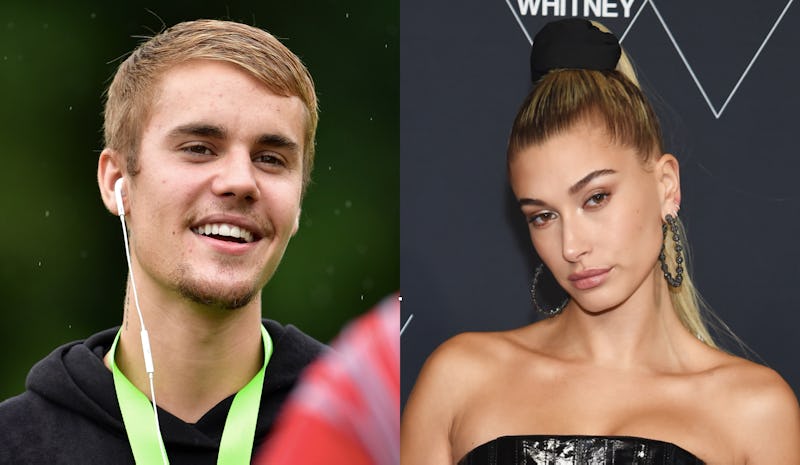 Stuart Franklin/Getty Images Sport/Getty Images; Dimitrios Kambouris/Getty Images Entertainment/Getty Images
False alarm, everybody. It seems as if the knot has not, in fact, been tied. Hailey Baldwin responded to wedding rumors about her and fiancé Justin Bieber — which were reported by People earlier today — with a short and simple tweet, and confirmed to fans that she and the Biebs had yet to make their impending marriage official.
On Sept. 14, Baldwin decided to confront the rumors head-on, and clarified via Twitter,
"I understand where the speculation is coming from, but I'm not married yet!"
In case you hadn't heard, though — which would actually be kind of wild, to be honest, considering the mass hysteria that ensued after the report first broke — a source for People told the publication that Baldwin and Bieber had wed in private on Sept. 13. At the time of the reports, Bustle reached out to Bieber and Baldwin's reps for comment, but did not receive a response.
According to the source, the two stars got married in a New York City courthouse, but, "they're going to have a big blowout, in front of God and everyone they love." The couple apparently did this "without listening to anyone," the source added.
Hmm, so, hang on a second. According to TMZ, the couple was photographed walking into "the courthouse where marriage licenses are issued," and that two eye-witnesses reported Bieber telling Baldwin, "I can't wait to marry you, baby." Is that part true, at least?
In the event that Bieber and Baldwin applied for and received a marriage license in New York City on Sept. 13, there are a few things that we can deduce. First of all, as per the New York State Department of Health — which houses information on "Vital Records" like birth certificates, death certificates, and (obviously) marriage licenses — "Although the marriage license is issued immediately, the marriage ceremony may not take place within 24 hours from the exact time that the license was issued." So, there's no way they could have simultaneously gotten a marriage license and got married on that particular day.
The website also clarifies that, "A marriage license is valid for 60 calendar days, beginning the day after it is issued," after which it expires. That means that if they aren't married yet, a wedding is definitely happening soon — like, before Thanksgiving soon.
Bieber announced his engagement to Baldwin via an Instagram post in early July. A source for TMZ previously claimed that the couple would wait until 2019 to wed, but now it seems as if they may have changed their minds.
On the other hand, getting a marriage license is just one of the first steps you have to complete before getting married. Also, it's not like, a binding agreement. If Bieber and Baldwin end up deciding to hold off on making their marriage official, all they have to do is let the 60-day validity of the license run out. They'll be out a whopping $35, but they can easily get a new one another time.
That being said, the next 60 days will undoubtedly be filled with anticipation for fans of Bieber and Baldwin. Will they? Won't they? Only time (and sneaky paparazzi photos) will tell.