Hailey Baldwin Just Got A Hilarious Engagement Gift That All Beliebers Will Appreciate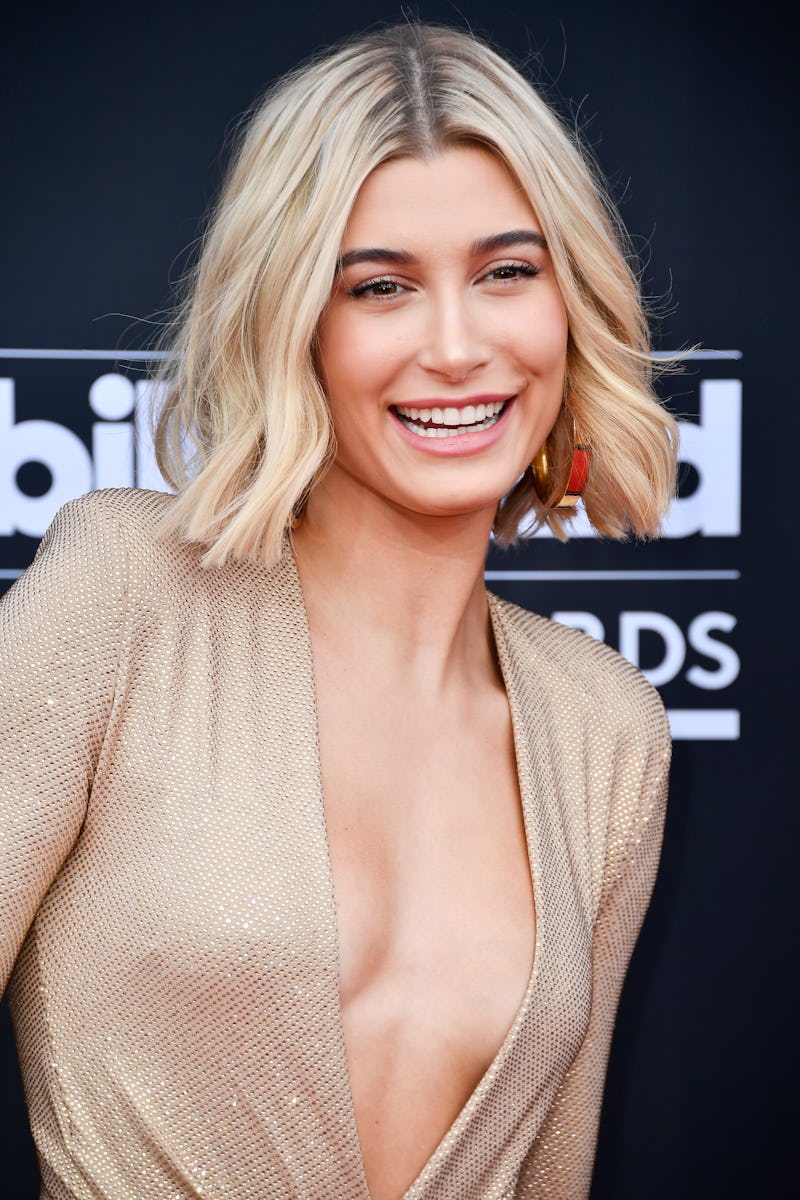 Frazer Harrison/Getty Images Entertainment/Getty Images
Just like most people who are recently engaged, Hailey Baldwin is receiving some sweet engagement gifts. According to a recent Instagram, Baldwin received a "Future Mrs. Justin Bieber" t-shirt to celebrate the proposal and upcoming marriage. On one hand, a "Future Mrs." t-shirt is a "normal," non-extravagant gift that any other non-celebrity could receive. On the other hand, most non-celebrities are not engaged to a world-famous pop star.
Baldwin shared a Boomerang of the gift in her Instagram Story. In the Instagram Story, she wrote, "@allisonjamiekaye ur funny!!!" along with an eye-roll emoji. The person that Baldwin thanked in the Instagram Story is Allison Kaye, who is the general manager of Scooter Braun's SB Projects, according to a 2016 article from Billboard. Most Beliebers are well-aware that Scooter Braun is Bieber's longtime manager.
Anyway, it's all too surreal that Baldwin is actually the "Future Mrs. Justin Bieber." She's not the only person who has wanted that title from the Sorry singer. Long before Baldwin and Bieber were romantically linked, she was very vocal about her fandom for the singer and his music on her social media pages.
This gives hope to superfans everywhere. Yes, it is possible to date (and get engaged to) your favorite singer. It is not very likely, but it is a possibility. Sure, it does help that Baldwin is a model born into a famous family, giving her a way higher likelihood of being in the same room as the Biebs, but still when it comes down to it, she was able to go from being his biggest fan to his future wife.
After the news of Baldwin and Bieber's engagement broke, her cousin Ireland Baldwin congratulated her by incorporating Bieber's song lyrics into her sentiments. Ireland shared a throwback photo of herself with Baldwin, and her older sister Alaia Baldwin Aronow.
Ireland wrote, "here's gunna be one less lonely girl ... and only one lonely girl left. my other chicken is soon to be a beautiful bride ♥️. congratulations to the two of you @haileybaldwin @justinbieber."
The engagement congratulations was not even the first time that the cousins referenced the Biebs on social media. In fact, Baldwin and Ireland have posted a lot about the singer in the past, which just makes the engagement so surreal.
In November 2012, Ireland tweeted, "Justin Bieber said everything is going to be alright, therefore it is. #trustinbiebs." Baldwin agreed with her cousin's tweet and added a "RT" in the front of it. Oh, how times have changed. Baldwin having "trust in Biebs" just has a whole new meaning these days.
The cousins did more than just tweet about their love for Bieber. They also attended one of his concerts together in October 2012. Just like other fans in the audience, the two took a photo to commemorate the concert. Baldwin captioned the photo, "Taking in Bieber," which is too funny now considering that she and Ireland are taking him in as a member of their family at some point in the future.
In all honesty, it's not a huge stretch to imagine that Baldwin had a shirt similar to the one she received since she was such a big fan of Bieber's. She's definitely not the only one who had that shirt either. She's just the only who can wear that shirt as an accurate description of who she is.
Baldwin is making her tween self very proud with her engagement to Bieber. She even has the perfect shirt to celebrate their upcoming marriage. Hailey Bieber does have a great ring to it, doesn't it?