Justin Bieber & Hailey Baldwin's Relationship Timeline Explains SO Much About The Couple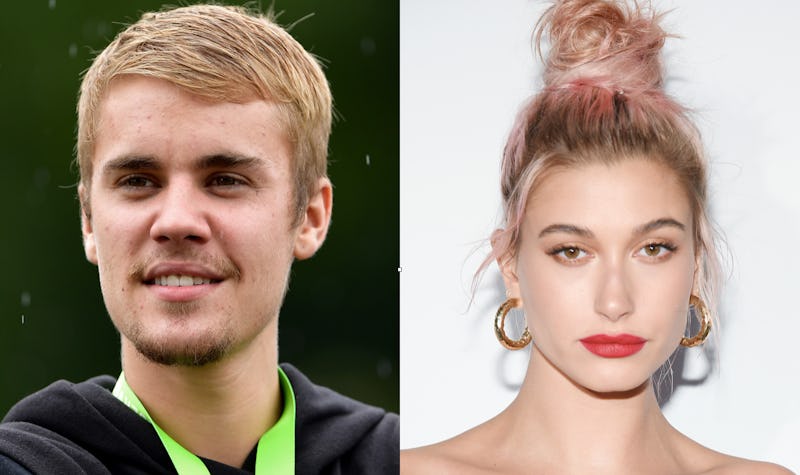 Stuart Franklin/Getty Images Sport/Getty Images; Pascal Le Segretain/Getty Images Entertainment/Getty Images
Apparently popping the question is all the rage among the kids these days, because TMZ is reporting that Justin Bieber proposed to Hailey Baldwin on Saturday. Fans understandably have so many burning questions, but a timeline of their relationship may or may not help clear some things up... for now. Bustle has reached out to their reps for comment, but did not hear back at the time of publication.
UPDATE: On Monday afternoon, Bieber confirmed his engagement to Baldwin with a lengthy Instagram caption. He also shared two black-and-white photos of the pair together, writing, in part:
"Was gonna wait a while to say anything but word travels fast, listen plain and simple Hailey I am soooo in love with everything about you! So committed to spending my life getting to know every single part of you loving you patiently and kindLY."
EARLIER: For the most part, these two have kept their relationship a mystery, which is why this news could very well keep fans up at night wondering how it's all unfolded. Bieber and Baldwin first sparked dating rumors back in 2014, after Bieber and Selena Gomez called it quits (this is also a confusing relationship timeline, bear with me). Within the last four years, there have been on-again-off-again rumors surrounding Bieber and both women.
Flash forward to July 2018, and Bieber, 24, and Baldwin, 21, are reportedly engaged. How did it happen? "It" meaning their relationship? Especially since people were convinced Bieber and Gomez were back together in February given their PDA-filled photos? Why does Bieber have to play us like this? What does Gomez think? And most importantly, how are Ariana Grande and Pete Davidson feeling about all this? We have questions. But here's how it seemed to all go down.
Sometime in 2009
Bieber and Baldwin's first alleged encounter was documented on video when the two awkward teens were introduced by Baldwin's father Stephen. Two years later in 2011, Stephen and Hailey Baldwin attended Bieber's Never Say Never premiere in NYC and took photos with him on the red carpet.
October 2014
After a tumultuous, back-and-forth, on-and-off romance, Selena Gomez and Justin Bieber reportedly called it quits for good, leaving Jelena shippers wrecked.
November 2014
Bieber posts his first picture with Baldwin on Instagram (with more photos to follow) and their romance rumors commence. On December 1, 2014, Hollywood Life reported Bieber moved on from Gomez with Baldwin. A source told the site, "Justin has a new muse and it's Hailey. She's different from the other girls Justin has been with. She's really fun, feisty, and could care less about Justin's fame and fortune."
At the time, however, Baldwin said she and Bieber were just friends from childhood to E! News. And about two weeks after the rumors started, Bieber posted a photo with Baldwin confirming they weren't dating, writing, "People are crazy. I'm super single and this is my good friend u would know otherwise." They also rang in 2015 together, crashed a prom together in April that year, and spent time together throughout the summer and fall.
December 2015
Although they'd denied a romance until this point, this is when the pair perhaps started taking their public relationship more seriously. Baldwin joined Bieber's dad and younger siblings on vacation and the photos and videos documented on Bieber's social media suggested they were definitely more than friends. And did anyone notice that suspect band on her ring finger at the time? Just saying.
January 2016
Finally, the two are Instagram official, and post super affectionate photos of their time together in the Caribbean islands around New Year's Eve. In February 2016, Bieber opened up about Baldwin and possibly hinted at marriage, in an interview with GQ. "[She's] someone I really love. We spend a lot of time together," he said. "What if Hailey ends up being the girl I'm gonna marry, right? If I rush into anything, if I damage her, then it's always gonna be damaged… I just don't want to hurt her." Later that month, however, rumors spread that the two were breaking up.
February 2016
Baldwin says the two aren't an official couple in an interview with E! News. "We are not an exclusive couple. He's about to go on tour," she explained. "Relationships at this age are already complicated, but I don't really like to talk about it because it's between me and him."
In the following months, things got murky when Baldwin made ambiguous statements about dating someone famous to Marie Claire in April 2016. "It's hard to date somebody in this industry. You have to have really thick skin and be very strong," she said. However, in an interview that followed with E! News, Baldwin claimed she wasn't directly referring to Bieber, saying her words were taken "a little bit out of context" and it was "just [her] general take on it."
August 2016
According to FashionMagazine.com, a since-deleted video showed Gomez singing Bieber's vocals in "Let Me Love You." In November 2016, Bieber reportedly visited Gomez in rehab after she pulled out of her Revival Tour due to complications from Lupus and anxiety. Gomez would later go on to date The Weeknd, while Bieber released the song "Friends" in summer of 2017. In October 2017, Gomez and Bieber were spotted spending more time together, like attending church and hanging at Gomez's house.
November 2017
TMZ shares a photo of Bieber and Gomez kissing, their first PDA since reuniting (this time). A month later, TMZ asked Bieber if he'd propose to Gomez, and he just smiled and blushed. In December 2017, TMZ reported that the two would start couple's therapy due to a fight over Baldwin. In February 2018, they were spotted cuddling in public and took vacations together, convincing fans Jelena was back together for good, until...
March 2018
Jelena reportedly part ways again. A source told E! News, "Selena realized even though he's made some positive improvements, they just aren't a perfect match right now."
May 2018
Baldwin opens up about Bieber in a highly-publicized interview with The Times U.K. She explained,
"Justin and I were friends for a long time. I met him when I was really young and he was one of my best friends. Everybody knows that at a certain point in time that turned into something else, but that just happens when you're 18, 19. It was what it was. We went through a long period of time when we weren't friends. We didn't speak for quite some time and there was a lot of weirdness that went on. We've moved past that."
June 2018
The two were spotted together at a club in Miami and "seem[ed] very close and comfortable together," according to E! News. The pair was seen on multiple dates since and fans started speculating about a diamond ring on Baldwin's finger in mid-June. They were also spotted kissing in NYC by TMZ and leaving an NYC restaurant holding hands, according to People. At the end of June, Bieber posted Instagram Story videos with Baldwin, as the two were hanging out, presumably at a family member or friend's house. They took a trip together to Washington, hanging out in a public pool and making a visit to Churchome.
July 2018
TMZ posts photos of Bieber and Baldwin being super affectionate in Brooklyn, and Baldwin receiving forehead kisses from him. On July 2, People reported the couple's car broke down during a trip to the Hamptons, but they carried on and spent July 4th together there with friends.
On July 8, TMZ reported that Bieber proposed to Baldwin in the Bahamas at a resort. According to TMZ, a witness said, "Justin's security told everyone to put their phones away, because something special was about to happen" and "Justin then proposed in front of everyone." The same day, Bieber's father posted a photo of his son to Instagram, with the caption, "Proud is an understatement! Excited for the next chapter!"
So there you have it. Given the chaos of public relationships and how quickly they can escalate, guess you never can say never. Just ask Pete and Ari.