Halima Aden Just Landed Her First Magazine Cover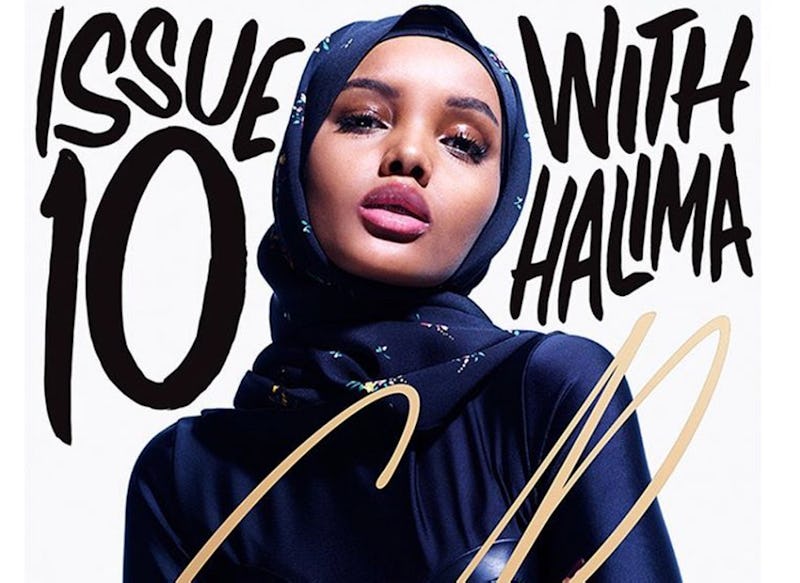 It's no secret that the mainstream fashion industry still has a diversity problem. While there has been a noticeable movement toward inclusivity of different races, sizes, and religions on runways and in the pages of magazines, put simply, the industry needs to do better. So it's heartening to see a major player in high-end fashion take a step forward: CR Fashion Book's issue 10 cover features new It model Halima Aden wearing her hijab.
Muslims are often particularly underrepresented in fashion, but Aden ignited a major conversation when she wore a hijab and a burkini in the Miss Minnesota USA pageant in 2016. Since then, the Somali-American model went on to sign with IMG Models and walk in the Yeezy Season 5 show on February 15. "I signed with the top modeling agency in the WORLD and still wore my hijab as my crown," Aden said in a recent Instagram caption about her accomplishments.
And now, she's covering one of the most respected fashion magazines in the world while wearing her hijab as her crown, too. For the cover story, she was interviewed by the ever iconic Iman, who's also both Muslim and from Somali.
While Aden has been surprised by how many people she's affected, she also talked about the pressure of being a model who wears a hijab. "A lot of people had a misconception that I would be the perfect poster child for Islam," she told Iman. "So I got a lot of Instagram comments like, 'Oh, you don't have your neck covered, you're not a Muslim!' My thing is, stop judging women, especially if you're a man, because you don't know the responsibility that comes with wearing a hijab."
Here's a look at the stunning cover, posted on Instagram:
"Never thought I would see the day that a woman dressed like me would grace the cover of a fashion magazine. Thank you SO much @carineroitfeld and my new @crfashionbook family for giving me the opportunity to feel represented in the most beautiful way," she wrote in the caption.
Congrats to Aden on this major accomplishment, and shoutout to CR Fashion Book for taking a step forward toward more diversity in the pages of fashion magazines.