Halle Berry Stands Up For The 9 Women Accusing Her Ex-Manager Of Sexual Harassment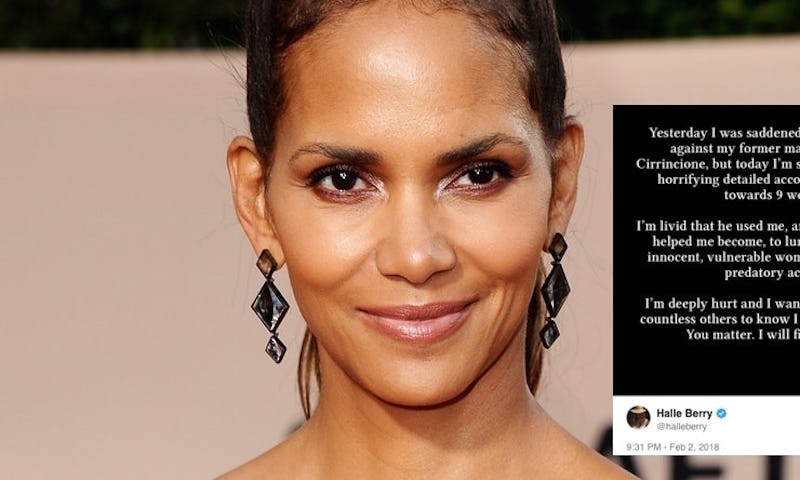 Jon Kopaloff/Getty Images Entertainment/Getty Images; Halle Berry/Twitter
In a Feb. 2 article from The Washington Post, Hollywood manager Vincent Cirrincione is accused of sexual harassment and misconduct by nine women of color. These women claimed that Cirrincione — who's managed actors like Taraji P. Henson and Halle Berry — made unwanted sexual advances toward them over a period of two decades. (Cirrincione denied the allegations to the Post. Bustle also reached out to him for comment, but did not receive an immediate response.) Now, Berry responded to the allegations against her former manager in a powerful statement on social media.
On Friday night, she described feeling "livid" over the claims before promising to continue fighting for these women — and women everywhere. Berry wrote:
"Yesterday I was saddened by the alligations [sic] against my former manager, Vincent Cirrincione, but today I'm sick after reading the horrifying detailed accounts of his abuse towards 9 women.
I'm livid that used me, and the role model he helped me become, to lure and manipulate innocent, vulnerable women of color for his predatory actions.
I'm deeply hurt and I want these woman and countless others to know I see you. I hear you. You matter. I will fight for you."
According to the Post's article, three of the women who came forward alleged that Cirrincione demanded sex as a condition for representing them, and he allegedly chose not to take them on as clients if they refused. Another claims that the talent manager offered to advance her career in exchange for sex on a monthly basis, while one other woman alleges that Cirrincione masturbated in front of her when they would meet in his office. All of these alleged incidents are said to have taken place from 1993 to 2011. (Cirrincione denied that any encounters were nonconsensual to the Post.)
Berry is one of dozens of A-list actors currently supporting the Time's Up movement that draws attention to Hollywood's — and the entire country's — sexual harassment problem. On top of consistently using social media to post messages of solidarity that support the victims, the 51-year-old Oscar winner also wore black to the Golden Globes back in January, along with nearly every Hollywood power player who walked the red carpet that night.
All nine women who have come forward are women of color, and several of them told the Post that Cirrincione, who is white, allegedly positioned himself as an "important gatekeeper" for actors of color trying to break into the industry and "took advantage of that dynamic to prey upon young women."
Cirrincione also issued a statement to the paper, taking responsibility for attempting to pursue sexual relationships with his clients, but denying that the relationships weren't consensual. He said,
"We live in a time where men are being confronted with a very real opportunity to take responsibility for their actions. I support this movement wholeheartedly. I have had female clients and employees my entire career in this industry. I have built a reputation for advancing the careers of women of color.
I have had affairs while in committed relationships, ones I am now ashamed to say are coming to light and shading my past and my reputation. I can say without a doubt that I have never used favors, sexual or otherwise, as a reason for managing anyone. I want to make it clear that not one of those relationships were anything but consensual.
I take responsibility for my part in the situation and I am not here to diminish anyone's feelings or experiences. I apologize to these women, my past and present partner, my clients and employees for the pain this is bringing them. I was under the impression I was living my life as a supportive man to women. It is with a heavy heart that I see now I was wrong."
At this time, none of the women who have come forward against Cirrincione have taken any legal action.
If you or someone you know has been sexually assaulted, call the National Sexual Assault Telephone Hotline at 800-656-HOPE (4673) or visit online.rainn.org.