These New Halloween Oreo Candy Bars Are A Filling Fan's Dream Come True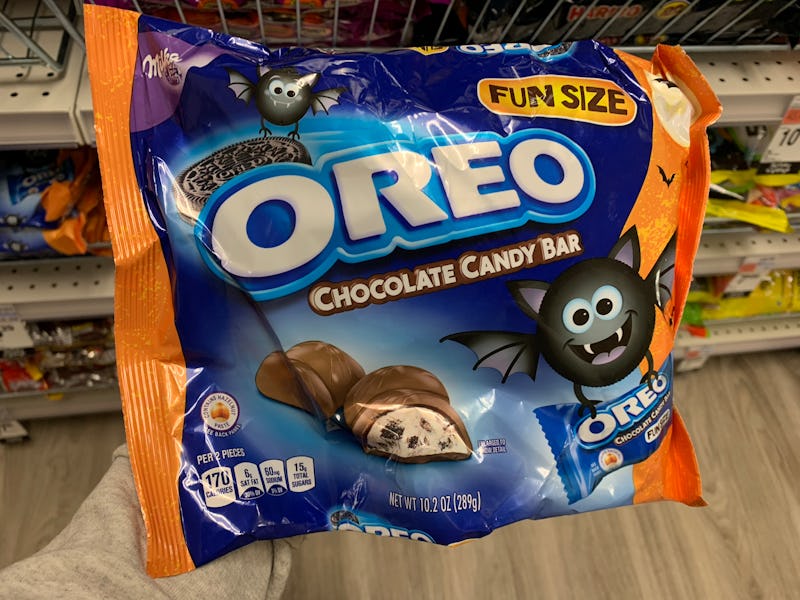 EmmaLord/Bustle
There are only a few more weeks until Halloween, which means only a few more weeks until you raid the candy aisle in the "day after Halloween" sales. Everyone has a favorite candy they try to sneak away from a trick-or-treat pumpkin, but the news Oreo just released might just change which treat tops your list. For the first time ever, Oreo Chocolate Candy is joining in on the Halloween festivities with new fun-size Oreo Chocolate candy Bars.
The regular-sized Oreo candy bar boasts delicious Oreo cookie pieces mixed in rich vanilla creme and coated in European Milka chocolate candy. The fun-size versions are debuting just in time for Halloween, so you're sure to see them around your neighborhood at the end of the month. Each fun-size bar is a bite-size blast of flavor. You won't now whether you're eating a cookie, a candy bar, or some Nutella (hazelnuts are included in the outer shell). You can even see the bits of cookie spread throughout the creme-filled center. And excellent news for candy connoisseurs: Oreo Chocolate Candy Bars also come in mint and Oreo Big Crunch varieties. The former swaps out vanilla for mint creme filling, and the latter contains a layer of Oreo cookies between two layers of vanilla creme. Though neither of these are available in fun sizes yet, if the original is popular this year, they might be complementing Halloween costumes in 2019.
Oreo, in fact, is turning out to be the unsung hero of this Halloween season. The company recently collaborated with Dunkin' to create a number of festive, and often outrageous treats. The Halloween Oreo Donut available now at Dunkin' locations nationwide is "a yeast shell donut filled with vanilla buttercream, topped with chocolate icing and Oreo cookie crumbles and drizzled with a Halloween-themed dark orange icing," per Chew Boom. In other words: a '90s kid dream.
Following an initial release two years ago, Dunkin' is also bringing back Oreo Hot Chocolate for a limited time. The beverage is said to embody the taste of cookies and cream, so likely a rich chocolate balanced by a subtle hint of vanilla creme. If you're feeling really indulgent, dip one of your Oreo Chocolate Candy Bars in your cup of cocoa for an Oreo explosion in your mouth.
Finally, Baskin-Robbins, which is also owned by parent company Dunkin' Brands, has leaned into the fall Oreo trend as well. Baskin-Robbins' Trick Oreo Treat ice cream isn't merely filled with orange Oreos. Crumbled pieces of orange creme-filled Oreo cookies, and Baby Ruth and Butterfinger candy pieces fill a vanilla ice cream base to create the flavor. When mixed together with crumbled orange Oreos, the resulting Trick Oreo Treat ice cream is a menagerie of all your favorite sweet treats. It is like all the best parts of your Trick-or -Treat haul but mixed in ice cream.
Basic candy is so 2017. This year for halloween, snack on what you may typicaly leave for Santa in a candy bar.