Hershey's Is Launching Glow-In-The-Dark Candy For Halloween & It Looks Spooky As Heck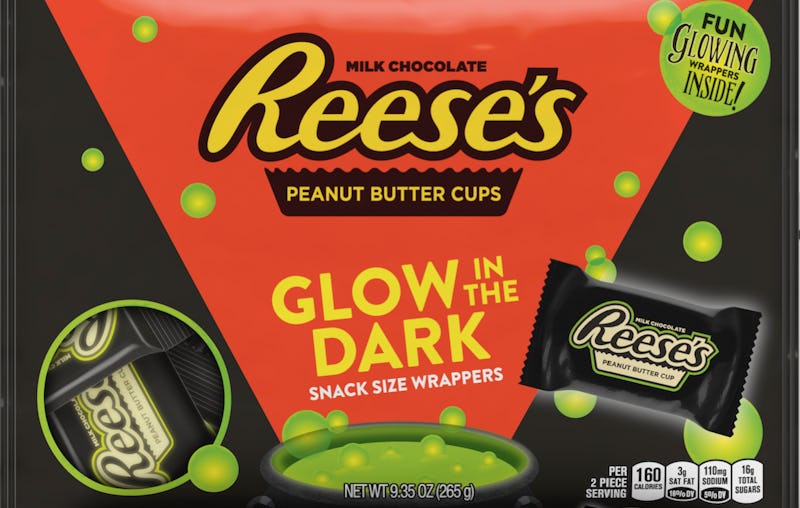 Courtesy of Hershey's
Fall doesn't just herald the return of Pumpkin Spice Season; it also means something much bigger is on the horizon: Halloween Season. Accordingly, we're finally starting to get some information about the treats we can expect along with our tricks this year — and it turns out that in 2018, glow-in-the-dark Hershey's candy is on the menu. Specifically, miniature versions of Hershey's Milk Chocolate bars, Kit Kats, and Reese's Peanut Butter Cups will be available for all your Halloween requirements, from party snacks to trick-or-treat candy bowls… although to be honest, I would absolutely understand if you got yourself a bag just, y'know, for you. Because I am definitely considering doing just that.
Somewhat regrettably, it is not the actual chocolate that glows; it's the wrappers. (So, uh, sorry if you heard "glow-in-the-dark candy" and immediately thought, "YES! I CAN FINALLY ACHIEVE MY LONG-STANDING GOAL OF BECOMING A HUMAN GLO-STICK!") But interestingly, this year isn't the first year these treats have appeared — even if they're new to many of us. According to a piece published at Adweek in 2017, the idea for the glow-in-the-dark wrappers actually emerged in 2016; then, in 2017, they were tested out on a relatively small scale: The Hershey's Glow in the Dark Assortment Bag, which contained 230 individually-wrapped Kit Kat Miniatures, Reese's Miniature Cups, and mini Hershey's Milk Chocolate bars, was available for $19.54 exclusively at Walmart, according to Chew Boom.
It's no longer available, but here's what it looked like:
Said Rob Gehring, then Chief Sales Officer for Hershey's, to Adweek about the glow-in the-dark candy at the time, "We're not screaming from the rooftops, but we'll put it out there and watch the data." A national release was tentatively scheduled for 2018 — but the smaller rollout had to prove that there was a market for it first.
Presumably it was a hit, though, because that larger release is definitely occurring now — and what's more, this year marks the first time that the candy has been announced in a major way. In 2018, the glow-in-the-dark options aren't limited to one type of bag available at only one retailer; you've got three options to choose from (although the big assortment bag isn't one of them) and they'll be available nationwide. To get your glow on, choose from tiny-sized Hershey's Milk Chocolate bars, Kit Kats, or Reese's Peanut Butter Cups ensconced in special wrappers that will glow spookily on Halloween night (or any other night of the year, for that matter); you can give them some added punch by setting a bowl of the candies under a blacklight. Each bag retails for around $2.99 a bag.
You can see the Reese's Peanut Butter Cups option up top, but here's the Hershey's Milk Chocolate bag:
And here are the Kit Kats:
Yum.
Oh, and for the curious, yes, there's a reason this year's options are so much cheaper than last year's: It has to do with the size of the packages. The Walmart exclusive bag of 2017 held a whopping 66.5 ounces of candy, or roughly four and a quarter pounds of the sweet stuff. The 2018 bags, meanwhile, each hold between 9.35 and 9.8 ounces, depending on the candy in question. The math still come out to roughly the same amount of candy for the same price, though: About seven bags of this year's sweets adds up to roughly 66.5 ounces; at a price of around $3 per bag, that's about $21 total.
Hershey's has a bunch of other new treats up its sleeve this year, too — "spooky foil" versions of Hershey's Kisses and miniature Kit Kats and Reese's Peanut Butter Cups are hitting shelves soon, for example, along with Dark Chocolate Kit Kats, Halloween-themed Twizzlers Pull 'n' Peel candy in Orange and Black Cherry flavors, and a whole candy bowl shaped like a pumpkin. Longtime favorites like Reese's Peanut Butter Pumpkins will be returning as well. One thing's for sure: It's shaping up to be a very happy Halloween — and I, for one, can't wait.
Time to go brainstorm some costume ideas…