Halo Top Just Launched A PB&J Flavor & You Can Get A Pint For FREE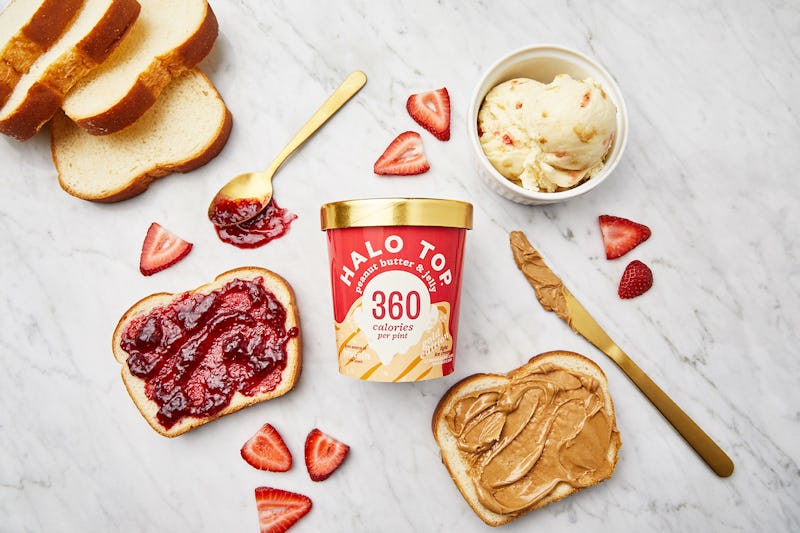 Courtesy of Halo Top
While only a year ago Halo Top had yet to become a household name, now the high protein ice cream is so inescapable that Whole Foods has entire panels of shelves devoted to its dozens of flavors — and it looks like, at least temporarily, it'll have to make room for one more. For a few weeks in August, there will be Peanut Butter & Jelly Halo Top — aka, the dream of every overgrown '90s baby the world over, put into pint form.
If you aren't already hype based on the words "Peanut Butter & Jelly" alone, then get ready to drool over the specifics: this new ice cream has a peanut butter base, with "swirls of strawberry flavoring sprinkled with cannoli bites," per a press release. But that "limited edition" caveat is no joke. Once these pints sell out, they are as gone as those Harry Potter and the Cursed Child tickets you tried to add to your virtual cart.
The timing of this announcement is particularly fortuitous, because July 15 happens to be National Ice Cream Day (it's a Sunday, y'all, so plan your festivities accordingly). And fans who are too impatient to wait until August to try this limited edition staple have a chance to be the OG taste testers: Halo Top is giving away free pints Peanut Butter & Jelly Halo Top to the first 1,000 fans to claim them at this link. All you have to do is type in HALOTOPPB&J at checkout, and voilà. You just became an ice cream insider.
Bustle had the opportunity to taste test the new flavor before it hit shelves, and fair warning, Halo Top has yet again created a flavor that you're going to want to eat all the way to the bottom of the pint. If you've ever had the Peanut Butter Cup flavor of Halo Top, the peanut butter ice cream base tastes virtually the same — but this time with that jelly and cannoli bit twist that actually makes it taste almost alarmingly like an actual PB&J sandwich. I'm not saying you should pack it for lunch in the entire month of August, but I'm not not saying it, either. It's almost like this was the Peanut Butter Cup flavor's destiny all along, only to be fully realized in this summery shakeup.
Another reason why this PB&J flavor should light up Halo Top fan's radars is that it is the first "Gold Edition" Halo Top flavor, a name the brand is giving flavors that are "flash" buys — in other words, gone after customers buy them all up. "Peanut Butter & Jelly is easily one of our best flavors to date and quintessentially Halo Top," said Doug Bouton, President & COO of Halo Top, in a press release. "It's our new twist on an old favorite and the perfect way to introduce the first of our 'Gold Edition' flavors to our fans."
If you are also low key stressed about ice cream availability now, there is a silver lining: your beloved Peanut Butter Cup flavor isn't going anywhere, so once you finish crying your PB&J tears at the end of the summer, you can probably doctor up that OG flavor with your own jam and cannoli. And, of course, you still have over 20 other flavors to choose from (though if you're not prioritizing Chocolate Chip Cookie Dough and Oatmeal Cookie above all things, you're wrong and I'm sorry). But for people who have their hearts set on the first-ever Gold Edition flavor, you can pick up a pint of Halo Top's Peanut Butter & Jelly nationwide starting early August at retailers like Walmart, Ahold, SEG, Meijer, and more. Just be sure to freeze a few for later — in the immortal words of that Anna Kendrick song, "You're gonna miss me when I'm gone."