Halo Top Just Brought Back Its Pumpkin Pie Flavor & You Can Get It For Free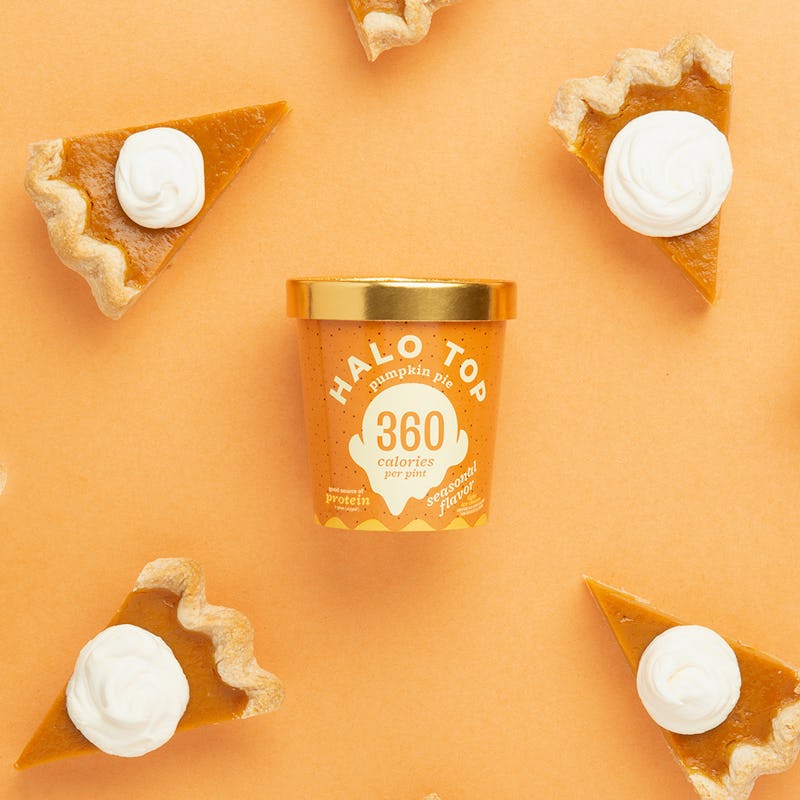 Courtesy of Halo Top
Oh, thank goodness — it's finally September. We are now free to talk about pumpkin spice-flavored things without having a chorus of irate voices sing back at us that it's too early to do so. And it's a good thing, too, because I have news for you today: Pumpkin Pie Halo Top ice cream is back for 2018 — and even better, the ice cream company is giving away pints of the stuff for free in honor of the occasion. Yes, please!
Halo Top's seasonal Pumpkin Pie variety debuted for the first time in 2017 — although back then, it arrived on the scene a little earlier than it has this year: It hit the food news cycle towards the beginning of August, almost a whole month sooner than 2018's announcement. But now that it's here, Halo Top enthusiasts will no doubt welcome it back with open arms. Consisting of pumpkin spice-infused ice cream and studded with pieces of actual pie crust, this fan favorite — which, by the way, was a top seller last year — will be available at a wide variety of retailers across the country, including Target, Kroger, and Walmart.
Not for nothing was Pumpkin Pie last fall's best-selling flavor out of all of Halo Top's offerings; the reviews at the time were glowing. PopSugar described it as "not too sweet, not too overpowering, and not even the slightest bit artificial — it's as if you blended an actual pie into a creamy pumpkin milkshake and served it in scoops"; according to Junk Banter, it's "creamy and delicious," although "an appreciation for pure pumpkin is a prerequisite because this flavor is strong"; and per Sean's Skillet, the "yammy pumpkin-forward profile … tastes closer to actual pumpkin pie filling than most pumpkin ice creams on the market." Indeed, Sean's Skillet had especially high praise for the treat, going on to note that "nearly every bite tastes like a good forkful of pumpkin pie being equally represented by pumpkin, mellow spice, crust, and creamy vanilla undertones to mimic the role of whipped cream."
Oh, and hey, guess what? To celebrate the flavor's triumphant return, Halo Top is giving out free pints of it. Said Doug Bouton, President and COO of Halo Top Creamery, in a press release provided to Bustle, "We're excited to bring back Pumpkin Pie for our fans, one of our most successful flavors from last fall. It's the perfect fall flavor, and now our fans can enjoy a free pint on us to welcome our favorite season of the year." All you have to do to grab yours is head here starting at 12:01 a.m. on Sept. 22, print out the coupon that will appear there then, bring it to a participating retailer, and present it at checkout. The offer is good on Sept. 22, 2018, which makes perfect sense; that's officially the first day of fall.
There are, however, some stipulations (aren't there always?): First, the coupon is only redeemable on Sept. 22; second, you're limited to one pint per customer; third, the offer is only available while supplies last; fourth, you must print the coupon out on paper (you can't just save it to your phone); fifth, you can't combine the coupon with any other offers, discounts, or promos; and lastly, it's limited to U.S. residents — except in the states of California, Colorado, Kansas, Louisiana, Nevada, Tennessee, and Wisconsin. So, uh… sorry to anyone who lives in those states; there is free Pumpkin Pie ice cream, but not for you. Please accept my condolences at this difficult time. The good news, though, is that you might be able to redeem the coupon for one of Halo Top's dairy-free flavors instead, so at least you get a consolation prize — even if it isn't pumpkin pie-flavored.
There's no word on exactly how long Halo Top's Pumpkin Pie flavor will be available this year; however, it stuck around until the end of November in 2017, so we've got a rough idea of when it's likely to go the way of all things in 2018. Hit up Halo Top's store locator to find out where you might be able to find it. Happy almost-fall!