Halsey's Billboard Performance Outfit Took Up The Entire Stage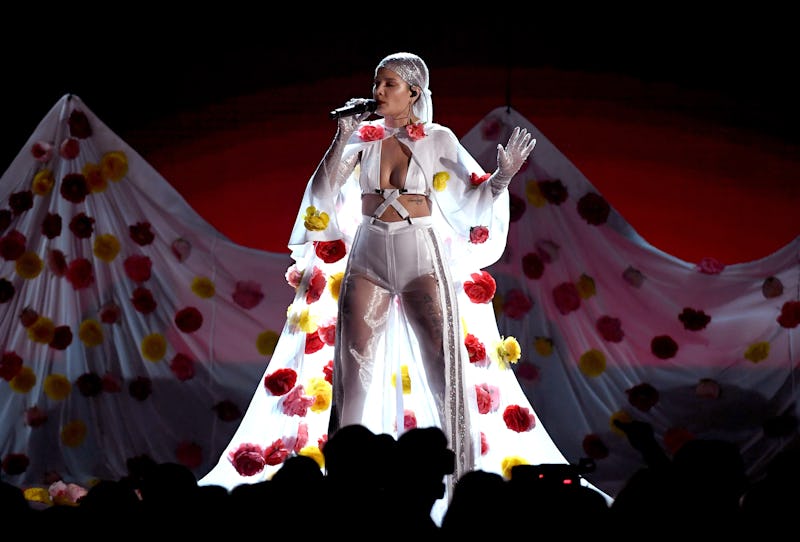 Ethan Miller/Getty Images Entertainment/Getty Images
Hitting the stage solo for the first time at an awards show, Halsey wore a flower cape at her Billboard Music Awards performance. You might be able to sing some of her hit songs in your sleep by now, but I can guarantee that you've never seen this look before. This outfit was a bit more feminine than her red carpet look, but I'll let you decide for yourself which one you like better.
Halsey is nominated seven times for her hit song with 'Closer' with the Chainsmokers. So if you're tired of hearing it on the radio, there's a good reason why. But, for the first time ever, Halsey performer her new single 'Now Or Never' on an awards show and she looked incredible on stage. Or should I say, she took up the entire stage. She opted for a sheer, white flower-covered cape, which went from her back, across the stage, and onto the back wall. It was incredible to say the least.
She did slip out of the cape for a more edgy look though. Because she wasn't going anywhere with that huge of an accessory. The performance outfit itself was a pair of sheer, white pants and a matching bra, which was similar to her red carpet look. She completed the look with a shimmery headband and gloves.
Out of all the performances at the show, none of them were on this level.
The before and after are pretty darn incredible, if you ask me.