'Hamilton' Fans Can't Miss The Super Bowl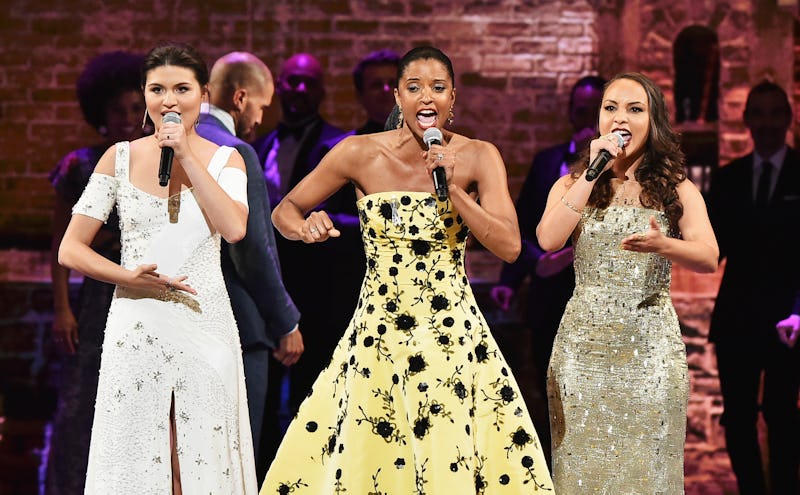 Theo Wargo/Getty Images Entertainment/Getty Images
Amazing things still happen, guys, and I have proof. Entertainment Weekly reported that part of Hamilton's original cast will perform at the Super Bowl. See, I told you it was amazing news. The former Schuyler sisters, Phillipa Soo, Renée Elise Goldsberry, and Jasmine Cephas Jones, are coming together one more time to sing "America the Beautiful," joining a musical lineup that already includes Lady Gaga and Luke Bryan.
The country hasn't had a whole lot to be excited about lately, but Hamilton is a certified phenomenon that taps into the American spirit in a unique way. Pairing the stars of the hit musical with America's favorite sporting event, the Super Bowl, makes perfect sense. It also acts as a subtle reminder that at its best, the country is a place where the arts and good sportsmanship not only flourish, but often come together to unify people — and let's face it, everyone could use a little unity right about now.
This is an extra special treat for Hamilton fans since most of the original cast has moved on to new projects. For one night only, the original Angelica, Eliza, and Peggy (!) will be reunited once more. Soo, Goldsberry, and Jones have powerful voices and their moving portrayal of history's famed sisters was unforgettable, so I can only imagine they will have everyone at the stadium on their feet when they take on "America the Beautiful" together.
While it would have been so much fun to see them take the stage to sing a number from Hamilton, the trio truly are the perfect choices to sing "America the Beautiful." Sports and Broadway fans are in for a special treat. Who knows if these talented women will ever share the stage again? With their careers looking so bright, this could be the last chance Hamilton devotees have to see them perform together — so football fan or not, you cannot afford to miss out on this gift from the music gods.
If you want to catch Soo, Goldsberry, and Jones making America proud with one of the country's most iconic songs, then you need to tune into Super Bowl LI early. The Super Bowl begins at 6:30 p.m., Feb. 5, on Fox, but the Schuyler sisters will be helping to kick the night off with "America the Beautiful" around 6:20 p.m. Don't forget, even after you get a little taste of Hamilton love at the Super Bowl, Lady Gaga will be performing during halftime, so you have plenty of reasons to watch the whole show.
Who would have thought Hamilton and football would be the two things to finally give America something to agree on again? Because, seriously, this is one collaboration where everyone wins.