'Handmaid's Tale' Cast Describes Season 2 In Emojis & Raises Even More Questions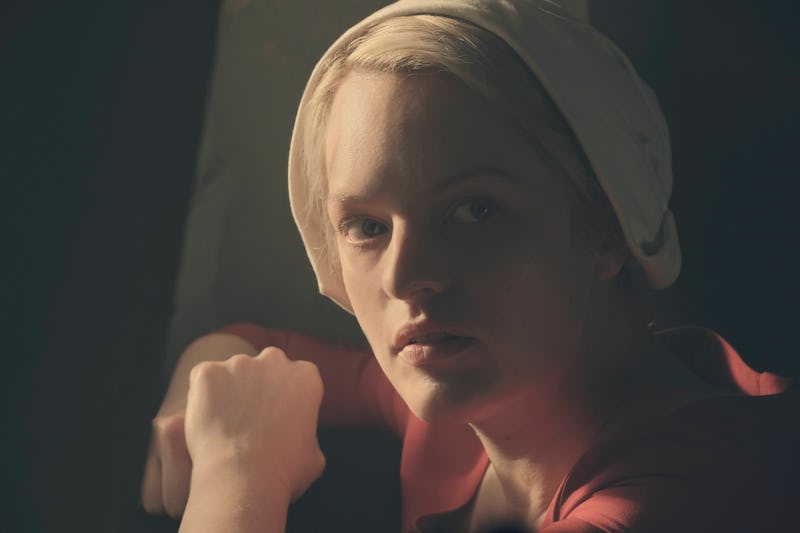 Hulu/George Kraychyk
Audiences are about to see Gilead and its residents in a whole new light. That is... when the Hulu hit returns in 2018. The plot of The Handmaid's Tale Season 2 is crazy unpredictable, and the cast isn't giving any spoilers up other than the fact that nothing, and no one, is what it seems. But during Emmys weekend, a few of the actors described what's to come through the use of emojis, because that's allowed, right? Praise be.
By using the app, Emmy-winner Ann Dowd (Aunt Lydia) and Madeline Brewer (Janine) describe Season 2 as best as they could. Their input not only confirms what the cast has hinted at so far, but leaves fans with more questions.
So far, no cast member has denied that Season 2 will blow fans' minds. "I read the outline and got full body chills," star Elisabeth Moss said at an LA event during Emmys season. "Give up trying to guess what happens." And like Season 1, the upcoming season will totally destroy audiences' emotions. "Season 2 is going to be bad too, really dark," Moss told The Pool.
Other key players in the Emmy Award-winning series have confirmed a few things. More of Gilead's territory will be explored, viewers will see the deadly "colonies," and Offred's rebellion is just beginning.
According to Dowd, who won the 2017 Emmy for Outstanding Supporting Actress in a Drama, fans will see the characters in a whole new way. She explains Season 2 as such:
"It means, 'Who knows?'" the actor explains. Fans will learn about what motivates characters to do certain things and they may even pity the bad guys. "You get the background of these characters, to say, 'Oh my god, I know why that person [did that],' or 'Oh! I see, I get it,'" she says. "[It'll] open the tolerance level." Who will fans grow to love? Or hate?
Further confirming Dowd's comments, Variety reported that characters will be explored in much more depth. For example, Commander Waterford's (Joseph Fiennes) work in Gilead will be shown and Moira's journey in Canada with Luke (O-T Fagbenle) will unfold.
Brewer also describes Season 2 with the ghost emoji, but adds a tree as well:
The ghost hints at the unpredictable, dark nature of what's to come. "It's surprising and scary," the actor says. "Everything I thought going into Season 2 [and] where everyone is, it's… not. I was so surprised." Many twists and turns are on the horizon, and hopefully some things are as they seem. (Please don't be a bad guy, Nick.)
And as far as the tree, Brewer says "green, earth, and trees" are necessary to capture Season 2. "They're entering a new part of the world of Gilead and the world of the Handmaid's Tale that is very bucolic, very green," she says. Only fans shouldn't be mistaken by the change of scenery. "It's deceptive," she hints. But how?
Perhaps she's referring to the colonies, where "un-women" are sent to be worked to their death. Actor Alexis Bledel (Ofglen) previously spoke about them, saying, "I'm sure it will be another wretched and fascinating place, like Gilead." Star Samira Wiley (Moira) has also teased the colonies. "We're going to go there," she told ABC News. "We're going to... meet those women and see what their day-to-day lives are like."
But of course, there's Offred and her badass rebellious streak that leaves fans dying for more. Creator Bruce Miller says the character is just getting started. "Making some trouble is where the season is rolling towards," he told Entertainment Weekly. "After that, Season 2 is what happens after you become a little rebellious."
And obviously one big question mark remains: What will come of the Nick-Offred-Luke love triangle? Until Season 2 answers more, Moss has offered her opinion. "Honestly I think she does love Nick... but I don't know if she knows that she does, yet," she told Elle. "But she has a husband who she also loves... who she also now knows is alive."
There's clearly so much to be explored and unpacked, which is why Handmaid's Tale author Margaret Atwood will be so involved to make Season 2 as organic and gripping as possible. "We will be in uncharted territories so more invention will have to take place," she told EW.
There are still so many questions, but one thing is certain: fans haven't seen anything yet.