Pottermore Just Announced The FIRST EVER 'Harry Potter' Game That Lets You Go To Hogwarts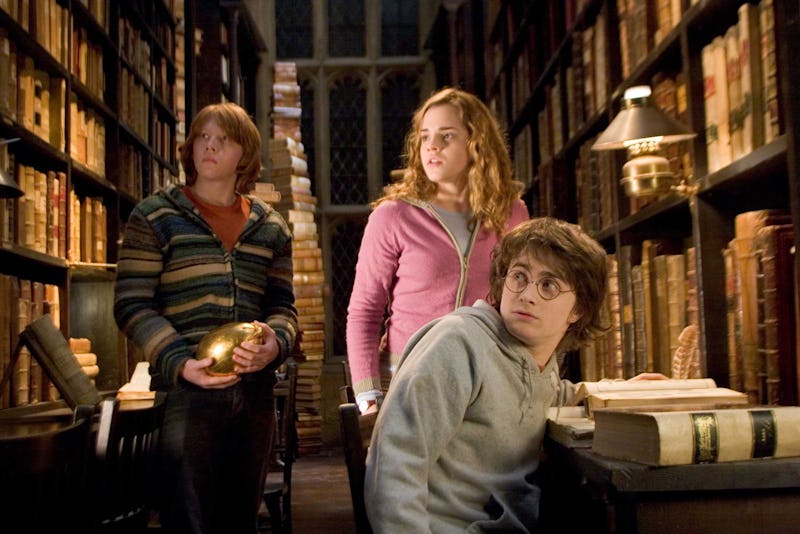 Warner Bros.
Here's the kind of news that will make you spit out your pumpkin juice: fresh on the heels of Pottermore announcing "Harry Potter: Wizards Unite," a "Pokemon Go"-esque game set in the Wizarding World, they've just announced a SECOND Harry Potter game. The "Harry Potter: A Hogwarts Mystery" game for mobile is slated for release in 2018, and it will do what no other official Hogwarts game has allowed fans to do before: create your own character in the app, and send them to Hogwarts. For all seven years of your full wizarding "education," at that.
According to the press release posted on Pottermore on Tuesday, students will be able to participate in organized activities like dueling clubs and attend classes, some of which will have familiar faces in them (as Pottermore notes, for better or for worse!). No word yet on Quidditch, but broomsticks crossed, everyone. Very few details of what the game will or an exact release date have been shared, but it is probably safe to assume that, like Pottermore, it will offer students a chance to have a wand, house, and pet chosen for them (and also safe to assume that I will be dead to the nonfictional world for at least a week after this game comes out). From there, whatever "mystery" the game hints at in its title will no doubt unravel.
Like "Harry Potter: Wizards Unite," this game will be part of the Portkey Games label of Warner Bros. Interactive Entertainment, this time working with game developers Jam City. It will be available on the App Store, Google Play and the Amazon Appstore.
"As Harry Potter fanatics ourselves, we have great respect for the millions of people throughout the world who have followed the Harry Potter stories for more than 20 years," said Chris DeWolfe, co-founder and CEO of Jam City, in a press statement. "This game is a labour of love for our developers and artists, who are dedicated to creating the most magical entertainment and game play experience for everyone who adores J.K. Rowling's Wizarding World."
The game already has an official Twitter and a website, where fans can signup for the mailing list to get details and the official release date when it's finally announced.
The biggest question on everyone's mind, of course, is what on earth this ~mystery~ will be about. That, of course, will be dependent on where exactly in the Hogwarts timeline this will be set. While users have been promised familiar faces, it's still unclear whether they will be peers with Harry and his friends, or if it will take place at Hogwarts after the defeat of Voldemort — a factor that will heavily affect whatever narrative the game takes its students on.
In the meantime, we are all still anticipating Portkey Games' other exciting development, which is the augmented reality game "Harry Potter: Wizards Unite". Unlike "Harry Potter: A Hogwarts Mystery," this version will be location-based, and allow users to navigate an augmented reality version of the Wizarding World in their own cities and neighborhoods similar to "Pokemon Go". Users will be able to learn new spells, encounter legendary beasts, discover mysterious artifacts, and even interact with other players on the platform while building up their own Wizarding career. Without much more detail to go on, it sounds almost as if "Harry Potter: Wizards Unite" is more of a post-Hogwarts, Fantastic Beasts-esque kind of experience, whereas "Harry Potter: A Hogwarts Mystery" will take place within the school.
The two things that the games decidedly have in common, though, are perhaps the most important: they're both being produced by Warner Bros. with J.K. Rowling's seal of approval, and they both have promised to have "familiar faces" from the Wizarding World in their midst. In other words, 2018 might be the best year to be a muggle yet.