Harry Styles' Victoria's Secret Fashion Show Performance May Include A Sweet Surprise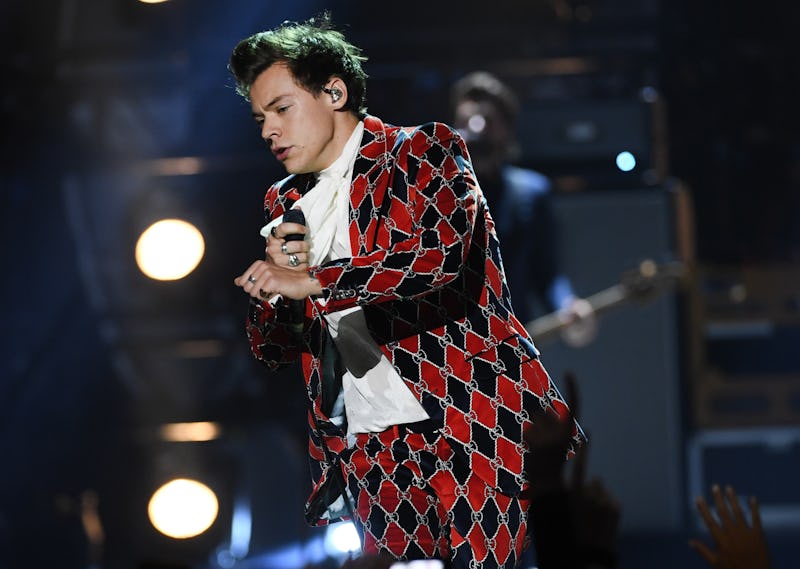 Kevin Winter/Getty Images Entertainment/Getty Images
One Direction fans, you might want to clear your calendar for Nov. 28. As reported by People, Harry Styles will perform at the Victoria's Secret Fashion Show in Shanghai, China. The show is set to tape on Mon, Nov. 20, but if you want to see Styles' performance, you'll have to tune in Tuesday, Nov. 28 on CBS.
The night could prove to be a memorable one for Styles for more reasons than one. Not only is he performing at one of the biggest fashion events of the year, he will likely be onstage when his rumored girlfriend Camille Rowe walks the catwalk. According to MTV UK, Victoria's Secret model Rowe and Styles have reportedly been romantically linked since Styles saw her at last year's show. However, the French model and the former boy band member haven't made their reported relationship public. It will be interesting to see if Rowe and Styles pop up in any photos together after the show, or if their maybe-romance will remain the stuff of rumors.
In addition to Rowe, Styles may be performing when two of his reported exes take their turn onstage as well. MTV UK reported that the singer has been linked to models Sara Sampan and Nadine Leopold in the past, and both women will be working at the event. One ex Styles won't have to worry about bumping into is Kendall Jenner. According to Cosmopolitan, Jenner won't be walking in the show due to her contract with La Perla lingerie.
Potential romantic entanglements aside, performing at the Victoria's Secret Show is just one more triumph for Styles. The singer released his solo album in May, and since then his career has been hotter than ever before. From performing on Saturday Night Live to headlining his first solo world tour and starring in Dunkirk, Styles has come into his own as an artist in a big way in 2017. Taking part in the Victoria's Secret Fashion Show feels like another step in his career progression.
When he takes the stage on Monday, Styles will be following in the footsteps of famed performers like Destiny's Child, Justin Timberlake, Taylor Swift, and Lady Gaga. It's unclear how many or which songs Styles will play, but his hit singles "Sign of the Times" and "Ever Since New York" seem like safe bets. His album is full of moody, romantic songs that the Victoria's Secret Angels could walk to, so don't be surprised if the singer plays one of his less recognizable songs in addition to his proven hits.
Styles won't be the only performer at this year's event. Executive producer of the Victoria's Secret Fashion Show, Ed Razek told People that the show is set to be bigger than ever before in 2017. Razek said,
"We started booking our musical guests months ago when Harry Styles, international superstar, signed on. Also appearing are Grammy award-winning artist Miguel, Tony award-winning star of 'Hamilton' Leslie Odom Jr., and Chinese sensation Jane Zhang. We are incredibly thrilled to have them with us."
The diverse lineup hints at a Victoria's Secret Fashion Show that has the potential to be grander than ever before. People reports that the evening will feature 55 models representing 20 different countries, and the multiculturalism is represented in the musical guest list as well.
While the end of One Direction hasn't been easy for fans of the band, seeing Styles flourish as a solo artist is a gift. He has taken on some major venues as he toured the world in 2017, and the Victoria's Secret Show stage will be one of the biggest ones yet. Seeing Styles bring his energy and talent to the stage is a must for his supporters. And hey, if it brings a tidbit of news about his romantic life too, is anyone going to turn it down?