Attention One Direction Fans: Harry Styles Is Producing A Sitcom About His Time With The Band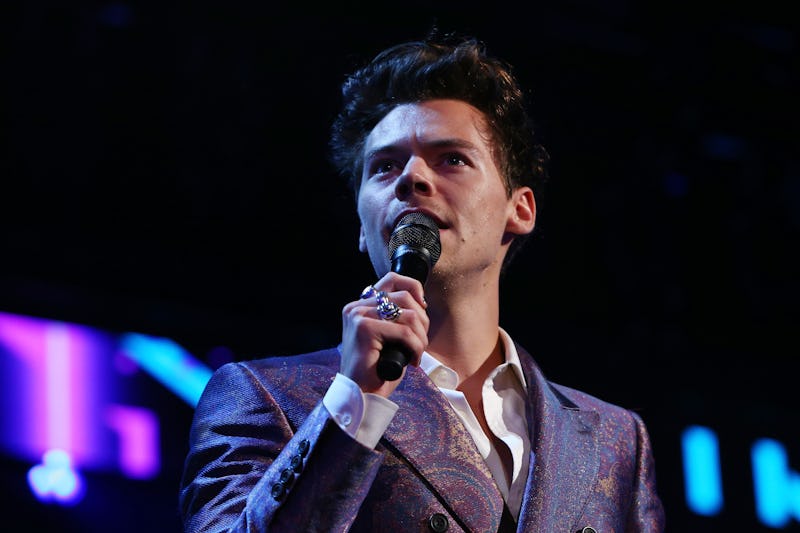 Lisa Maree Williams/Getty Images Entertainment/Getty Images
Is there anything Harry Styles can't do? A year after his first solo album, Harry Styles, was released, the former One Directioner is working on a very different project. According to People, Harry Styles is executive-producing a CBS sitcom, Happy Together, and the premise is loosely based on his own life.
The show's lead character is a boy band artist with a charming accent (sound familiar?), Cooper James, played by Australian actor Felix Mallard. After a messy breakup with his girlfriend, James decides to go off the grid by living with his accountant, Jake, played by Damon Wayans Jr., and his wife Claire, played by Amber Stevens. What starts out as a temporary living situation ends up lasting way longer than expected — and, naturally, leads to plenty of sitcom-worthy antics, judging by the trailer.
And while Styles himself never lived with his accountant, the premise is inspired by a similar situation in is own life. As People explains, Styles ones lived with filmmaker and producer Ben Winston, who was his mentor during One Direction's early days. Winston, like Styles, will be an executive producer on Happy Together, so it sounds like the show will be a chance for them to relive their past living situation.
Still, CBS wants fans to know that the show won't be entirely based on truth. "Although the series is inspired by when Ben and Harry lived together, that's where the reality ends. The show is not based on real life experiences and characters," the network said in a statement provided to People. Either way, the show looks like it will be one to watch when it premieres.
The four-minute trailer sets up the show's premise, while hinting at the potential conflict the trio's new living situation might include. Jake and Claire seem accustomed to their traditional suburban life, while Cooper is more interested in the party-centric lifestyle befitting a rock star.
For example, the trailer shows the husband-wife duo hitting a club with Cooper, which leads to a lot more consequences than their morning hangovers. Apparently, paparazzi still managed to find Cooper, even with the others, which created tension with the people in Jake and Claire's lives. The couple's pastor saw the photos and thought Claire was having an affair with the rock star. Which is weird, since Jake was at the club too, but it does make for a better storyline on the show. (The trailer doesn't show how people like Cooper's publicist and friends will react to the photos of him with the "ordinary" duo.)
And while skepticism over the trailer is understandable — it looks like standard CBS fare, including a laugh track — Styles does have a history of being funny, so Happy Together might be worth a shot. When Styles guest-hosted The Late Late Show with James Corden (on which Winston is an executive producer) while Corden was on paternity leave, the singer proved he has a promising career ahead of him in comedy, if he decides to go that route.
While guest-hosting the late-night show, Styles delivered hilarious speeches with impeccable comedic timing. He had the whole late-night host thing down to a science, including the skeptical faces he made after showing news clips to the audience. (During an opening monologue Styles gave, one of those clips included footage of Roy Moore riding a horse to the Alabama polls — he visited the show during an interesting time.) And Styles was just as funny during his impression of Mick Jagger on a Saturday Night Live episode. So Styles definitely knows a thing or two about comedy — hopefully that will carry over to the new show.