Harry Styles & Prince Harry Are Making Fans Lose It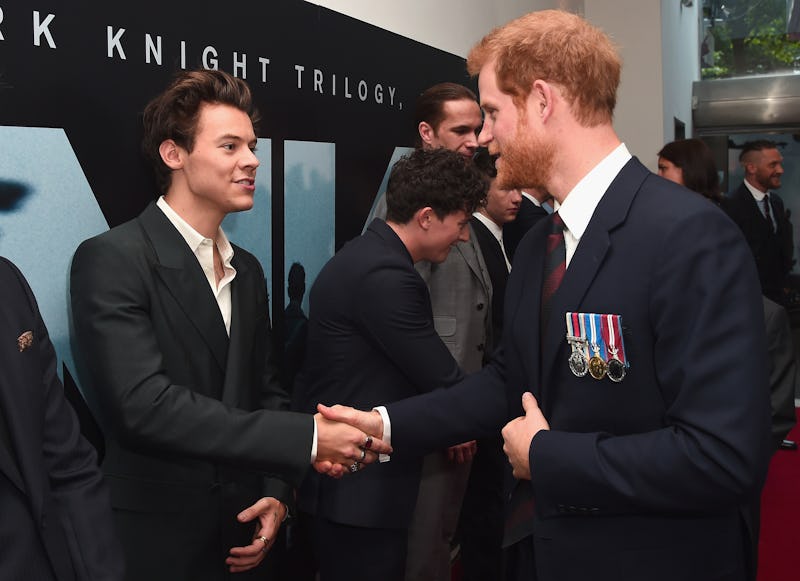 Eamonn M. McCormack/Getty Images Entertainment/Getty Images
The London premiere of Christoper Nolan's World War II drama Dunkirk was on Thursday, but who cares about the film when the real main event was star Harry Styles meeting Prince Harry on the red carpet? Prince Harry of Wales attended the event with a group of veterans, and Styles makes his acting debut in the war film. The Harrys chatted about who knows what — probably about God saving the Queen — and fans of one or both Harrys were amazed at and instantly in love with Harry Squared.
Twitter users took the opportunity of the meeting of the Harrys to make some instant memes. Many fans are delighted about these two British Harrys being very British next to each other, many posit that Prince Harry is a rabid One Direction fan trying to convince Styles to get the band back together, and more than a few say that Styles is the real prince and Prince Harry is just some ginger-haired fan. Fans hope that this is the beginning of a very beautiful friendship, and the way Harry and Harry seem to be gazing lovingly at each other, it's at least clear they're both fan boys of one another.
The two have actually met once before. In 2015, the Harrys met when One Direction performed at the Royal Variety Performance. According to People, Prince H. said to H. Styles, jokingly, "When was the last time you had a haircut?" Oh my god, where's the Harry Squared buddy movie already?
Emotions Are Running High
It does seem like a nice moment.
Prince Harry Gets Burned
Dang.
Prince Harry's Just A Fan
He just wants to know, no need to mock him.
Another Royal Roast
Who is that guy anyway?
Double Take
"I'm Harry." "No, I'm Harry..."
"There Goes The Baker With His Bread Like Always"
Stay humble, Styles.
Harry Styles Would Never
But his fans will say it for him.
Prince Harry Wields His Royal Order
Harry, you better serve at Her Majesty's pleasure or else.
Harry, You Light Up My World Like Nobody Else
He's beaming!
No Bloody Way
What are the odds??
Always Smitten
These two are def crushing on each other.
Let us fondly remember this day when Harry met Harry.