Harry Styles Opens Up About His New Album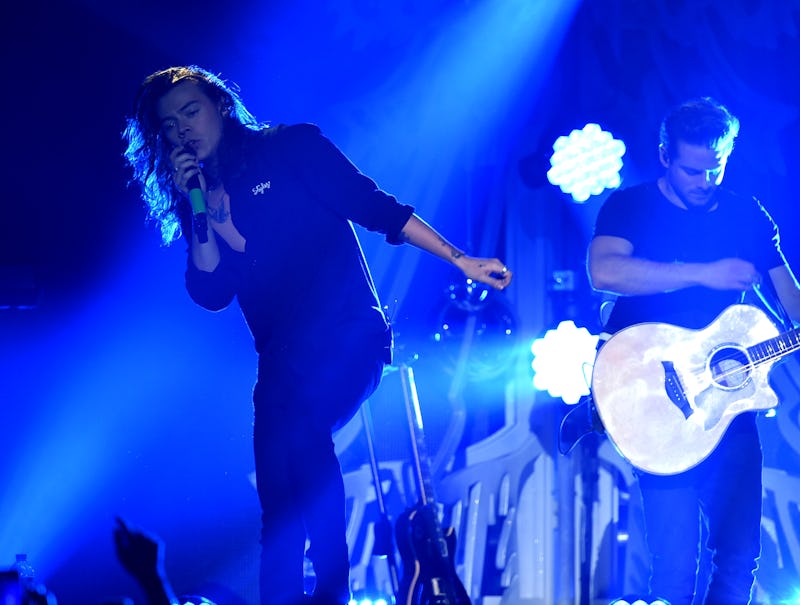 Kevin Winter/Getty Images Entertainment/Getty Images
I don't personally worship at the altar of a certain Rapunzel-haired Brit. However, I'm all too familiar with the effect produced on certain people by the former One Direction-er. Symptoms? Palpitations, a sweaty joyfulness emanating from the pores of the admirer, huge pupils. So, when I tell you that Harry Styles' favorite album is his own, I already know what your reaction is, because you clicked on this article.
"NO," you swoon, reaching for your phone to text your best friend this information in place of a puppy meme, "That's too cute." The next time you have a bad day, forget your expensive new mp3 at the gym, or have to stay work at late, to calm yourself, you might remember this fact and let a smile play across your face. Because when Styles says it, it's ridiculously cute, right?
The singer said this most quotable of quotes during an upcoming interview with BBC Radio 1 when he opened up about his upcoming solo debut album ahead of the first single release, "Sign of the Times," which drops on April 7. He stated he wrote approximately 70 songs for the album while in Jamaica, which he then edited down into just one album. Forgive the pun, but that's got to be a good sign, right?
He even reached out to Ed Sheeran for help editing the album down, but it didn't sound like he was all that receptive to the superstar's advice:
"I played [Sheeran] a few songs after the album was finished. He didn't say that he didn't like any, but he did like one song that isn't on the album."
But why did he have to uproot to Jamaica to write a few songs? Couldn't he have just stayed in Britain? According to Styles, this was about dedication and spending every moment of every day staying in the songwriting zone, because he's a pro and he's not taking any of this for granted. He stated:
"I just wanted to not be somewhere that I'd get distracted. It was 360 of writing, you'd go home for dinner, write at the house then go back to the studio. I liked being away from everything and doing it like that...I was with the guys who I was writing it with and we just wanted to make what we wanted to listen to and that has been the most fun part for me about making the whole album."
And this is the point where he said it: "In the least weird way possible, it's my favorite album to listen to at the moment." Styles is the equivalent of that meme of the orphaned kitten pushing his stepbrother round in a minuscule trolley. He's that photo of a baby elephant having fun at the beach. He's that letter that kid wrote to Dumbledore. He is certifiably adorable, and, trust me, this is the only reason he's getting away with this statement.
So, raise your glass to one brave new solo artist tonight. If his walk is as good as his talk, we're looking at the best album of the year.