This Month's Harvest Moon Will Cause All Zodiac Signs To Face Their Past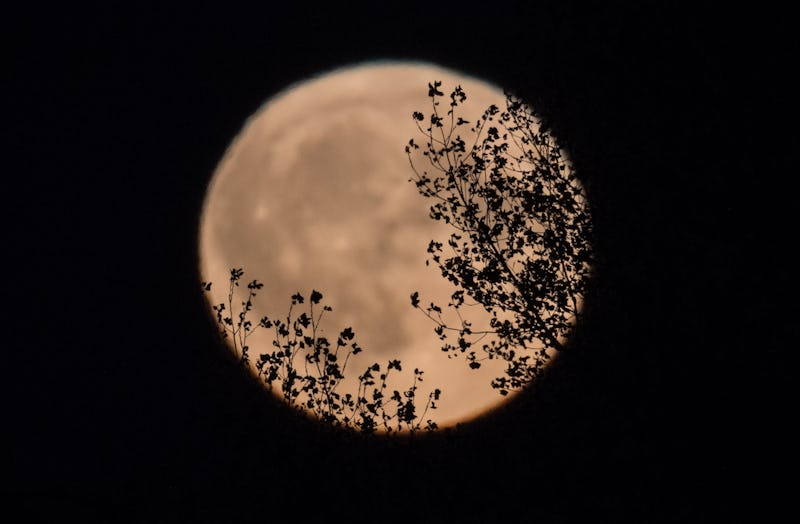 Matt Cardy/Getty Images News/Getty Images
September's full moon will be the first full moon of the fall season. Rising on September 24, at 10:53 p.m. ET, the full moon will officially close out the last lunar cycle of the summer, giving us a fresh start for fall. Nicknamed the "Harvest Moon" by Algonquin tribes throughout history, September's full moon marks a bountiful time in which harvesting becomes a physical and mental experience for those that lean into it. You'll want to consider some Harvest Moon 2018 astrology predictions, because the special full moon holds a lot of cosmic weight and gives us a great opportunity to turn over a new page for a new season.
Bustle talked to astrologer Lisa Stardust about what the Harvest Moon has in store for us. According to Stardust, the degree to which we can be influenced by the full moon depends on just how much we open ourselves up to the Harvest Moon. If we approach the lunar event with open minds, open hearts and a positive attitude for change, there's a lot guidance and power we can garner from the full moon's presence in the sky. Much like the season's fruits and vegetables which are now ripe and ready to be harvested, all of the answers we're looking for are there an ready to be discovered. Here are some of the key factors that Stardust believes we can expect to be affected by on September 24. To increase your power to change and recharge, you might also want to consider practicing a full moon mediation or ritual, too.
1. Say Goodbye To Painful Memories
According to Stardust, the Harvest Moon will bring up a lot of painful memories, but instead of swatting them away, she suggest that we embrace them and let them go. This will give us the ultimate opportunity to clear space for a fresh slate in the new season.
2. Beware Of Feeling On Edge
Stardust warns that we might feel a little anxious, but she reminds us that going through these kinds of emotions helps us to evolve and improve our relationship with ourselves.
3. Be Prepared To Face The Past
The full moon always has the power to shed light on things that we don't want to look at, and according to Stardust, the Harvest Moon won't be any different. Lean into the experience and use the energy you've harnessed over the summer to face those issues and leave them in the past where they belong.
4. Get Ready To Get Strong
While Stardust says we can expect to frustrated and challenged during the Harvest Moon, we'll also have an opportunity to see how much we've grown and how strong we really are. "Trying to power through the debilitating forces within will elevate our personal strength and elevate us all to a place of personal power," Stardust says.
5. Just Keep Going
Stardust tells Bustle that while the Harvest Moon will test us emotionally, we can get over a lot of what holds us back in life if we just embrace the struggle. If the Harvest Moon sets you up to face your insecurities, just look at them directly until they become smaller. Take the power back and let the Harvest Moon heal you. "We can overcome adversity and insecurities through perseverance," Stardust reminds.