Dec & Holly's Adorable Pre-'I'm A Celeb' Friendship Will Give You The Warm & Fuzzies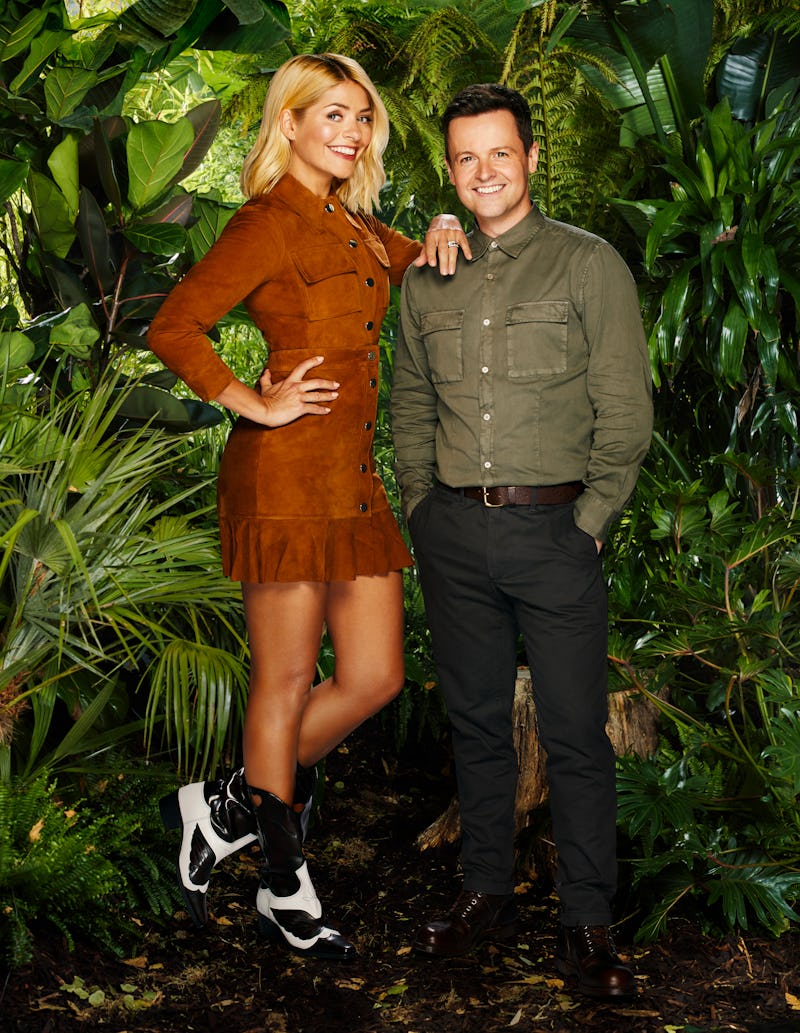 I'm A Celebrity Get Me Out Of Here/ITV
I can hear a rumble in the jungle can you? Yes, I'm A Celebrity... Get Me Out Of Here is back in true style, with a whole host of amazing contestants as well as a new face doing the very important role of presenting the show. So, as Holly Willoughby takes the crucial position of Declan Donnelly's co-host, the nation has been holding its breath to see how the pairing works. The two expert presenters have been in the industry for quite some time but, have Dec and Holly worked together before?
Well, as the pair are both ITV veterans, of course they have crossed paths professionally and personally many times, and even appeared on each others' shows. In particular, Willoughby has made multiple appearances on Ant And Dec's Saturday Night Take Away alongside her very own hosting partner Phillip Schofield. The pair have taken part in challenges, been the butt of jokes, and of course helped provide good, old fashioned entertainment value.
Donnelly has also appeared on This Morning many times, Willoughby's day job and main grind. I guess the reason the two haven't hosted together before is that, well, they are both so well known for their usual co-presenters.
Both of the presenters clearly have very close and supportive relationships with their usual co-hosts. Schofield has been very open about how proud he is of Holly, giving her shout-outs on his social media, basically being super supportive, and showing how excited he is about Willoughby's new gig.
He also shared his thoughts on This Morning saying that like, in his opinion, this year's high ratings are kinda to do with her presence. I mean there is no way of proving that but how effing cute is he? He was, perhaps a little biased in his positive reviews but TBH, she kind of is nailing it. Schofield said, "I thought it was absolutely fantastic, a really great show with some very funny bits."
And in true colleague/BFF/work husband levels of banter he suggested it was a bit to do with Dutch courage, or should I say French courage. "I left a bottle of Champagne in her dressing room, which obviously helped."
Donnelly is also receiving huge thumbs up and support from his usual co-host McPartlin. The pair are so intensely closed and linked professionally that they share a Twitter account. Wow, intense. I mean intense in a totally adorable way.
McPartlin has had to take some time away from the showbiz world owing to some pretty hectic personal battles he is facing at the moment. If being in the public eye isn't full on enough, McPartlin is also currently dealing with addiction problems, mental health difficulties, and the dissolution of a long term relationship. You can understand why he's taking time away. In a statement he shared with The Sun he said, "My recovery is going very well and for that to continue having spoken to Dec and ITV, I have made the decision to take the rest of the year off. I'd like to thank both Dec and ITV for their continued support and I look forward to getting back to work in the new year."
He has also been very supportive of Willoughby, who is a close personal friend of his. She also made sure, in a statement on Donnelly and McPartlin's website, to acknowledge how big a deal the role is and how she is keeping the seat warm for McPartlin to return next year.
"I love Ant and want to send him my best wishes and support for a continued recovery. These are big shoes, not to fill, but just to keep warm for a little bit... "
Despite Willoughby and Donnelly never having worked together as co-hosts, considering how well they are doing on this season of I'm A Celeb, we might be seeing more from this pair in the near future.