This Is Why Holly Willoughby Won't Become A Permanent 'I'm A Celeb' Presenter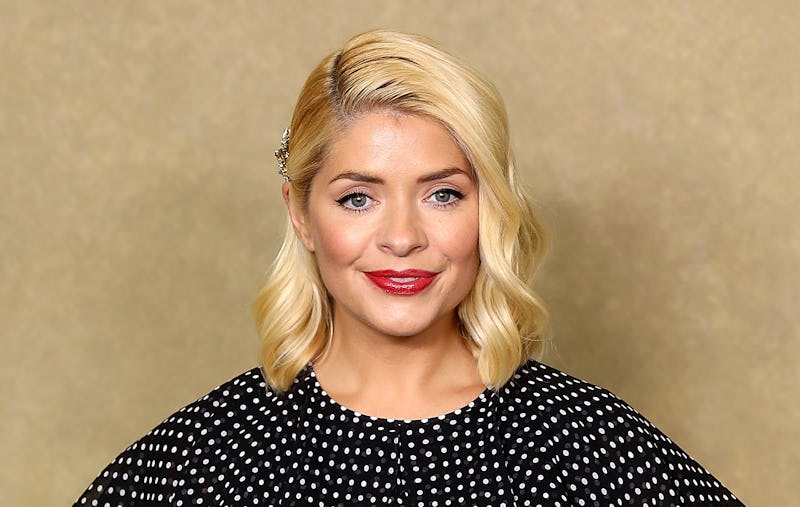 Tim P. Whitby/Getty Images Entertainment/Getty Images
Earlier this year, it was announced that Holly Willoughby will co-host this series of I'm A Celebrity alongside Declan Donnelly, while Ant McPartlin continues to focus on his recovery. But in a new interview with the Sun, the This Morning presenter stressed she has no long-term designs on the gig. Holly Willoughby said she'll only host I'm a Celebrity...Get Me Out of Here! until McPartlin, her close friend, is ready to take back the reins, adding that receiving the job offer was bittersweet.
Willoughby was revealed as McPartlin's stand-in in August, saying in a statement, "Honestly, I'm a huge fan of I'm a Celebrity and actually feel like I've won a competition to go and hang out on my favourite show." The news came as McPartlin announced he won't return to television until 2019, explaining, "My recovery is going very well and for that to continue having spoken to Dec and ITV, I have made the decision to take the rest of the year off." Speaking to the Sun, Willoughby clarified that she'll step aside from the show as soon as McPartlin makes his TV return. "I'm just looking after it until he gets back," she said. "It's lovely that he trusted me with it."
The TV host, who's been friends with Ant and Dec for 15 years, told the paper that the job offer was "totally unexpected" — and came with a significant amount of emotional baggage, given her connection with McPartlin. "You didn't really want to have to be asked to do the show, it's a weird one," she said. McPartlin, she added, "probably will" be watching the show from home.
But her friendship with the TV duo also offers a significant benefit, Willoughby said: instant on-screen chemistry. "It's much easier if you work with somebody who is a friend," she explained. "When you genuinely get on on screen, it's going to work. It's unsurprising."
You might also recall that when the news of McPartlin's stand-in was announced, Willoughby was on the receiving end of some distinctly misogynistic backlash; specifically, she was attacked for accepting a job that might separate her from her three children. Of course, said criticism was sexist nonsense — and factually inaccurate to boot, considering the presenter had already revealed she'd be travelling to Australia with her children and husband, Dan Baldwin.
In her interview with the Sun, Willoughby further detailed what she's got planned for 9-year-old Harry, 7-year-old Belle, and 4-year-old Chester. "The children will have a tutor out there, they've got loads to do," she said. "I've spoken to their teachers. The kids are like, 'What do you mean we're not going on holiday?'" The children's school was understanding, she added. "The headmaster was amazing. If the kids couldn't come then it would have been a completely different ball game and I would have had to have a long, hard think about it."
The 2018 series of I'm a Celebrity will premiere on Sunday, November 18, according to the Radio Times — and the newest presenter is ever so slightly apprehensive. "It is scary," Willoughby said. "I've always loved the show as a viewer and that comes with a responsibility."
"I want to go in and the audience to really enjoy it."