Neil Gorsuch & Donald Trump Have Met Before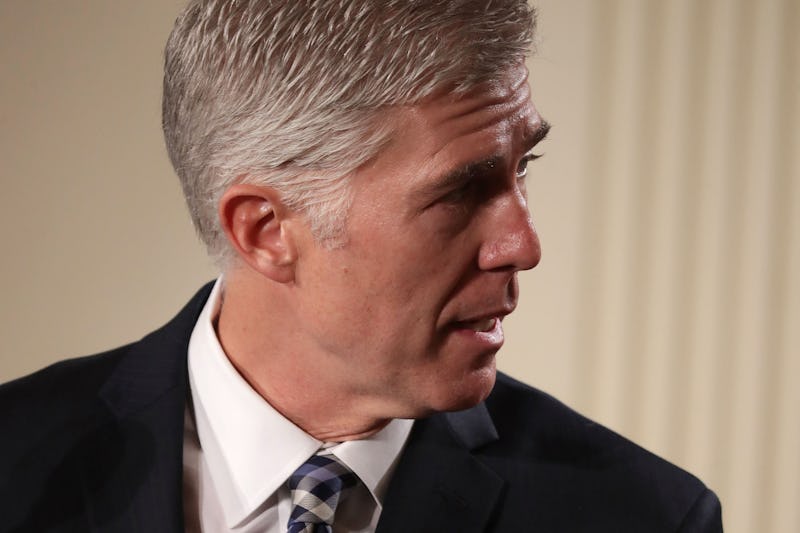 Chip Somodevilla/Getty Images News/Getty Images
Since he was elected, anticipation over who President Donald Trump's will nominate as Supreme Court justice has built and built. On Tuesday evening, Trump revealed that he has chosen Neil Gorsuch for the position. And since some of the individuals the president has appointed are personally close to him, it's only natural to wonder whether or not Trump and Gorsuch have met in the past.
As early as September 2016, Trump released a finalized list of potential Supreme Court justice picks. From the beginning, Gorsuch has been included on the list. The first recorded meeting between the two, however, happened after Trump was elected president and before he was officially sworn-in. According to Politico, Trump met with Gorsuch, Judge Thomas Hardiman, and Judge Bill Pryor during the transition period. Not coincidentally, those three names were on his short-list.
Aside from that, it's unclear whether or not Trump and the 49-year-old Gorsuch were personal acquaintances. Even so, Trump's Supreme Court pick isn't particularly shocking, considering Gorsuch's apparent similarities with late Justice Antonin Scalia, whose seat he will be replacing. In his Sept. 23 press release on his official website, Trump was quoted as saying:
We have a very clear choice in this election. The freedoms we cherish and the constitutional values and principles our country was founded on are in jeopardy. The responsibility is greater than ever to protect and uphold these freedoms and I will appoint justices, who like Justice Scalia, will protect our liberty with the highest regard for the Constitution.
In Eric Citron's profile of Gorsuch on SCOTUSblog, he describes his similarities with Scalia as "downright eerie." More concerning than the comparison between Gorsuch and Scalia is Trump's promise during his campaign that he will nominate a pro-life judge. Though Gorsuch's view on Roe v. Wade is difficult to tease out, he supported Hobby Lobby's refusal to cover its employees' birth control in 2014. Contrary to what scientific research shows, he claimed that the ACA's coverage of birth control forces employers to "underwrite payments for drugs or devices that can have the effect of destroying a fertilized human egg." And that's not a good sign for anyone who cares about her right to birth control.
Still, Gorsuch has to be confirmed before he can contribute his opinion to the Supreme Court. And up until then, he and Trump will surely have many meetings about what a new right-leaning Supreme Court could look like.