A New Study Shut Down This Super Dangerous Myth About Abortions & Mental Health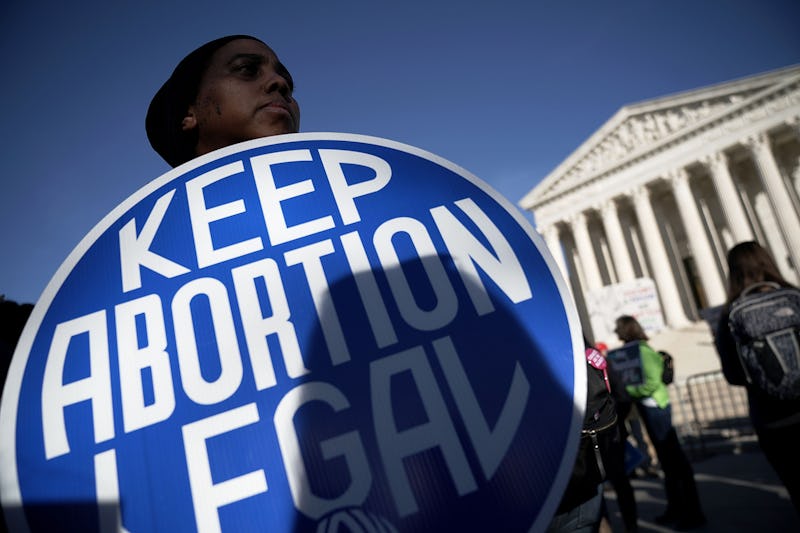 Alex Wong/Getty Images News/Getty Images
There are tons of myths about abortions out there, and each of them contributes to dangerous stigma about the medical procedure. But a new study is debunking a common myth relating to abortions and mental health, and it can help people seeking an abortion — and lawmakers seeking to regulate access to them — cut down on misinformation. According to a new study of nearly 400,000 Danish women published in JAMA Psychiatry, having an abortion does not lead to an increased risk of depression. Despite ample previous research that clearly supports that abortion does not lead to depression, studies stating that it does continue to surface, according to the study's authors. Policies restricting access to abortion are often justified by claims that abortion is damaging to women's mental health, so getting the facts straight on how the two are unrelated is critical to keeping abortion safe and legal.
According to WebMD, The Guttmacher Institute reports that at least eight states, including North Carolina and West Virginia, require women seeking abortions to undergo mental health counseling, despite that fact that research consistently shows that abortion doesn't lead to depression. But in 27 states, women seeking abortions are subjected to waiting periods of 24 to 72 hours, and must receive counseling before they can access the procedure.
Lead study author Dr. Julia R. Steinberg, an assistant professor of family science at the University of Maryland School of Public Health, said in a press release that "policies based on the notion that abortion harms women's mental health are misinformed." Dr. Steinberg also said that "abortion is not causing depression. Our findings show that women were not more likely to suffer from depression after an abortion compared to beforehand."
To understand how abortion affects women's mental health, Dr. Steinberg and her colleagues analyzed data on Danish women born between 1980 and 1994, NBC News reported. The analysis included data for abortions, childbirths, and antidepressant prescriptions recorded by the Danish National Registries, according to a press release.
Study authors found that, compared to women who had not had an abortion, those who did showed a higher rate of antidepressant use. But Dr. Steinberg states in a press release that antidepressant use was the same both the year before and the year after having an abortion, and was not linked to the procedure itself.
Increasingly, abortion in the United States is becoming more and more restricted as a number of laws aim to limit women's access. NBC reports that anti-abortion rights activists often use false medical information in order to block access to the procedure, including the definitively debunked claim that abortion increases the risk of breast cancer. NBC also reports that diagnoses such as "post-abortion stress syndrome" or post-abortion syndrome" are bogus — no such diagnoses exist in medical texts.
Dr. Nada Stotland and Dr. Angela Shrestha told NBC that "despite decades of studies showing that abortion does not cause mental illness, misinformation abounds." Drs. Stotland and Shrestha also noted that women may opt for abortions when their situations make pregnancy and childrearing untenable, and stress that women "have abortions for reasons: ongoing mental illness, including alcohol and substance use disorders; [...] intimate partner violence, including coerced or forced sex; immaturity; poverty; the need to complete an education; and insufficient social support." The study noted that women who live with depression may be more likely to undergo an abortion, but that the risk of depression was unchanged whether a woman had or had not had an abortion.
According to a recent press release, those in regions without access to a nearby abortion provider face increasingly significant challenges; including an uptick in health risks in certain cases — but researchers hope that the current evidence will help shape policy in positive ways for women moving forward.