A Man Was Just Charged With Hate Crimes For Killing Heather Heyer In Charlottesville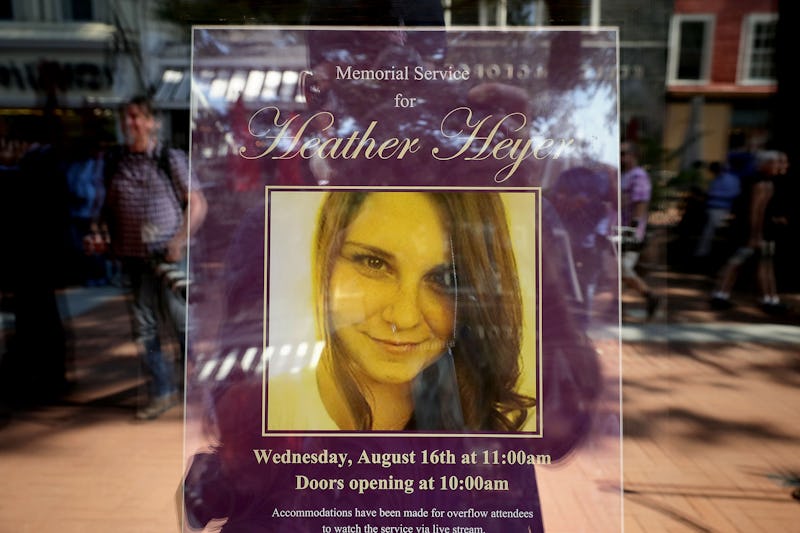 Chip Somodevilla/Getty Images News/Getty Images
It's been nearly a year since the Charlottesville protests, but justice is still waiting to be served for the woman who died there. On Wednesday, a federal grand jury indicted Heather Heyer's accused killer with 30 crimes for actions he reportedly took during the white nationalist rally.
The man accused of driving his car into a crowd has been charged with 29 hate crimes: 28 "hate crime acts causing bodily injury and involving an attempt to kill" and one "hate crime act resulting in the death of Heather Heyer." He was also charged with one count of "racially motivated violent interference with a federally protected activity."
In a statement about the indictment, Attorney General Jeff Sessions said:
At the Department of Justice, we remain resolute that hateful ideologies will not have the last word and that their adherents will not get away with violent crimes against those they target. Last summer's violence in Charlottesville cut short a promising young life and shocked the nation. Today's indictment should send a clear message to every would-be criminal in America that we aggressively prosecute violent crimes of hate that threaten the core principles of our nation.
FBI Director Christopher Wray said in a press release that the FBI remains committed to investigating hate crimes, and that "hatred and violence have no place in our communities."
The indictment charges that James Alex Fields Jr., who was then 20 years old, arrived on the morning of August 12, 2017 to Charlottesville's Emancipation Park. A "United the Right" rally was scheduled to be held there in protest of the city's decision to remove a statue of Confederate general Robert E. Lee. Next, the indictment says, he joined the assembly, where he and other protestors "engaged in chants promoting or expressing white supremacist and other racist and anti-Semitic views."
Counter-protestors began their own demonstration and some white nationalists began attacking them (some have claimed that they acted in self-defense, but lawyers involved in a separate case say they have chat messages that could contradict that). In response, police declared an "unlawful assembly" to get the crowds to disperse.
Protestors did begin to leave the area, including Heyer's alleged killer. According to the indictment, he went to his car and drove it through a downtown Charlottesville intersection where many people were still gathered. The press release describes his actions as follows:
Fields slowly proceeded in his vehicle toward the crowd, stopped, and then observed the crowd while idling in his vehicle. [...] With no vehicle behind him, Fields slowly reversed his vehicle to the top of the hill [....] Fields then rapidly accelerated, ran through a stop sign and across a raised pedestrian mall, and drove directly into the crowd, striking numerous individuals, killing Heather Heyer, and injuring many others. Fields's vehicle stopped only when it struck another vehicle near the intersection of Fourth and Water streets. He then rapidly reversed his vehicle and fled the scene.
The press release also notes that he has not yet been convicted of these federal crimes. But this isn't the only case against him — he's also facing one at the state level. In December, a Virginia court charged him with first-degree murder, for which the BBC reports that he could face life in prison.
The 32-year-old Heather Heyer was a Virginia native who was working as a paralegal before her death. Her mother told NBC News that she was "a fun-loving person and tenderhearted person" who could still "be tough as nails, too."
"She would never back down from what she believed in," Heyer's friend Marissa Blair told CNN. "And that's what she died doing, she died fighting for what she believed in."