Heather Heyer's Childhood Friend Speaks Up For The Woman Who Stood Up For Others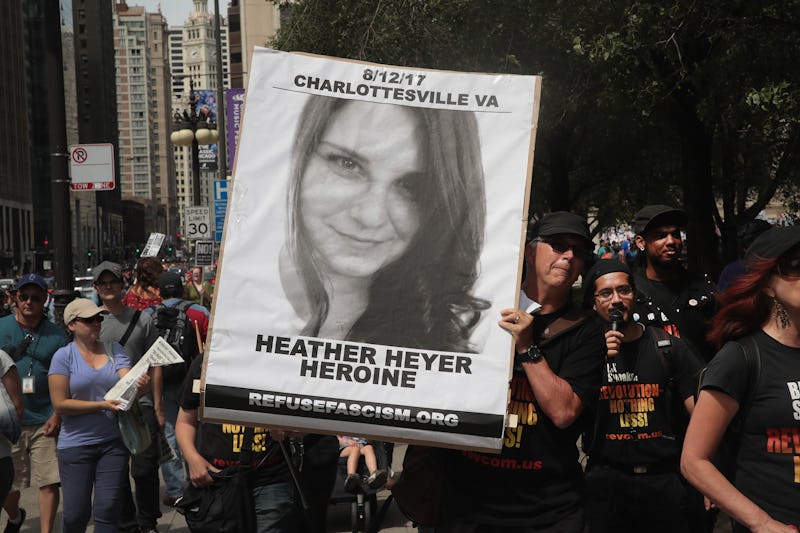 Scott Olson/Getty Images News/Getty Images
Protests in Charlottesville, Virginia, took a deadly turn Saturday when an alleged "Unite The Right" rally-goer drove his car into a crowd of counter-protestors marching peacefully down the street, killing 32-year-old Heather Heyer. In the wake of her death, the family friend responsible for launching a fundraiser in Heyer's name tells Bustle that the woman killed in the Charlottesville protests was a passionate advocate for anyone facing oppression.
Felicia Venita Correa grew up in the same subdivision as Heyer in Ruckersville, Virginia. "We rode the same bus, attended the same school," Correa says. Heyer, who worked as a paralegal in the bankruptcy division at Miller Law Group in Charlottesville, had even recently helped Correa deal with her own bankruptcy. According to the firm's president, Heyer had just celebrated her five-year work anniversary. "She had a big heart for people," the president said.
She made it a point to always stand for people who were being oppressed.
Correa remembers Heyer the same way: as someone who was eager to laugh and always willing to stand up for others. "She was bubbly and loved to laugh," Correa tells Bustle. "She made it a point to always stand for people who were being oppressed."
For Correa, the decision to give back to Heyer by trying to help her family was immediate. "As soon as I was made aware that Heather was the victim I started planing the vigil and asked for monetary donations to be brought to the vigil for the family," Correa says. "It was then that I decided to make the GoFundMe."
Correa argues that Heyer was "murdered while protesting against hate" and says she thinks the "Unite The Right" rally was about more than a statue. "I think yesterday was planned as a way to not only promote hate but to also ensure anger."
She also suggested that President Trump was well aware of how white nationalists interpreted his signature campaign slogan. "I personally do not believe that Trump is moved [by the violence in Charlottesville] at all," Correa says. "He knew that 'Make America Great Again' would be used in this way."
Trump spoke up Saturday to condemn the violence, stating "We condemn in the strongest possible terms this egregious display of hatred, bigotry and violence on many sides. On many sides." The fact that he failed to address white supremacy and attributed violence to "many sides" was widely criticized.
But for now, Correa is focused on her friend. She is working to organize a vigil for Heyer, and so far, she has raised more than $200,000 for Heyer's family.
And though Correa was the one to launch the fundraiser in Heyer's name, she said she's made Heyer's mother the beneficiary of all funds raised through the campaign and it will be up to Heyer's family to determine how the money is used. "[The funds] will be used in any way that the family wishes," she says.
Celia Darrough contributed to this report.