You Need To See The Powerful First Photo Of Helen Mirren As Catherine The Great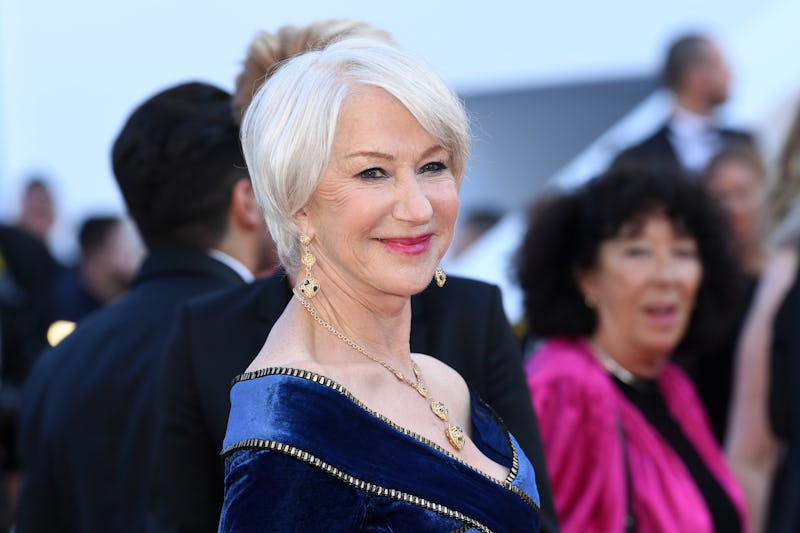 Pascal Le Segretain/Getty Images Entertainment/Getty Images
Sure, Game of Thrones might be another year away, but that doesn't mean that HBO is out of regal content to bless its fans with. In fact, Helen Mirren as Catherine the Great in HBO's new mini-series is precisely powerful image people need to make it through the rest of the week.
On Wednesday, Oct. 3, HBO released the first look at the Academy Award-winning actor in full costume, and it is resplendent. Per the website, the photo depicts the royal "Empress Catherine in her private quarters," and said private quarters are enough to give even a casual HGTV viewer major envy. The books! That exquisite desk! The candelabra! And to top it all off, a guard in her doorway. It's definitely #goals — even if historians can't say the same about the rest of her life.
Here's how the press release describes the new series Catherine The Great:
"Set against the politically tumultuous and sexually charged court of Russian empress Catherine the Great, who wielded supreme power throughout Russia for nearly half of the 18th century, the limited series follows Catherine towards the end of her reign during her passionate affair with Grigory Potemkin."
Okay, yes, please keep going!
What's that? The announcement continues? It absolutely does — and only gets better from there.
"Amid scandal, intrigue and immense conflict, [Catherine and Grigory] develop a unique and devoted relationship, overcoming their adversaries and together serving as the architects of modern-day Russia."
The series is produced by and starring Mirren, and will "chart the latter years of Catherine's 34-year reign, as she builds Russia's reputation as one of the great powers of Europe". Also, finally, some non-British history for once. Not that there aren't some amazing British and British-adjacent projects in development, but Hollywood tends to favor English and Scottish and Irish history. It's nice that another dynasty gets to play, too.
Plus, with Helen Mirren in the lead, fans know they're going to get a searing, poignant, and — let's be honest — sexy drama. Has it already won Golden Globes?
Now, of course, there are other actors involved with this project. Playing opposite Helen Mirren is Jason Clarke, who's the type of guy that's really good in whatever he's in, even if you can't quite place why you recognize him. Is it Zero Dark Thirty? Is it Mudbound? Could it be the Dawn of The Planet of The Apes, The Great Gatsby, or the Terminator sequel that Emilia Clarke was also in? Probably! Clarke has taken on the role of unusually sensitive and unusually tough — let's say "tormented" for short — and he nails it every time. He's definitely a worthy onscreen opponent for Mirren. Fans don't have to worry about that.
This is just the first look at Catherine The Great that HBO has released! In fact, the network is still in the process of revealing new cast members and specific details in the plot. There isn't even a release date yet. Hopefully, there will be one soon — or at least more photos of that private study.