Thousands Of Protesters Gathered In Helsinki To Let Trump & Putin Know What They Stand For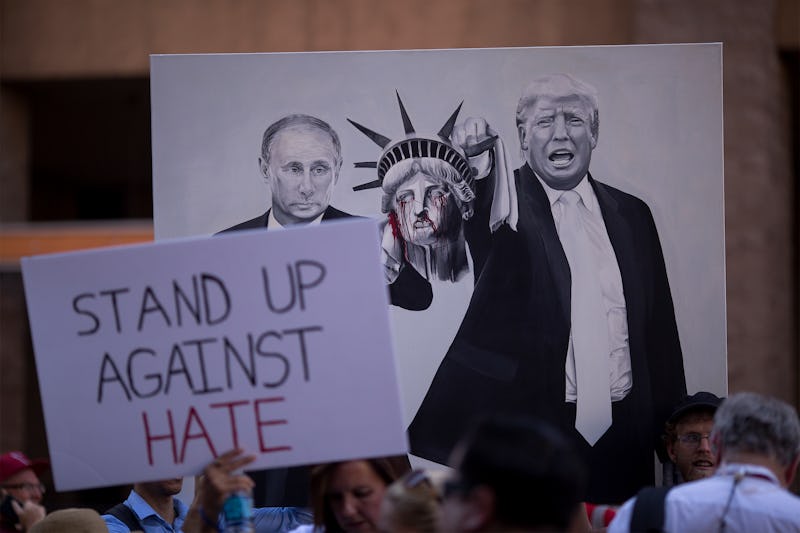 David McNew/Getty Images News/Getty Images
Ahead of the summit in Finland, thousands of Helsinki protesters demonstrated against Vladimir Putin and Donald Trump on Sunday. Reuters reported that about 2,500 people marched in the capital for "Helsinki Calling" to support human rights and democracy and protest how they believe Trump and Putin have flouted both topics.
Marchers carried signs reading "Make Peace Great Again" and "Stop War Not People," along with signs simply promoting peace. At the rally portion of the protest, there were large banners reading "ABOLISH ICE," "RAGE AGAINST RACISM," and from Amnesty International's Finland division "#TrumPutinHelsinki MAKE HUMAN RIGHTS GREAT AGAIN." (The organization had a digital version of the banner published as an ad at the Helsinki Central train station.)
The speaker dais had a banner reading "WE ALL REALLY SHOULD CARE," possibly in response to First Lady Melania Trump's jacket worn on a trip to visit a facility for detained immigrant children in south Texas in June. The back of the olive green jacket said, "I Really Don't Care, Do U?" (Variations on the jacket have been seen at protests in London and America.)
Even the media took part. According to The Guardian, Finland's biggest newspaper put up street advertisements reading, "Mr. President, welcome to the land of free press" — in both Russian and English.
Reuters reported there was also a small pro-Trump rally in a different part of Helsinki. Overall, there are a reported 16 protests are expected to be held in Helsinki between Sunday and Monday as the summit goes on.
Protesters at Helsinki Calling also waved rainbow flags in protest of Russia's discriminatory anti-gay laws. Although, the rainbows may have also been a rebuke to Trump's anti-LGBT moves, like his ban on transgender persons' military service.
"The current world order has been challenged by admiration of force and an attitude of 'every man for himself.' And this is what these two men, Trump and Putin, have in common: contempt for democracy, contempt for international agreements, contempt for human rights," European Parliament member and Finnish citizen Heidi Hautala told the crowd, according to Reuters.
There were also expats living in Finland among the protesters. Kira Vorlick, a 30-year-old American woman, told Agence France-Presse that she moved to Finland from California "to get away from" Trump.
"After the indictment of the Russian agents, he should not have met with Putin," she told the European wire service, referencing the Friday indictments by Special Counsel Robert Mueller of 12 Russians on suspicion of hacking into the DNC.
Trump is scheduled to arrive in Finland on Sunday evening, while Putin will arrive just before the summit begins on Monday, according to Reuters. Finland is not the first place Trump has encountered protesters since he's been out of the United States. Tens of thousands converged in London for anti-Trump protests, according to CNN. There was even a giant Trump Baby blimp flying over one London neighborhood for a few hours.
The protest on Sunday spotlighted the importance of human rights in Finland and around the world. The U.S.-based Human Rights Campaign created a light projection for the rally, spotlighting the abuse of gay people in Chechnya. The projection included messages like "Trump and Putin: Stop the Crimes against Humanity in Chechnya," "The Whole World is Watching," and "Investigate LGBTQ Persecution in Chechnya."
More specifically, HRC Global Director Ty Cobb said Putin must be held accountable for his actions against marginalized people, according to the Associated Press. Cobb also said Trump's silence on the issue makes the president complicit. "Trump has unconscionably turned a blind eye to some of the worst anti-LGBTQ atrocities in a generation, including monstrous attacks on gay and bisexual men in Chechnya," Cobb said. "HRC is here in Helsinki to demand Donald Trump end his deafening silence, publicly condemn these Chechen crimes against humanity, and call on Putin to investigate and bring the perpetrators to justice."