These Signs From London's Anti-Trump Protest Do Not Hold Back At All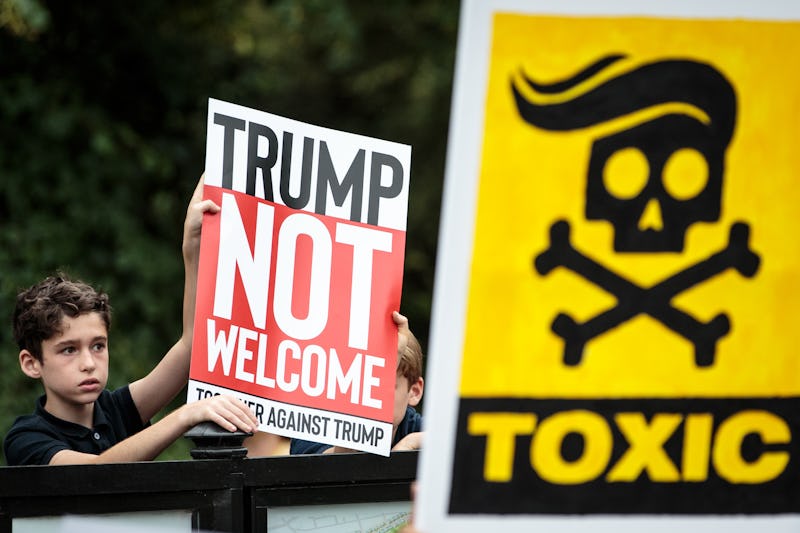 Jack Taylor/Getty Images News/Getty Images
President Donald Trump is on his first official visit to the United Kingdom since taking office in 2017. His first visit to the country was put on hold in 2017 when Trump said Prime Minister Theresa May that the didn't want to come if the British public didn't support him, according to The Guardian. How the tables have turned. Here are the best anti-Trump protest signs from the president's first visit.
The protesters have been a background since Trump got into the country on Thursday, according to NBC News. There will be dozens of anti-Trump demonstrations across the United Kingdom throughout Trump's four-day visit.
The protesters may not have been seen by Trump, who is visiting the United Kingdom with First Lady Melania Trump for a "working visit." The Trumps attended a gala on Thursday night, hosted by May and her husband, Philip May, at Blenheim Palace. On Friday afternoon, Trump will have tea with Queen Elizabeth at Windsor Castle.
NBC News reported that the largest demonstration will be a march through central London, concluding with a large rally in Trafalgar Square on Friday night. The most memorable protest might just be the inflatable giant Trump Baby balloon that flew over Parliament Square in London on Friday.