This Is What Dean From 'The Bachelorette' Looked Like In HS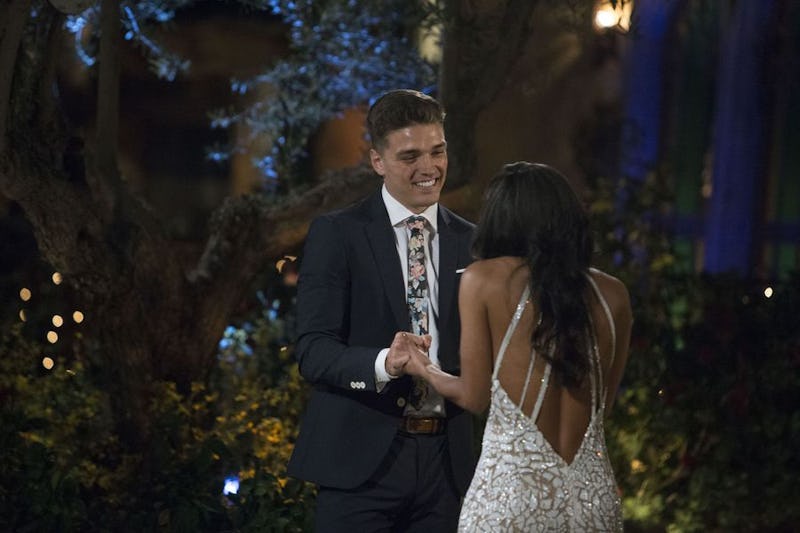 Paul Hebert/ABC
On Rachel Lindsay's season of The Bachelorette, Dean Unglert has emerged as an awesome catch. He seems fun, cute, and refreshingly honest. Dean has posted some throwback photos on social media and it looks like he's always been that way. The Bachelorette's Dean in high school looks adorable. Last year, he posted an Instagram photo of himself and friend Austin Long from their teenage years. Now 26 years old, Dean's charm was apparent even back then. In the photo caption, Dean wrote that the photo was taken about 8 years ago, making him approximately 18 years old in the snap. Aww!
As Bachelorette fans have seen, Dean opened up to Rachel Lindsay about how his mother's cancer diagnosis, treatment, and eventual passing impacted his childhood and teen years. He recalled that his mom Debbie was diagnosed with breast cancer when Dean was 9, went into remission when he was 11, but Debbie's cancer returned when he turned 14 years old. Dean recounted how his mother was then admitted to a hospice and told him that she would not be returning home. After her death, Dean said that his family "fell apart" and told Rachel, "I had the house to myself from 15 to 18. It was very challenging."
Many of Dean's IG photos from back in the day are sweet tributes to his mom. In this recent post, he shared a snap of his mom holding him as a baby and Dean reflected on Debbie's passing and being able to share his story on The Bachelorette in the caption.
"I've spent the last 11 years of my life glossing over my emotions and never really opening up about how it's affected me because I thought it was something I should just deal with on my own ... That was an incredibly emotional night with A LOT more tears shed off camera. I only hope this helps others who are dealing with something similar to not make the same mistake I did."
In 2013, he shared the following photo of himself and his mom on IG on the seventh anniversary of Debbie's passing. "[Seven] years to the day since my momma left us and I miss her more everyday," he wrote in the photo's caption.
Dean has also posted a few old photos of himself and his siblings as kids. In this snap from 2014, he shared his and his siblings' ID photos for the Aspen Skiing Company.
And in 2013, Dean posted this photo of himself and his siblings on National Sibling Day (April 10), despite calling the day "waaaaaay too clichè and pretty lame" in the caption.
But it's clear from these old pics that Dean has always been pretty awesome.