Here's What Justin Trudeau Tweeted At Malala On Her Last Day Of School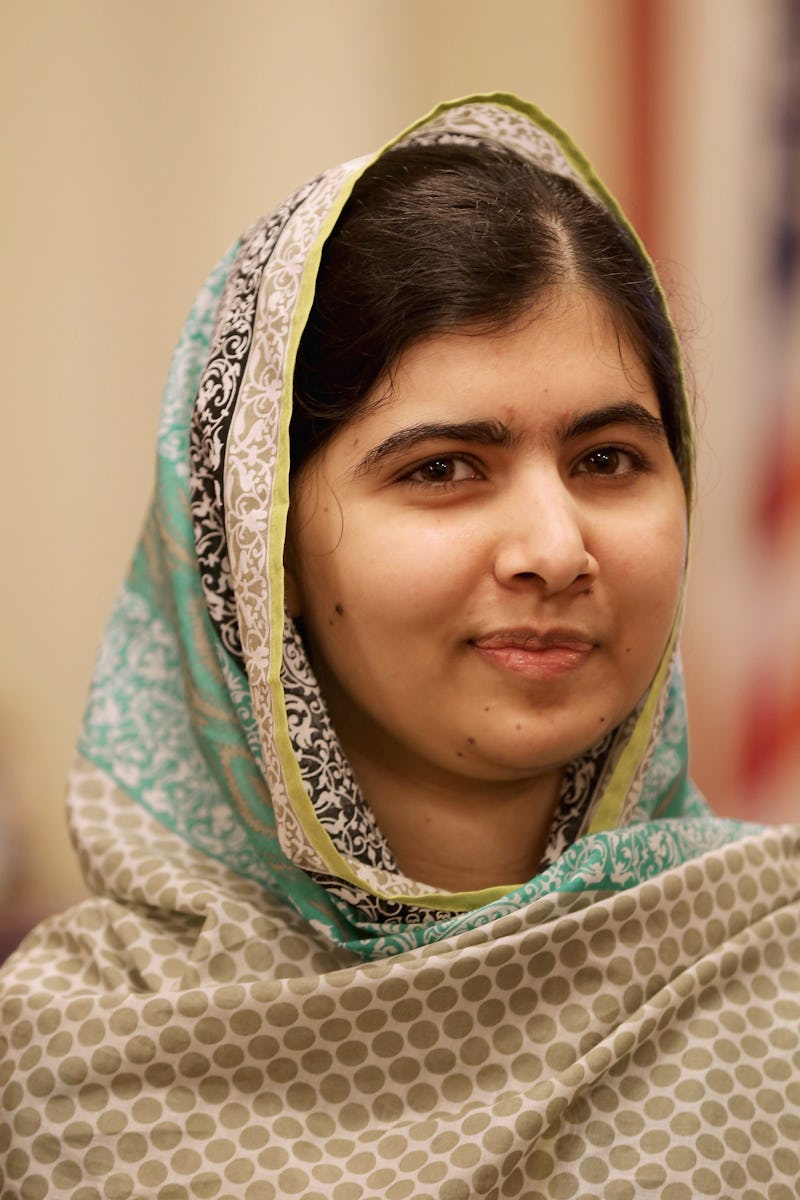 Chip Somodevilla/Getty Images News/Getty Images
Malala Yousafzai, the Pakistani teen who survived a grisly assassination attempt by the Taliban in 2012 to become an international icon of women's education, had her last day in high school on Friday — the same day she joined Twitter. Many different public figures sent her well-wishes on the big day, including the prime minister of Canada, Justin Trudeau, who welcomed Malala to Twitter with a congratulatory note to the 19-year-old global icon.
Malala graduated from high school in Birmingham, England, and many of her supporters applauded the culmination of her lifelong zeal for learning, as well as her advocacy for the rights of women and girls to receive education. She also introduced herself to the world of social media with her very first tweet on Friday.
She tweeted her plans to return to her Girl Power Trip, which will take her to Africa, the Middle East, and Latin America. She also described her graduation as bittersweet, a moving on in the world of sorts despite knowing that "millions of girls around the world are out of school and may never get the opportunity to complete their education."
And after her brief introduction to the Twitter community, Trudeau offered her a warm welcome, as well as his congratulations for her socially vital work. He sent out two tweets, in English and in French.
Trudeau and Malala have met one another before, with the Canadian leader offering her honorary Canadian citizenship in recognition of her work. She also addressed the Canadian parliament in April, hailing the country for its leadership role in accepting displaced Syrian refugees:
I am humbled to accept honorary citizenship to your country. While I will always be a proud Pashtun and citizen of Pakistan, I am grateful to be an honorary member of your nation of heroes. I was also so happy to meet your prime minister this morning. I am amazed by his embrace of refugees, his commitment to appointing Canada's first gender-balanced cabinet and his dedication to keeping women and girls at the centre of your development strategy.
Malala has also teased Trudeau about his relative youth, his tattoos, and his penchant for yoga. The two appear to have a warm, established relationship, so it is no surprise Trudeau showed his appreciation for her selfless work as a high-profile women's education advocate. Odds are, he'll have plenty of opportunities to do so in the future, too — although her exact plans aren't yet clear, she's likely to attend college in addition to continuing her ongoing international advocacy.