Seeing Tormund From 'Game of Thrones' Without A Beard Will Shake You To Your Core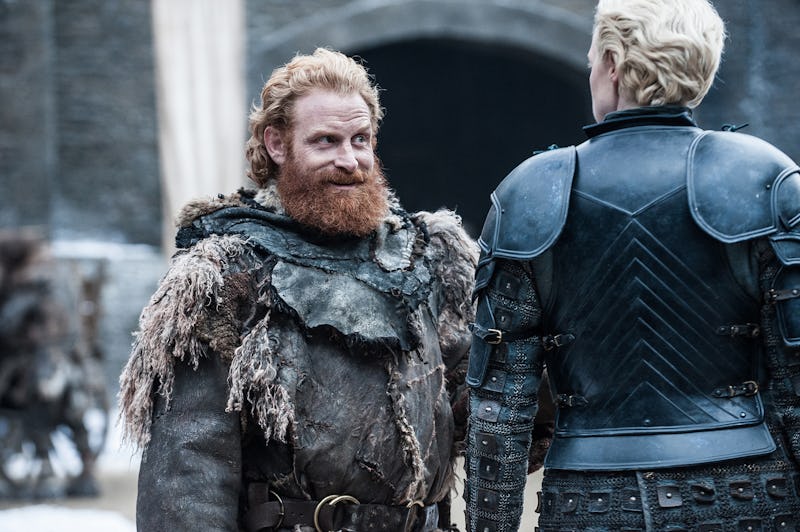 Helen Sloan/HBO
With his red bushy beard, lovable wildling Tormund Giantsbane stole our hearts on Game Of Thrones. (Not to mention, he ignited our hopes that he could one day steal the heart of everyone's favorite warrior, Brienne Of Tarth, too.) But what's most interesting about the Free Folk leader who's become one of Jon Snow's greatest allies may be what the actor who plays Tormund looks like in real life. As it turns out, it's not a whole lot different than how he looks on the show.
Yes, Kristofer Hivju, the Norwegian actor who plays Tormund, really does have that beard. And he likely will until he's done with Game Of Thrones, whether he wants to or not. Last year, Hivju told Vulture that HBO owns his beard. "If you look at my beard, there's a small 'R' there, for the registered trademark symbol," he joked. "It's not even my property anymore. I look forward to the day when I can shave it, when I can change my look to something fresh and new. But now, it's how it is."
Don't forget that this means if you see Hivju around without his beard, it may be a GOT spoiler that Tormund is on his way out. It's part of the reason why so many fans freaked out over a recent photo Hivju posted of himself without his signature facial accessory. Don't worry, it was just a #TBT.
It's hard to even fathom, but there was indeed a time when Hivju's face was barren, completely devoid of those beautiful ginger locks that take over the lower half of his face. "The man has no beard," the actor captioned the shot — a clever GOT reference — where he seems rather sad about something. Perhaps he's thinking about how much happier he'd be with a huge beard.
Look close, though, and you'll see that there is a bit of ginger-colored stubble across that chin of his, so he was clearly getting ready to change his look for the better.
Despite talking about wanting to cut the beard, Hivju says his facial hair has become a big part of who he is. He's even leaned into it, giving fans tips on how to grow a beard just like Tormund's. That look took him over four months to grow, by the way.
In one YouTube video for a Norwegian gaming site, Agot Nordic, he shared his biggest tip, which is just to stick it out through the stubble phase when it's so itchy you don't think you can take it. Oh, and drink beer. A lot of beer, to get those follicles moving.
Hivju may want to pour himself another one mug, since it seems like Tormund is in store for a big arc in Season 7. Winter is definitely here, as are the White Walkers, but, luckily, Tormund's beard isn't going anywhere — on or off screen — for the foreseeable future.