Here's When You Can Expect Ariana Grande & Pete Davidson To Actually Tie The Knot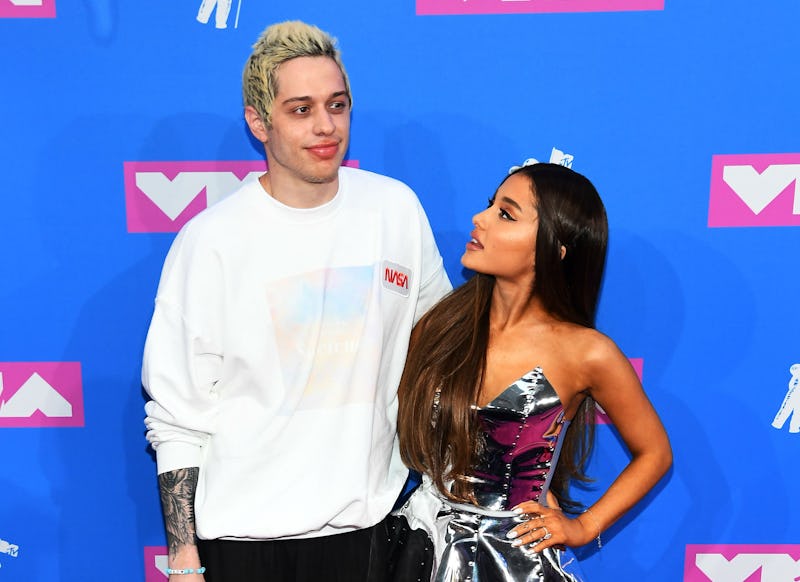 Nicholas Hunt/Getty Images Entertainment/Getty Images
Considering the whirlwind nature of their romance-turned-engagement, it wouldn't be a huge surprise to hear that Ariana Grande and Pete Davidson are getting married like, tomorrow — or next week, or next month. As it turns out, though, they've decided to pump the brakes a little bit. In fact, they're still in the planning stages. Grande and Davidson probably won't walk down the aisle until sometime next year, the singer revealed in a recent interview with Good Morning America (as reported by Elle).
On Wednesday, Grande spoke with GMA's Michael Strahan, and when he asked how she knew that Davidson was her soulmate after such a short time together, the singer bashfully replied, "You just feel it, you know?" Not only that, but, "He just ticks every box and just gets better everyday," she continued, "and I'm very grateful for him. Life is beautiful."
Strahan point-blank asked when Grande and Davidson were going to get married, and the 25-year-old kind of teared up as she explained,
"We're going to take our time to plan [the wedding]. We've been like planning and my friends and I, my mom and everybody have been like, brainstorming and sharing ideas and stuff, and it's really fun. I work so much. I've never spent this much time or energy planning something personal that feeds my soul so much and my heart. I'm going to cry. I'm so excited. It's sick. It's really fun."
Of course, this isn't the first time Grande has been pressed for details about her upcoming wedding to Davidson. In a recent interview with Ebro Darden on Apple's Beats 1 radio show, the singer revealed that their walk down the aisle was more than five months away, but fewer than five years away. "Less than five: Years? Yeah," Grande said. "Months more, years less."
Vague, but fair. When Strahan broached the subject during their interview on GMA, though, Grande narrowed down a potential wedding date even more. "It's not soon soon," she said. "It's going to be like, next year." Now, are we talking like, January of next year? Perhaps a Valentine's Day 2019-themed event? Spring, summer, winter, fall? Any and all additional details would be very much appreciated.
After only a few weeks of publicly dating, Grande and Davidson blew people's minds in June with the news that they'd gotten engaged. Since then, though, they've taken their love show on the road, and have made it abundantly clear to any doubters out there that they are totally in love.
The couple made their first red (technically pink) carpet appearance together on Aug. 20, as they kissed and giggled their way through the 2018 Video Music Awards. It's hard to find a solo photo of either one of them from that night, because they were legitimately attached at the hip throughout the entire show. Well, except for when Grande was performing (Davidson watched proudly from the crowd).
You know, these two love birds might just make it after all. They're so blissfully unaware of anyone else's existence outside of each other right now, and it's actually pretty endearing. Regardless of when they decide to say "I do," fans will no doubt get to see plenty more loved-up moments in the meantime.