Pete Davidson's VMAs Bracelet Could Hint At Some Huge Ariana Grande Relationship News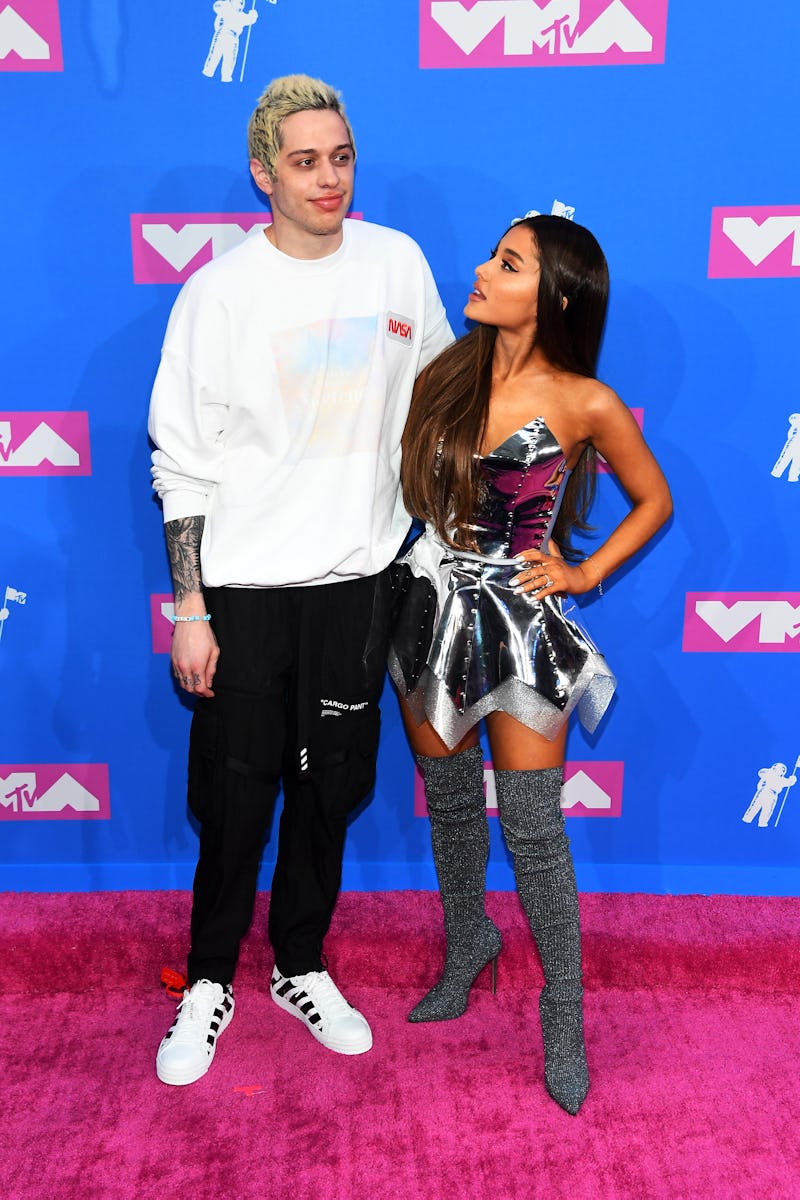 Nicholas Hunt/Getty Images Entertainment/Getty Images
Ariana Grande and Pete Davidson walked their first red (or pink) carpet at the 2018 MTV Video Music Awards on Monday night, and the duo showed off some very impressive jewelry. One accessory in particular had fans wondering if Pete Davidson and Ariana Grande are already married. Bustle reached out to representatives of both Davidson and Grande, but had not received a response at time of publication.
The couple were only on the pink carpet for a short while, but it was long enough for fans to take in every single detail of their outfits. Not only was Grande's engagement ring on display, but Pete Davidson was wearing what appeared to be an Ariana Grande bracelet on his right wrist. The beaded bracelet, as eagle eyed fan on Twitter @grandeari_ita noted, appeared to have the letters AGD spelled out on it, with a heart at the end. AGD, as the Twitter user surmised, stood for Ariana Grande Davidson.
Now, just because these initials were spotted around Davidson's wrist doesn't mean that the two have continued on the fast track to marriage. It's possible that the bracelet was just a way for Davidson to show his love for his VMAs-performing fiancée. After all, they are engaged, and putting their names together is really just another way of symbolizing their upcoming union. It doesn't mean they've already tied the knot. That said, if Grande and Davidson were already married, it wouldn't be that surprising to fans. The "God Is a Woman" singer and the Saturday Night Live performer are pretty much the definition of whirlwind romance at this point.
And just look at them!
Here's a close-up of the photo above, zoomed in on Davidson's bracelet for maximum effect:
It sure looks like "AGD". So, what does this mean? Well, as noted above, it could be nothing. However, it could signify what's to come. After all, Grande just said publicly that when she gets married, she's definitely keeping her last name, though she did not rule out the good old fashioned hyphenate. During an appearance on Apple Music's Beat 1 radio show to promote her new album Sweetener, Grande revealed that while she loves the name "Davidson," she doesn't see herself parting with her last name entirely. "I have to keep 'Grande' because of my grandpa," she said. "I think of him with everything I do. And he was so proud of our name that I should keep it. Imma keep it." Ariana Grande Davidson would certainly be a good way for Grande to honor her grandfather while also taking on the name of her fiancé.
Grande and Davidson have only been together for a few months. Rumors of a romance began circulating in May, only for the two to go public with their courtship on Instagram on May 30. Fans were already reeling when rumors emerged that Davidson and Grande weren't just dating, but engaged on June 11. It's been a wild ride with these two, and should that ride now include a secret wedding, it would just be par for the course. As long as these two are happy, fans will be excited all the same. And, for what it's worth, married already or not, Davidson's bracelet sure is sweet.