The Most Adorable Pete Davidson & Ariana Grande Moments From The VMAs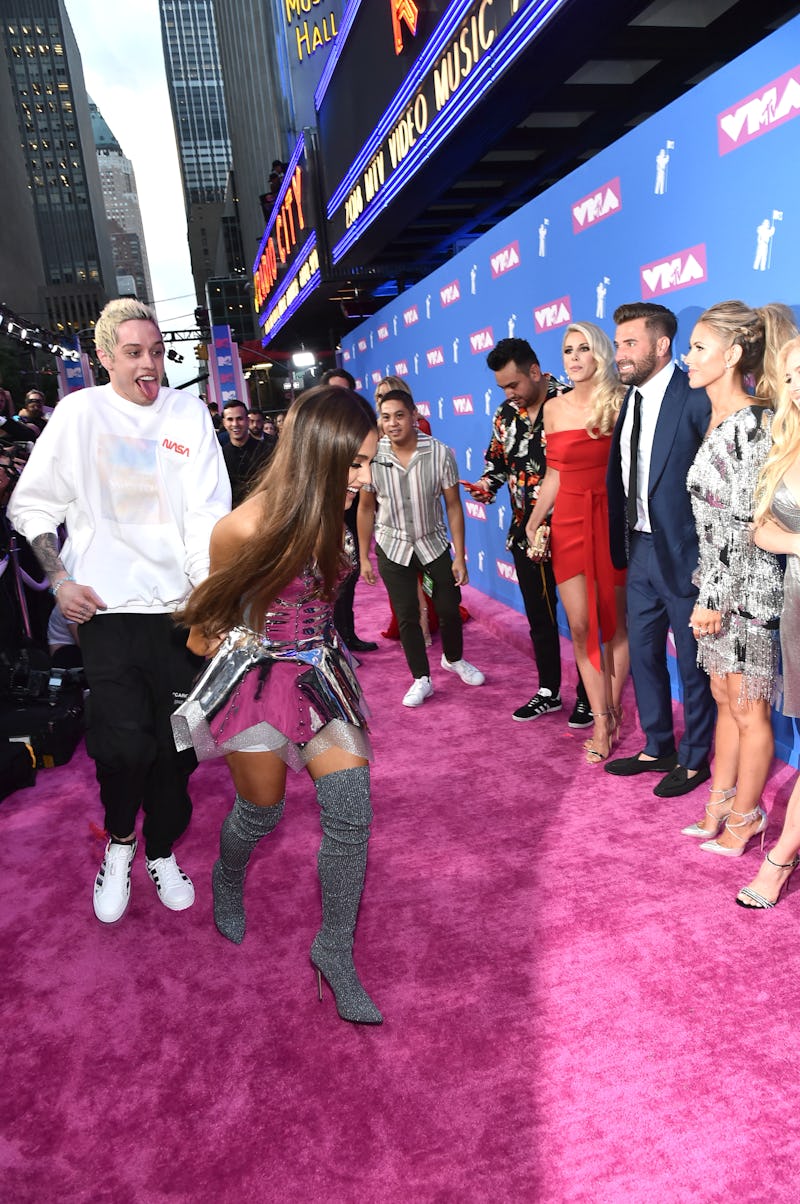 Mike Coppola/Getty Images Entertainment/Getty Images
It's been clear for a while now that Pete Davidson and Ariana Grande are the internet's new It couple, and Monday night, they solidified their place as celebrity royalty. The cutest moments between Pete Davidson and Ariana Grande at the 2018 VMAs had fans on social media freaking out in a big way.
The couple has been an enigma for a few months now, and it's not at all surprising that people are into following their every move. Grande and the Saturday Night Live star are somehow both notoriously private and very in much in the public eye, and they've moved from casually dating to being straight-up engaged in a very short amount of time, so that's naturally piqued an interest.
They're young, they're in love, they're aloof, and people are feeling it. Everyone was tweeting about them from the moment they arrived at the VMAs, and the excitement did not dull as the show went on. Not only was the couple looking cozy and in love on the red carpet ahead of the awards show, but they also were running through various television cameras' frames, probably hoping to escape the spotlight to gaze into each others' eyes some more.
As soon as they stepped onto the carpet, eagle-eyed fans noticed that Davidson's bracelet honored their relationship. It said "A.G.D.," which presumably stands for "Ariana Grande Davidson." Awww.
They also shared a kiss as the pop star hopped up from her seat when her name was announced as the winner of Best Pop Song for "No Tears Left to Cry." She also thanked him at the end of her speech, saying "Pete Davidson, thank you for existing."
Davidson was also shown clapping like a proud boyfriend after Grande's absolutely stunning performance, and even long after the show stopped focusing on the two of them quite so much as it did in the beginning, Twitter did not slow down in their praise of the couple.
The couple's supporters are eager to cheer them on as they continue their romance. And given the fact that they've both been in relatively high-profile, sometimes tumultuous other relationships, so many people are really rooting for them.
There are, of course, people who think they might be a little much throughout this whole thing. Their relationship is moving incredibly quickly, and there are obviously bound to be a few critics here and there. But nobody truly knows what goes on behind closed doors, and if they're happy, we should let them live.
So many celebrity couples can often seem stiff, or uninterested, or too polished, or rehearsed. It's rare that we see people so unapologetic and fearless about their love, and it's refreshing to see such a seemingly authentic duo doing their thing and not giving a damn what anyone else might think about it. If we're all being honest, the world can be kind of terrible these days, and we can all use a little more of the joyful, playful, happy love that Davidson and Grande seem to share.