Fans Are Freaking Out Over This Adorable Harry Potter Reunion At The Golden Globes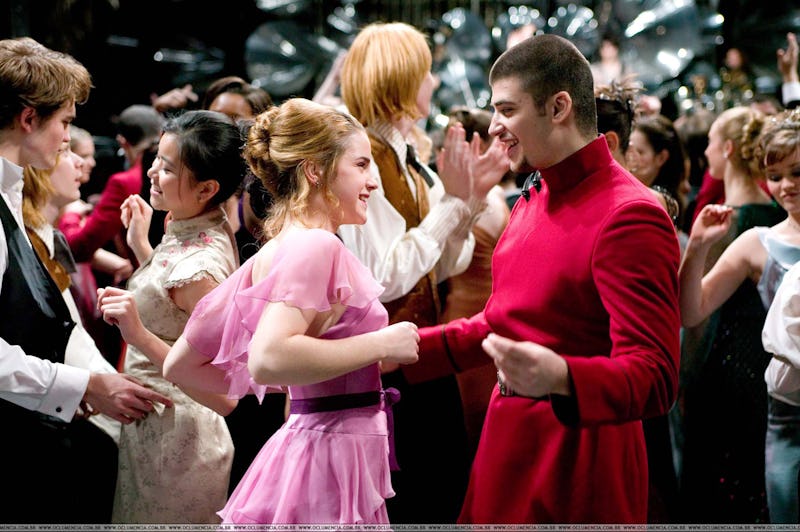 Warner Brothers
Hermione Granger and Cedric Diggory are back in action. Well...almost. Former Harry Potter co-stars Emma Watson and Robert Pattinson reunited at the 2018 Golden Globe Awards to present the winner for Best Limited Series, and Twitter immediately was on fire with throwback photos. The two were only onstage for a brief moment before they awarded a Golden Globe to Big Little Lies (executive producer: Andrea Arnold), but it was enough for full-blown nostalgia to grip those who grew up watching the two attend classes at Hogwarts School of Witchcraft and Wizardry.
It was a rare reunion that came nearly seven years after the final Harry Potter film hit theaters. It'd actually been even longer since we'd seen Pattinson alongside Watson, given that his character, Hufflepuff dreamboat and TriWizard competitor Cedric Diggory, was tragically killed in the fourth installment of the franchise. It didn't take long for people to pull out old Yule Ball photos like they were digging up old prom photo albums to embarrass a little sibling. Some even pointed out that other former Harry Potter actors were in attendance, meaning that perhaps an after-party or two will see an even more cohesive Hogwarts cohort roaming through. Gary Oldman, who played the late, great Sirius Black in the series, and David Thewlis, who played Professor Lupin, were both also in attendance. Thewlis was nominated for his role in Fargo (producer: Kim Todd) and Oldman took home the award for his role in Darkest Hour (executive producer: Liza Chasin).
It wasn't the only splash Watson made at the ceremony on Sunday night — she was part of the group of actresses who brought social justice activists as their dates to the red carpet. The Beauty and the Beast star and Harry Potter alum brought Marai Larasi — the executive director of Imkaan, a U.K. black feminist organization, to the Globes, according to a previous Bustle article. Imkaan is devoted to addressing violence against black and "minority ethnic" (BME) women and girls, according to the information found on its website.
Watson, who also is a United Nations ambassador and at the helm of the HeForShe gender equality campaign, is one of the women spearheading the Time's Up movement, which aims to eliminate sexual harassment for women not only in Hollywood, but across all industries. She shared the sentiment on Instagram ahead of the awards.
"If women have anything to do with the it, the conversation [about sexual assault and harassment] is not going to stop," Watson reportedly said, according to New York Times reporter Cara Buckley, who tweeted a photo of Watson and Larasi.
Pattinson, on the other hand, though he hasn't stopped working, has remained largely out of the public eye — and it's been on purpose. He underwent massive media and fan scrutiny during his relationship with Twilight co-star Kristin Stewart. "I always think the risk reward is very much weighted in the wrong direction," Pattinson told GQ in September of granting interviews to reporters. "If I could stay silent, I would." He outlined his problems with paparazzi and privacy in the same GQ interview, noting that he'd even be tailed home by people who had been given the task of learning where his new house was. "'People were like, 'It's fine, who cares?'" he says of the tabloids. " 'They're just photos or whatever.' They'll say, 'Just live your life.' But that's not life for me, if someone's observing it."
We certainly understand Pattinson's reluctance to be in the spotlight, and he's still making films we can enjoy, which is really all that matters. For two actors who have so starkly left behind their Harry Potter past, Pattinson and Watson's pairing at the Golden Globes was a unique little Easter egg — a treat that none of us expected, but one that we enjoyed, nonetheless.