Emma Watson Brought A Women's Rights Activist As Her Golden Globes Date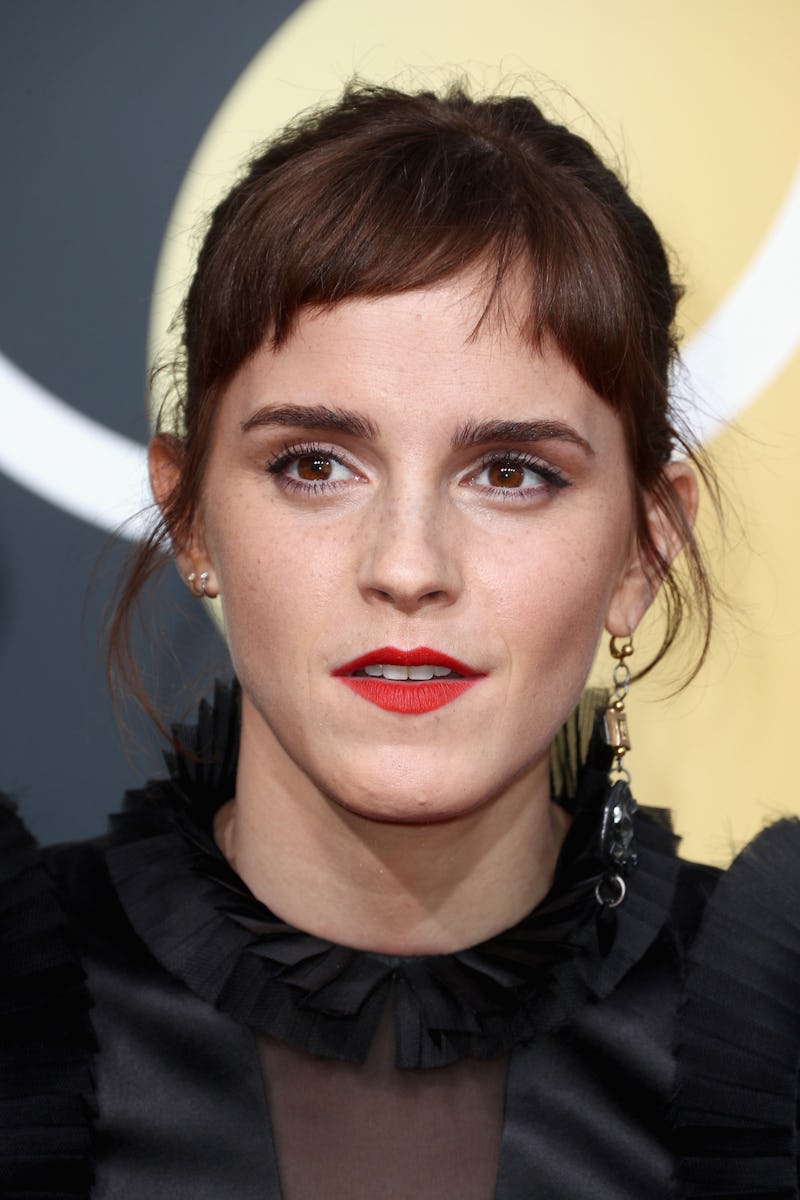 Frederick M. Brown/Getty Images Entertainment/Getty Images
As a UN Women Goodwill Ambassador, it was no surprise that Emma Watson's 2018 Golden Globes date is a women's rights activist. A group of eight women in the film industry chose to highlight women who work to end abuse and inequality against women during the awards ceremony, and the Beauty and the Beast star brought Marai Larasi.
Larasi is the executive director of Imkaan, a U.K. black feminist organization. As the organization's website states, Imkaan is devoted to addressing violence against black and "minority ethnic" (BME) women and girls. And Larasi's work is essential when it comes to intersectional feminism, as she advocates for women who deal with abuse not just because of their gender, but also because of their racial identity.
After all of the sexual misconduct allegations made in 2017 against men in Hollywood, women in the industry created the Time's Up initiative in 2018 that strives to end sexual assault, harassment, and inequality in all workplaces. Along with men and women wearing Time's Up pins at the Golden Globes, eight female actors brought women's rights activists as their dates to emphasize the pervasive nature of this issue and to highlight the people who are working for change. Watson, Meryl Streep, Michelle Williams, Amy Poehler, Laura Dern, Shailene Woodley, Emma Stone, and Susan Sarandon all brought these inspirational women to the awards show.
Watson has long been a champion for women in her own right through her work with UN Women. Her HeForShe campaign made headlines when she delivered a powerful speech in July 2014 about the need for all genders to advocate for gender equality. Watson also has her feminist book club that spotlights the literary work of diverse women. She even infused Belle in 2017's Beauty and the Beast with some more feminist qualities, so, of course, Watson was one of the actors to bring a women's rights activist to the Globes.
Watson told Ryan Seacrest on the E! red carpet that Globes-nominee Williams had spearheaded the idea to bring activists to the red carpet. Watson said she immediately thought to bring Larasi as they've been working together this past year through Imkaan.
"There's something about women in Hollywood speaking out," Larasi said about this movement. "There is a wall of silence around violence against women and girls, and every time somebody speaks out, it just creates a bit of a crack in that wall. So we don't want to create hierarchies where we're saying women of Hollywood are more important than other women, but we're saying women in Hollywood have an opportunity to amplify the issues and to shine a light on things and actually, that's incredibly important."
Larasi's organization focuses on domestic violence, forced marriage, and "honor-based" violence against BME women and girls. And as she said, she's using the Globes to help bring awareness to this problem. "It's a special moment in time," Larasi told Seacrest. "It's not the beginning of a struggle or the end of the struggle, but it is a critical moment. So this is a fantastic platform and we're trying to use it in the best way that we possibly can."
Watson also made sure to note how abuse against women is not limited to people in Hollywood while speaking to Variety. "It makes me really emotional actually thinking about the fact that this movement that we put together is across industries, it's across communities, it's across spaces," Watson said. "This issue doesn't just affect women in Hollywood. This issue is affecting women everywhere in every country around the world. It is global. It is systemic." She said she joined together with Larasi to amplify this message.
While these two women are doing incredible things for gender and racial equality, they also told Seacrest that they'd have some fun at the Globes. "A lot of mischief is about to happen," Watson said, channeling her old Harry Potter roots. And while they are sure to manage some mischief during the typically lighthearted ceremony, Larasi and Watson will be back to work advocating for women's rights tomorrow and for many days after.
If you or someone you know has been sexually assaulted, call the National Sexual Assault Telephone Hotline at 800-656-HOPE (4673) or visit online.rainn.org.